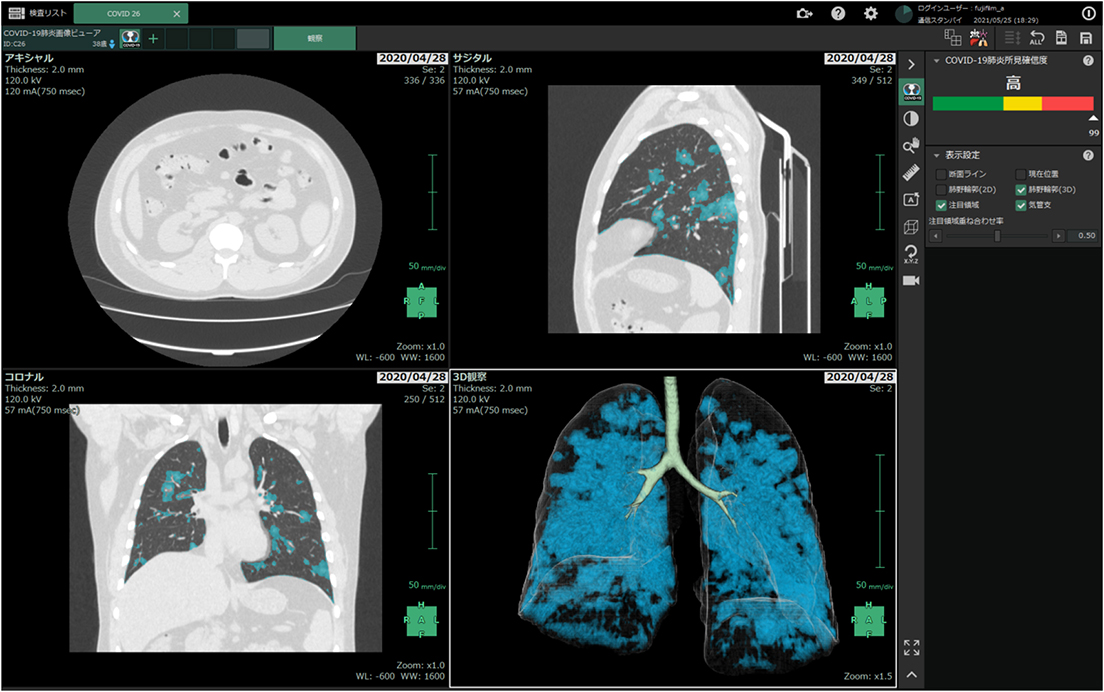 New release of "COVID-19 Pneumonia Image Analysis Program"
Supports diagnostic imaging of new coronavirus pneumonia
Automatic analysis of chest CT images using AI technology
Fujifilm Co., Ltd. (President: Kenji Sukeno) has indicated and confirmed the possibility (confidence) that the chest CT image contains characteristic imaging findings of the new coronavirus pneumonia (hereinafter, COVID-19 pneumonia). We have developed the software "COVID-19 Pneumonia Image Analysis Program" that supports doctors' diagnosis by marking the area that contributed to the judgment of , using AI technology * 1, and approved the manufacture and sale under the Pharmaceutical Machinery Law * 2 . I got it. This software will be released on June 15, 2021 through FUJIFILM Medical Co., Ltd. (President: Yoshihiro Kawahara) as an application for our 3D image analysis system "SYNAPSE VINCENT" * 3 .
Due to the spread of the new coronavirus infection (COVID-19), the medical pressure is becoming more serious. In hospitals, in order to prevent the occurrence of COVID-19 clusters in the hospital, chest CT examinations are performed in a complementary position in addition to PCR tests and antigen tests to confirm the presence or absence of infection in patients at the time of admission or emergency transportation. There are cases where it is done. The burden of these tests is increasing, and there is a need for solutions that support efficient tests and diagnostic imaging.
Features of the "COVID-19 Pneumonia Image Analysis Program" to be released this time
The captured chest CT image is automatically analyzed and the result is displayed to assist the doctor in diagnosing COVID-19 pneumonia.
(1) Display of certainty of COVID-19 pneumonia findings
Chest CT images of COVID-19 pneumonia patients are characterized by pale frosted glass shadows, reticular shadows, infiltration shadows * 4, etc. * 5 . This software presents the possibility that the subject's chest CT image has the characteristic imaging findings of COVID-19 pneumonia in three stages of high, medium, and low * 6 .
(2) Marking display of the area that contributed to the judgment of certainty
We support doctors' diagnostic work by marking areas of interest that may have imaging findings found in chest CT images of COVID-19 pneumonia patients.
"COVID-19 pneumonia image analysis program" screen image
The possibility (confidence) including COVID-19 pneumonia findings is displayed in three stages on the upper right. In addition, the area that contributed to the determination of the certainty is marked in light blue. It can be displayed in 3D and 3 cross sections: axial (cutting the body horizontally), coronal (cutting the body back and forth), and sagittal (cutting the body vertically).
About 3D image analysis system "SYNAPSE VINCENT"
SYNAPSE VINCENT is a 3D image analysis system that draws and analyzes high-precision 3D images from tomographic images such as CT and MRI by utilizing our image recognition technology. By visualizing medical images in three dimensions, it can be used for diagnostic imaging and surgical simulation. The new version, which has been available since August 2020, provides various analysis functions developed using AI technology * 1 . Furthermore, it can be seamlessly linked with each system such as our PACS "SYNAPSE" and AI platform "SYNAPSE SAI viewer" to support an efficient diagnostic workflow.
Under the AI ​​technology brand "REiLI", Fujifilm is developing AI technology that can be used for medical image diagnosis support, workflow support at medical sites, and maintenance services for medical equipment, as well as the optimal provision method for medical institutions. By realizing the usage environment, we will work on diagnostic imaging support and workflow improvement for many medical institutions and doctors.
Other Avigan/COVID-19/Hydro Ag +/Fujifilm Biomedical Coverage
(1, 2, 3, 4, 5, 6, 7, 8, 9, 10, 11, 12, 13, 14, 15, 16, 17, 18, 19, 20, 21, 22, 23, 24, 25, 26, 27, 28, 29, 30, 31, 32, 33, 34, 35, 36, 37, 38, 39, 40, 41, 42)
Please don't forget to follow us on Facebook, Twitter, Instagram, YouTube
Plus our owners' groups
Fujifilm GFX Owners Group
Fujifilm X-H Owners Group
Fujifilm X-T Owners Group
Fujifilm X-S Owners Group
Fujifilm X-Pro Owners Group
Fujifilm X-E Owners Group
Fujifilm X-A Owners Group
Fujifilm X100 Owners Group