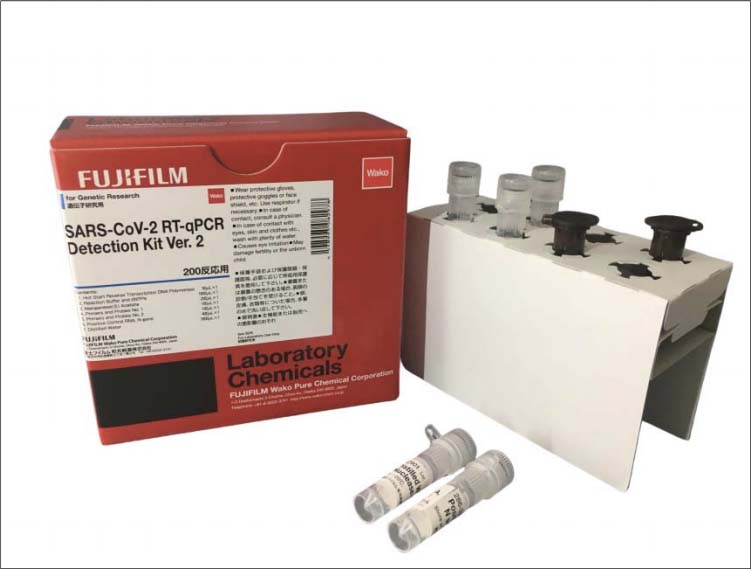 FUJIFILM Wako Junyaku Co., Ltd. (Head Office: Chuo-ku, Osaka, President: Kazuo Shiraki) is a pretreatment reagent for PCR testing, "SARS-CoV-2 Lysis Buffer," which uses saliva as a sample and enables rapid testing for new coronaviruses. ", and the new coronavirus gene detection kit "SARS-CoV-2 RT-qPCR Detection Kit Ver2" will be released in Japan from July 31st. In a PCR test, the viral gene may be decomposed due to inadequate storage of samples, resulting in "false negatives", which may be determined as negative even though infected. "SARS-CoV-2 RT-qPCR Detection Kit Ver2" confirms whether or not gene degradation has occurred by detecting a human gene that must be contained in the sample at the same time as the virus gene. can do. When "SARS-CoV-2 Lysis Buffer" and "SARS-CoV-2 RT-qPCR Detection Kit ver2" are used in combination *1 The test result can be obtained in about 1 hour after sample collection.
Until now, nasopharyngeal swab was mainly used as a sample for PCR test of new coronavirus. However, it has been pointed out that the collection of the nasopharyngeal swab will impose a physical burden on the subject and that the virus may be scattered due to the sneezing and coughing at the time of collection, which imposes a physical burden on the subject. Test methods using saliva as a sample are required as a method to reduce the infection risk of the collector *2 .. Contaminants may be present in samples such as saliva and nasopharyngeal swabs. *3 It is necessary to dilute the sample to reduce the concentration of contaminants in order to detect the virus. However, when a sample is diluted, the concentration of RNA derived from the virus to be detected also decreases, so a complicated process of RNA extraction and purification was required to maintain detection sensitivity in PCR tests.
This time, we have added a very small amount of reagent to a sample such as saliva or nasopharyngeal swab, and it can be used as a sample for PCR test, a new pretreatment reagent for coronavirus "SARS-CoV- 2 Lysis buffer" was newly developed. By using this pretreatment reagent, it is possible to simplify the extraction process and omit the purification process from the complicated RNA extraction/purification process that was conventionally required, and the pretreatment process required about 1 hour. Is greatly reduced to about 10 minutes.
"SARS-CoV-2 RT-qPCR Detection Kit ver2" released at the same time is a primer that detects the new coronavirus gene and human gene. ※Four And probe ※Five It is a gene detection kit that includes a set. Since this kit can detect human genes, if the human gene that should be detected regardless of infection is not detected, it can be confirmed that the inspection has not been established. This prevents "false negatives" when the gene in the sample is resolved due to inadequate storage conditions.
Based on the philosophy of "becoming the next power of science and creating a source of happiness for people," which is the basis of our business activities, we are a pretreatment reagent and gene detection kit for a new coronavirus infectious disease (COVID-19). Will contribute to speeding up the new coronavirus test.
*1: Due to the simultaneous detection function of human-derived genes of the gene detection kit "SARS-CoV-2 RT-qPCR Detection Kit Ver2". "SARS-CoV-2 Lysis Buffer" and "SARS-CoV-2 RT-qPCR Detection Kit ver2″ are not sold as a set but sold separately.
*2: On June 2, the National Institute of Infectious Diseases approved the use of saliva samples in PCR tests (see 2019-nCoV (new coronavirus) Manual for Collecting and Exporting Samples of Patients Suspected of Staining ~ 2020/06/02 Update ~"
*3: An extra substance mixed in something.
*4: Short-chain (about 20 bases) DNA that becomes the origin of replication of the target DNA during PCR reaction. *5: DNA that specifically binds to the unique base sequence in the target DNA.

Other Avigan/COVID-19 Coverage ( 1, 2, 3, 4, 5, 6, 7, 8, 9, 10. 11, 12, 13, 14, 15, 16, 17, 18, 19, 20)
Please don't forget to follow us on Facebook, Twitter, Instagram, YouTube
Plus our owners' groups
Fujifilm GFX Owners Group
Fujifilm X-H Owners Group
Fujifilm X-T Owners Group
Fujifilm X-Pro Owners Group
Fujifilm X-E Owners Group
Fujifilm X-A Owners Group
Fujifilm X100 Owners Group