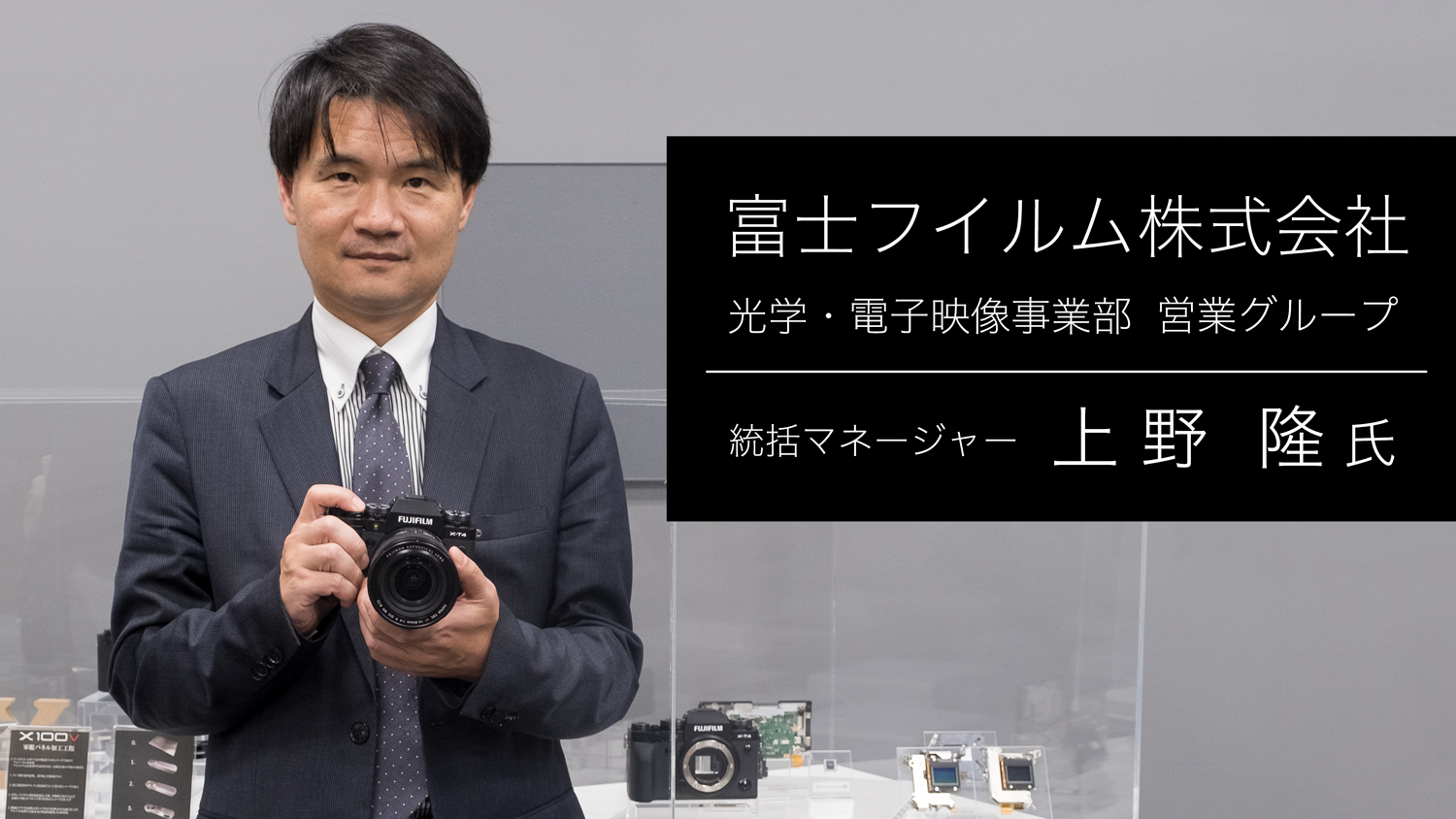 Fujifilm continues doing lots of interviews for fans to share around the web and their latest is with Map Camera. Below you can read translated excerpts from the interview or you can take a look at the Japanese interview here for yourself.
Fujifilm X-T4
No need to renew the sensor and processor 1.5 years after the release of the X-T3 plus a new sensor and processor will take more development time.
Fujifilm believes their 4th generation products continue to be solid performers
The Fujifilm X-T3 is their fastest-selling camera ever by far and it is still a top performer
Many users wanted IBIS
Users liked the IBIS in X-H1, but when X-T3 came out users were confused why X-H1 didn't have the same technology inside
IBIS was considered for X-T4 from the start
Fujifilm considered using X-T3S, but Fujifilm felt IBIS was a big enough advancement to call it X-T4
Fujifilm felt they could get more out of the X Processor 4
The 26MP sensor is a good balance between resolution and sensitivity
IBIS
Tripod bans continue increasing so IBIS is very useful in those instances
IBIS increases power consumption, camera size, weight,  and affect image quality, which is still a problem for some implementations
X-H1
Anticipated that size and weight would increase to maintain image quality
X-H1 was designed so that anyone can benifit from IBIS
X-T and X-H series
X-T series is a flagship camera in a small lightweight body
X-H series is also flagship and if the small lightweight design of the X-T won't fit the feature than X-H will carry it in a larger format
X-T and X-H series will always have differences beyond size if X-H continues
The design of the GFX100 IBIS helped Fujifilm create the X-T IBIS
Fujifilm X-H1 IBIS was developed first followed by GFX100 and last X-T4
The experience allowed Fujifilm to reduce the size and weight of their IBIS without affecting image quality
Fujifilm wasn't ready to put IBIS in the X-T3
The 2.5mm increase in the size of the X-T4 was acceptable to add IBIS
Videographers are the only ones that need IBIS
Professionals have been able to capture cinema camera quality in recent years
4k60p, 10-bit 4:2:2 external, and 10-bit 4:2:0 internal recording are generally reserved for full-fledged cinema cameras
Fujifilm simulations also allow for professional quality out of the box, which videographers like
Fujifilm felt OIS equipped lenses and gimbals were enough for the X-T3, but users disagreed and wanted IBIS so Fujifilm had to comply
IBIS in X-Pro3 and Other Cameras

People wanted IBIS in X-Pro3
X-Pro3 is used for street and reportage
The thing is that IBIS only suppresses camera shake so if the shutter speed is high enough for a sharp photo  in these instances there is no camera shake present when shooting moving subjects on the go
Adding IBIS would make the X-Pro3 heavier and heavier
Many photographers and snapshot photographer have agreed with this perspective
You have to consider the purpose and concept of the camera instead of just cramming useful features in
If you want IBIS and the best movie functions get an X-T4
Fujifilm realizes that IBIS has become standard, but Fujifilm will only use IBIS if it factors into the concept, size, weight, and price of the camera.
Fujifilm's design philosophy is why people choose X Series over others
X-T cameras should be able to do anything so it is an all-purpose machine for capturing images and video, which is why it got IBIS
Tilt Screen
The new tilt screen on the X-T4 was mainly added for videographers
The new variable angle screen actually makes the camera lighter too
The X-T3 screen requires a strong metal plate that adds about 10 grams of weight to move horizontally and vertically
X-T3's LCD has a lot of range of motion, but too many shortcomings for videographers
The X-T4's rear LCD might take more steps to adjust, but the additional adjustability allows for you to see the LCD under any lighting conditions
The new screen is good for photos too, but videographers couldn't do things like shoot Youtube videos simply because they could not make the rear screen visible and now they can
Youtube is growing and Fujifilm wants to be able to provide a great video camera for Youtubers
Fujifilm ETERNA allows videographers to create great color without having a lot of knowledge about thinks like color grading/correction
ETERNA saved cinematographers a lot of time on the X-H1 because all you have to do is adjust the contrast a little to your liking
The problem with X-H1 for cinematographers was that 4k30p 8-bit wasn't good enough for high-end video
The X-T3 added 4k60p 10-bit to address the concerns of cinematographers, but then they were upset there was no IBIS
Third-Party Glass
IBIS works with third-party lenses, but it is hard to say how many stops of stabilization you will get
When talking about stops of stabilization the maximum stops is generally used because the effect differs depending on the lens used
Native lenses are limited by their image circle and focal length which is known
So native is 5.5 to 6.5 stops
Third-party old lenses do not transmit this information so IBIS is applied without a limiter so you won't know until you try the lens
Just make sure that when you use third-party lenses you set the focal length in the "Mount Adapter Settings" menu, which should make IBIS perform better
If you're adapting full-frame glass the image circle should be large enough that you will not have any vignetting
Autofocus Improvements
The Fujifilm X-T3 has great AF tracking that surprises most
When X-Pro1 came out there was only CDAF, which was slow and the XF35mm f/1.4 was driven by a DC motor which moved 100g+ of mass
When X-Pro1 came out there was no way to focus faster
If you only used X series cameras when they came out you might have the wrong impression about how fast they are today
Some still think X series has good color, but slow AF, which is no longer true
PDAF made AF much faster in cameras like the X-T3, X-T4, X-Pro3, etc… while covering 100% of the image sensor
X-Pro3 and X-T4 also work in lighting as low as -6EV
AF performance has been Fujifilm's biggest advancement since introducing the X Series
Fujifilm's new improved shutter would be meaningless without fast advanced AF so autofocus was improved in the X-T4 particularly to objects coming straight at the camera
Face and Eye AF continue to improve starting with the "X-T3" → "X-T30" → "X-Pro3" → "X-T4"
Future of X-H
A bigger more rugged camera does seem to still be necessary
The X-Series offers a consistent characteristic while maintaining the same level of image quality
X-H must be clearly different than X-T because it is intended for different shooting purposes and scenes including video
Merely having a different design and operability doesn't allow the two series to coexist so Fujifilm is taking time to study where they should differentiate
Future X-T3 Firmware Updates
Fujifilm is currently considering what they can bring form the X-T4 to the X-T3 since they have the same processor and sensor
Slight changes in products during development cause branches in firmware development that can make it difficult to just copy and paste features
Fujifilm has had the time they can spend developing updates for older cameras limited in recent years
Fujifilm understands their customers have expectations so they are doing the best they can
Buying X-T4?
The short answer is that the Fujifilm X-T4 is the perfect X camera at this time
X-T4 can shoot all kinds of subjects/shooting scenes for photos or video at an extremely high level
Fujifilm is making the most of APS-C with its compact designs with superior cost per performance
The highest quality APS-C glass is only a fraction of the price of full-frame
Fujifilm is very proud of their color reproduction
If you're already shooting Fujifilm you understand the above
Fujifilm X-T News, Rumors, and Collaboration
Fujifilm X-T Owners Group
Fujifilm X-T Page
Follow Fujiaddict on Facebook, Twitter, Instagram, and YouTube
Fujifilm X-T4 Preorder: B&H Photo / Amazon / Adorama
VG-XT4 Vertical Battery Grip: B&H Photo / Amazon / Adorama
NP-W235 Battery:  B&H Photo / Amazon / Adorama
Fujifilm BC-W235 Dual Battery Charger: B&H Photo / Amazon / Adorama
Fujifilm X-Pro3 (Pick Your Trim): B&H Photo / Amazon / Adorama
Fujifilm X-T3: B&H Photo / Amazon / Adorama