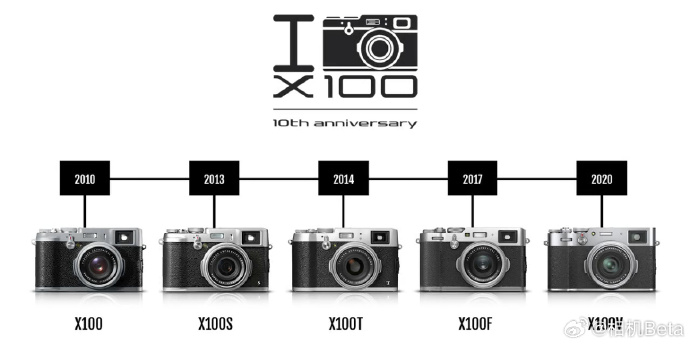 Fujifilm will hold an announcement event on September 12th according to Camera Beta that might be an X-Summit. We already believe that Fujifilm will announce a new GFX at the event from tips we have received along with the Fujinon GF 55mm f/1.7, but Camera Beta makes an interesting point about the X100 release schedule. the Fujifilm X100 line of camera have been updated every 3 years like clockwork so it is highly likely we will hear about a new X100 camera sometime this year.
Fujifilm has greatly increased the variability of cameras they can produce by keeping the previous generation 26MP sensors in the X-S20 and pairing it with a new processor so it is difficult to predict what they could do next, but it seems Fujifilm will focus on 3 sensors the 26MP unstacked sensor, 26MP stacked sensor, and the 40MP sensor.
Some suspect we could get a Fujifilm X-T5S with the stacked sensor like the X-H2S, but I doubt Fujifilm will do it unless the X-H2S isn't selling well. I would like to see the X-Pro4 and future X100VI, Fujifilm X100R, Fujifilm  X100Z, Fujifilm X100VS, Fujifilm X100VR, Fujifilm X100VZ, Fujifilm X200, or X200V utilize the 40MP sensor that Fujifilm now has. While the Fujifilm X-E5, Fujifilm X-T40, Fujifilm X80, Fujifilm XF20, Fujifilm X-T300, Fujifilm X-A8, Fujifilm X-A30, and Fujifilm X-M2 could all utilize the 26MP unstacked sensor with a modern processor just like the X-S20. Beyond APS-C we should also see a GFX100 Successor or even GFX100S Successor and we have received rumors of a new GFX50R successor that could be a GFX50RII similar to the GFX50SII or maybe even see a GFX100R.
Fujifilm X-S20: B&H Photo / Amazon / Adorama
Fujinon XF8mm f/3.5: B&H Photo / Amazon / Adorama
via Camera Beta