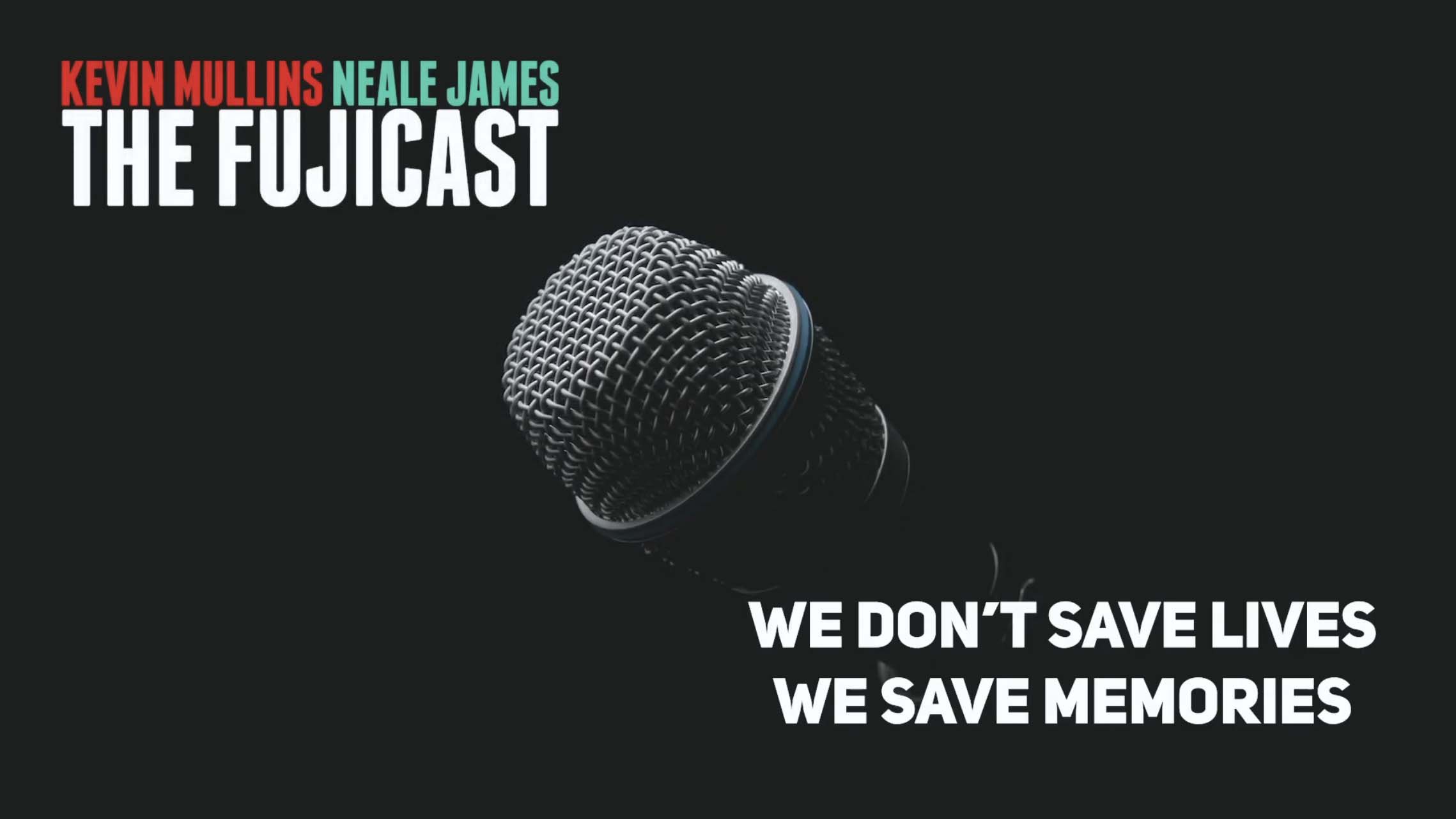 The FujiCast is back with a two-part interview with Fujifilm manager Andreas Georghiade you can listen to the podcast below or just read the Fujifilm-specific highlights.
Fujinon XF 33mm f/1.4 R LM WR
B&H Photo / Amazon / Moment / Adorama
Fujinon XF 23mm f/1.4 R LM WR
B&H Photo / Amazon / Moment / Adorama
Fujifilm GFX50SII:
B&H Photo / Amazon  / Moment / Adorama
Fujifilm X-T30II:
B&H Photo / Amazon / Moment / Adorama
Fujinon GF 35-70mm f/4.5-5.6 WR:
B&H Photo / Amazon / Moment / Adorama
#197 ASK ANDREAS PART 1 AND SWAPPING OUR X-T OR X-PRO FOR A GFX?

Interview right after X Summit
Next year is the 10th anniversary of X cameras so they are saving the new sensor technology for the anniversary
The Fujifilm Camera Remote App is always improving, but some love it and some hate it, but not everyone has issues with it so it is hard to tell when your individual experience will get better
People mainly complain about the reliability of the connection when doing a live stream and some have trouble transferring images
If there is an Android or iOS update you should re-pair your camera to the app to improve connectivity
X-Trans is many peoples favorite Fujifilm colors, but it is unlikely we will ever see that sensor again
GFX50S is using an old sensor that people love with a new processor that makes it more useful so it has been done
The difference in look might be from the lack of PDAF pixels
Tilt-shift is coming so peoples wishes are being answered, but not until 2023
Everyone wants everything immediately so it can be frustrating to announce stuff far in advance
The 50-megapixel sensor from the Fujifilm GFX50S didn't fully utilize the sensor, but the new processor turns the 50-megapixel sensor up to date
Not everyone needs more than 50-megapixels and some consider that the sweet spot with 102MP being too much
Many worry 102MP RAW files will take too long to process
Switching systems is never cheap, but GFX aims to get photographers that like large sensors switch
GFX was originally designed to compete with full-frame DSLR's but now the standards are moving so they have to compete with the new full-frame mirrorless cameras coming out
GFX50S II should make people think twice and consider the low noise and high dynamic range of the larger sensor
GFX50S II should be perfect for photographers shooting under controlled conditions
TASCAM XLR is compatible with any camera with a 3.5mm jack, but for a digital workflow is for X-T4/X-S10 and they will require firmware updates
Getting discontinued Fujifilm cameras repaired is probably best done by Fujifilm bedford but like the X70 screen was discontinued early and they ordered all the screens they could, but they are pretty much out
The semiconductor shortage has impacted Fujifilm, plus deliveries are being affected now and it will get worse by Xmas
It might be a good idea to get orders in now if you want to make a purchase, but Fujifilm isn't saying you have too
Lots of people ask for Fujifilm merchandise, but the to-do list at Fujifilm is very long
Clothing can be very difficult to order because you have to go all-in across many sizes and not all sizes sell well enough to justify it
Andreas Georghiade has been shooting the X-T4 lately with the XF16-55mm and XF50-140mm have been his thinktank bag
On holiday Andreas Georghiade used the X100V more because he didn't want to be troubled to carry a kit and he never really liked the X100 before
Spray and pray you will spend more time deleting bad photos so it is not great to be a lazy photographer so since his holiday he's been shooting with a prime on the X-T4 and XF18mm f/1.4
So his favorite camera to carry with him changes almost weekly at this point
Fujifilm released the SDK to make it easier for developers to integrate with Fujifilm and Andreas Georghiade hopes they are going in the right direction
Fujifilm is open to collaborate with a lot of companies and people today
It is unlikely Fujiflim will support legacy products with X Camera RAW because every company has to stop supporting products after a given period of time
It's hard for Fujifilm to predict how much stock they need to produce for retailers at this time with it taking about 3 months to get things rolling during normal times, but since these aren't normal times it is hard for them to catch up with cameras like the X100V now with several thousand cameras back ordered
Fujifilm is constantly shipping stock to retailers, but they don't can't catch up with backorders so once again place orders for back ordered stuff if you want to get it sooner rather than later
Typical can't tell when or if an X80 will come
#198 ETHICS, MORALS, EMOTIONS OF PHOTOGRAPHY PLUS ASK ANDREAS PART 2
Fujifilm has features/included female X Photographers for recent launches
Fujifilm tries to be as equal as they can
In the UK you have to be a full time working professional photographer with the majority of your income coming from photography using Fujifilm kits they purchase themselves
The reason they want them to have picked Fujifilm is that then they can pitch why they choose Fujifilm over others
Fujifilm wants X photographers that can write, talk, train, etc…
Fujifilm is always looking to refresh the program and include more people and the US team really shook things up last year
It's best to turn your mirrorless camera off between shooting, but what is better for the battery there is no engineering answer to that
GFX50S you have to press a button and move the dial to move the exposure compensation like the X-H1
If Fujifilm started charging for firmware updates it would open a can of worms and it could get really granular and not be worth wild since you would end up splitting the range up too much
Chip shortages probably won't end until 2022, but Fujifilm hoped it would improve by October
It would be hard to develop X RAW for the iPad Pro because of how the camera would talk to the OS which would divert resources from camera remote app etc…
The GFX50S and GFX50R have limitations in how they can be updated due to the processor so if you want new simulations then you will have to get newer cameras
There is a thin line between what engineers can do and the amount of resources that can be dedicated to updating firmware further and fully testing them so Fujifilm doesn't have a huge group of beta testers
Nostalgic Negative isn't coming to the X series anytime soon
Would love a true monochrome GFX, but how many people would buy one
The bean counters aren't confident they would sell enough monochrome GFX to greenlight the program
400H had to be discontinued because they lacked the raw materials to make more to continue past the end of the year and they thought it would take 18 months to get through the stock, but then people panic bought and it sold out in 6 months
Fujifilm has to make a new Velvia 100 because of the adhesive used on one of the layers
Film sales are steady but not sure we will see a new generation of film coming back beyond what we know
Never say never about a firmware update happening, but no clue if it is likely Fujifilm will make the X-Pro3 act more like the X100V with the flip screen same with AEL function
Requesting firmware updates fall into updates, fix, new feature, etc… the sky can be the limit, but you have to stay focused on what you actually need
Fujifilm has a relatively small team for engineering
The new Fujifilm lenses are really new lenses, not replacements except for the XF23mm f/1.4 II and 27mm f/2.8 II
The new lenses are future-proofing themselves for higher resolutions like the X-H2 will demand
Management has committed to developing an X-H2, but all in good time
Fujifilm stays humble by reading trolls
Next year will be amazing!
Follow Fujiaddict on Facebook, Twitter, Instagram, and YouTube
Plus our owners' groups
Fujifilm GFX Owners Group
Fujifilm X-H Owners Group
Fujifilm X-T Owners Group
Fujifilm X-S Owners Group
Fujifilm X-Pro Owners Group
Fujifilm X-E Owners Group
Fujifilm X-A Owners Group
Fujifilm X100 Owners Group