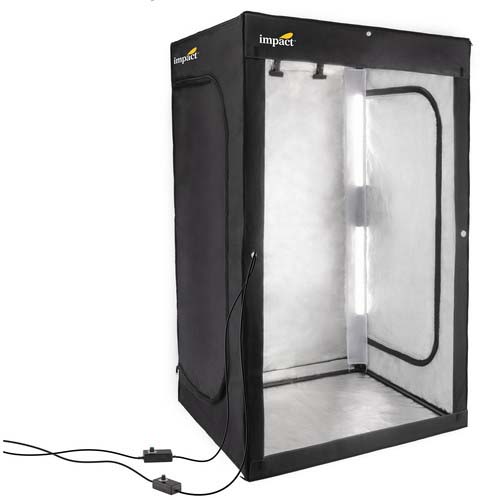 I received the Impact Photo Pro LED Booth 400 a few months ago and it is a great box for product photography if you have the space for using one. As many of you might know I like to do my own product photos for the website so I bought a relatively large portable light box a few years ago, which has worked out well until recently. My old box worked great for Leica and X-Mount product photography, but I found it a little restrictive for GFX sized products so I started looking for larger portable light boxes that can be put away when not in use.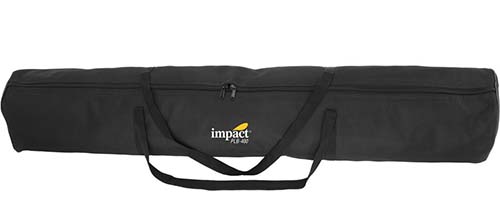 This is how I came across the Impact Photo Pro LED Booth 400, which was suggested by my contact at B&H Photo. This light booth packs away nicely at roughly 47 x 10 x 8″ when in its carrying case, but expands to 47 x 39 x 78″ which barely fits in my house, more on that later. I like that the light booth is easy to store, but it can be difficult to fit everything back in the bag and the bag could be made of better material with better zippers. I have only set this booth up 3x now and one zipper already broke so I do not expect the bag to last very long, but this is the weakest point of the kit.
Putting the booth together can be a chore especially if you do not have a lot of space in your house and have 8ft ceilings like me. B&H Photo suggests you assemble the light booth laying on its side, which can be done by one person, but it is tricky and requires a minimum 10ft x 5ft clear space to assemble on its side. The first time I assembled mine I did it standing up and it was frustrating, but it can be done. I only had about 5ft x 5ft when I assembled it upright up in my house.
The first two times I setup this light booth I mixed up some polls, which made it take longer to put together, but once everything was assembled the booth was easy for me to move around the limited amount of space I had to work with. The polls are marked with stickers, but they might fade with time and can easily be missed. The third time I used the booth I set it up outside on its side and it went smoothly. If you want to understand the process better Impact released a video, which you can see below. Assembly could be improved some with lighter materials and better marking on the polls.
I really like this booth for large product photography and for limited portraiture work. So far I have used the light booth for photographing the large Daily Driver Camera Bag for this site and for doing my kids' school pictures this year thanks to COVID-19. I would have liked to have included some of my own product photos of this light booth, but it is entirely too large for me to photograph inside my house and outside the photos just look strange so I had to use the product photos to show off this very large booth and its features.
The Impact Photo Pro LED Booth 400 comes with 3 backdrops, 8 LED 5600K daylight-balanced strips with individual dimmers, light defusers, 3 heavy-duty clamps for holding the backdrop, and finally a garment bar that attaches to the top. This may sound like a lot, but I wish the booth came with a few more LED or more powerful LED strips. the LED strips attach magnetically so you have a lot of control over how the light is positioned in the booth and the booth can probably fit twice as many lights if you want to purchase some.
I personally found the lighting limited with how much I wanted to stop down my GFX so I added a flash to my setup, which helped a lot. The Impact Photo Pro LED Booth 400 might have enough light for APS-C or Full-Frame cameras stopped down, but I felt like it needed a little more for my GFX.
I think the Impact Photo Pro LED Booth 400 is a great booth if you have a studio or large space for photography and want a booth you can put away, but it is limited for on-location shoots or using inside a standard size single-family home. At just under 50lbs it is very portable for its size, but you will need to bring along a power strip or two for its 8 plugs and I do not think the bag that comes with it will last very long if it is not babied. It would also be great if this booth came with an additional backdrop for portraiture, but you can always add your own.
The Impact Photo Pro LED Booth 400 is available at B&H Photo
Strengths
Portable
Very large
Versital
Individual light dimmers
Includes light diffusers
Good Value
Very strong backdrop clips
Easy to setup if you have space and assistance
Doesn't take a lot of space when in its bag
Weaknesses
The bag that comes with it for storage will not last
LEDs need more light output or more lights
Uses 8 plugs instead of one
A little large for use at home
Difficult to assemble if space is limited and you are alone
Should come with an additional backdrop for portraiture
Follow Fujiaddict on Facebook, Twitter, Instagram, and YouTube
Plus our owners' groups
Fujifilm GFX Owners Group
Fujifilm X-H Owners Group
Fujifilm X-T Owners Group
Fujifilm X-Pro Owners Group
Fujifilm X-E Owners Group
Fujifilm X-A Owners Group
Fujifilm X100 Owners Group