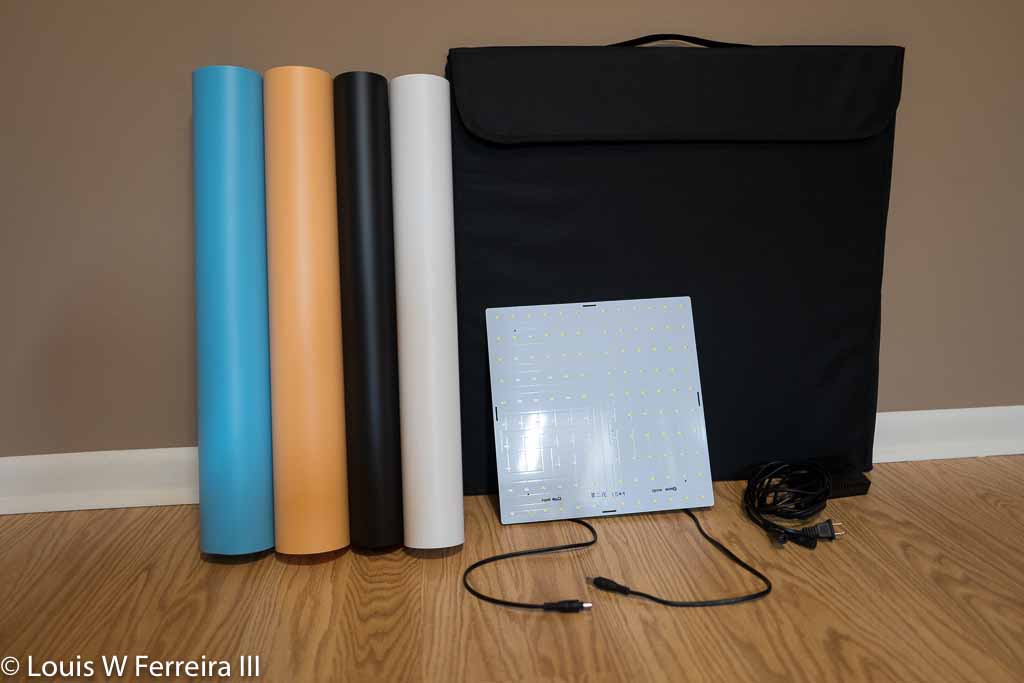 A few days ago, I shared an interesting DIY method of doing product photography which utilized your bathtub, that I came across while doing research. Today I wish to share with you the product I decided to purchase to improve my product shots on the site.
The StudioPRO all-in-one LED product photo light kit 24″ cube is a small investment that can improve the quality of your product photography. It includes 4 back drops and uses a single large LED along with reflective surfaces to ensure full/even lighting of anything that fits in the box. It does not take long to setup, and when you are done, the entire setup can be folded flat and stored in a small place.

So far, I am impressed with the performance of this semi-small light box and how well it stores, but there are some drawbacks to its design. Initially, I had a lot of trouble attaching the backdrops securely to the clips in the top back of the box because they are not very strong. The way they are affixed, you could change them out, so I'll likely put better clips in the box at a later date. It doesn't affect your shot if you're shooting small objects, but if you try to shoot something larger in the box, the backdrop could be hanging down into the frame, due to the lack of grip.


On the plus side, once you have everything setup how you want it in the box, the backdrop stays in place if you wedge it properly. There is also plenty of light provided by the single LED to shoot base ISO at f8 or higher with a high shutter speed. You could add more if you want, but f8-16 worked fine for me at 1/250-1/500 and ISO100.


This collapsible wireframe-based box should maintain its rigidity over time and be more difficult to damage than tubular frame designs that zip together. It's also faster to setup than tubular boxes because it velcros together. I do not anticipate having to do a lot of product photography, but when I do, I don't want to spend 30 minutes assembling/disassembling a frame, with screws and a screwdriver, just to take a few shots. Setup/breakdown time for this box is less than 5 minutes, and it all fits back in the original shipping box easily.


You have already seen one of my first shots with this box when I mentioned the Lenspacks I received, but here are some more shots of my X-Pro 2 with all of the lenses I currently own. Let me know what you think of them, and I'd appreciate any suggestions about how I can further improve my product shots.