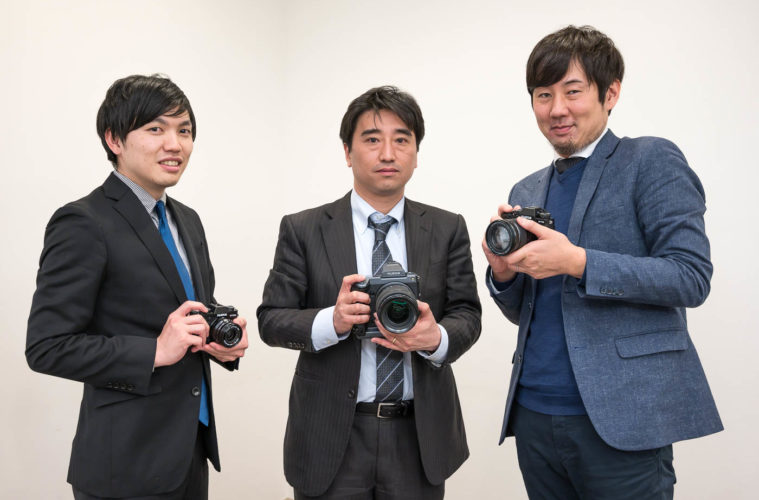 Phototrend interviewed Shinichiro Udono, Jun Watanabe, and Takuya Noguchi from Fujifilm at CP+ 2019. Below are some excerpts  and pictures from the interview or you can read the full interview here:
Mirrorless camera sales already make up 48% of annual sales in value
Fujifilm thinks that in the second half of 2019 hybrid cameras already exceeded the 50% mark.
Fujifilm isn't the only reason for mirrorless hybrid cameras taking off there is Canon, Nikon, Sony, Panasonic, Olympus, etc…
This year mirrorless sales should be around 55% to 60% of the camera market
Fujifilm launched its first hybrid camera 7 years ago in 2012
Fujifilm has a well-established system with 31 XF lenses including those on the roadmap and they plan to add 10 GF lenses.
Fujifilm f/1.4 lenses are designed for professionals f/2 or f/2.8 lenses are for photographers that want to remain compact
Fujifilm is making lenses for everyone
When Fujifilm launched the X-Pro1 in 2012 their priority was photography and not video
Newer lenses have features that are more compatible with video
Lenses with a lot of moving glass are not ideal for video.
The 

Fujinon XF 16-55mm f/2.8 R LM WR and Fujinon XF 50-140mm f/2.8 R LM OIS WR are good for video

Fujifilm recommends their zoom lenses for video work but might make better-fixed lenses for video in the future
Fujifilm X-H is still for professionals and X-T is for enthusiasts but professionals can use it too
Fujifilm's IBIS system is still too larger for X-T cameras
Not sure why people won't drop dreams of a Fujifilm Full Frame cameras since they have GFX medium format.
The combination of APS-C and Medium Format is the best option
Full Frame is too big and the lenses are too heavy with almost no advantage over APS-C
Keeping the system small encourages owners to take the camera with them more and to take more photos
For customers that want a larger system with higher resolution, GFX is their solution
The Fujifilm X-T20 will not be discontinued and it will cost less than the X-T30
Fujifilm X-T3 is the best option for customers that want the latest technology
Fujifilm will add IBIS to the X-T line when they can do it without compromise
Fujinon 

GF50mmF3.5 R LM WR will be launched in 2019 and Fujinon GF45-100mm F4 R LM OIS WR will launch in 2020.

The Fujinon XF 33mm f/1 R WR is the brightest AF lens and it is designed to have

 beautiful bokeh and great wide open performance.

Fujifilm was waiting for the technology to create an f/1 AF lens.
The Fujifilm GFX100Mpx isn't finalized yet, but the overall size and user interface is almost final.
The Fujifilm GFX100Mpx will have very fast AF thanks to the phase detect pixels
The Fujifilm GFX100Mpx IBIS system was a challenge because it is hard to stabilize such a large sensor
The Fujifilm GFX100Mpx will record 4k 30p without cropping, which should please professional videographers
The Fujifilm GFX100Mpx is ideal for professional photographers working in fashion, advertising, portraiture, landscape, and more
 Fujifilm GFX 50R sales are more than anticipated and many advanced amateur photographers are buying it for landscape and street photography.
Fujifilm didn't put any technical research into how they could make a modular GFX
There are currently no plans to make the modular GFX, but maybe they will in the future when they have the technology to make one.
It probably got a lot of attention because it was unique and compact.
Fujifilm was surprised by the excitement from their customer and photographers about a modular GFX system.
Fujifilm got the idea to update their cameras significantly and frequently from the smartphone industry.
Fujifilm X-T20 might still get updates, but they can't copy stuff from the new X-Trans sensors 4 to the X-Trans 3 all of the time.
Right now their priority is X-Trans 4
The photography market is starting to copy their strategy of releasing big updates
Just about every company is making a hybrid camera today
The SLR market is shrinking by 10-20% a year
The Fujinon MK18-55 T2.9 and Fujinon MK50-135mm T2.9 are selling at expected levels for X-Mount
Video professionals are very interested in Fujinon MK lenses for X and E-mount
The two MK lenses cover most of the needs of professional videographers from 18-135mm so they are going to focus on X and GFX lenses being better for video.