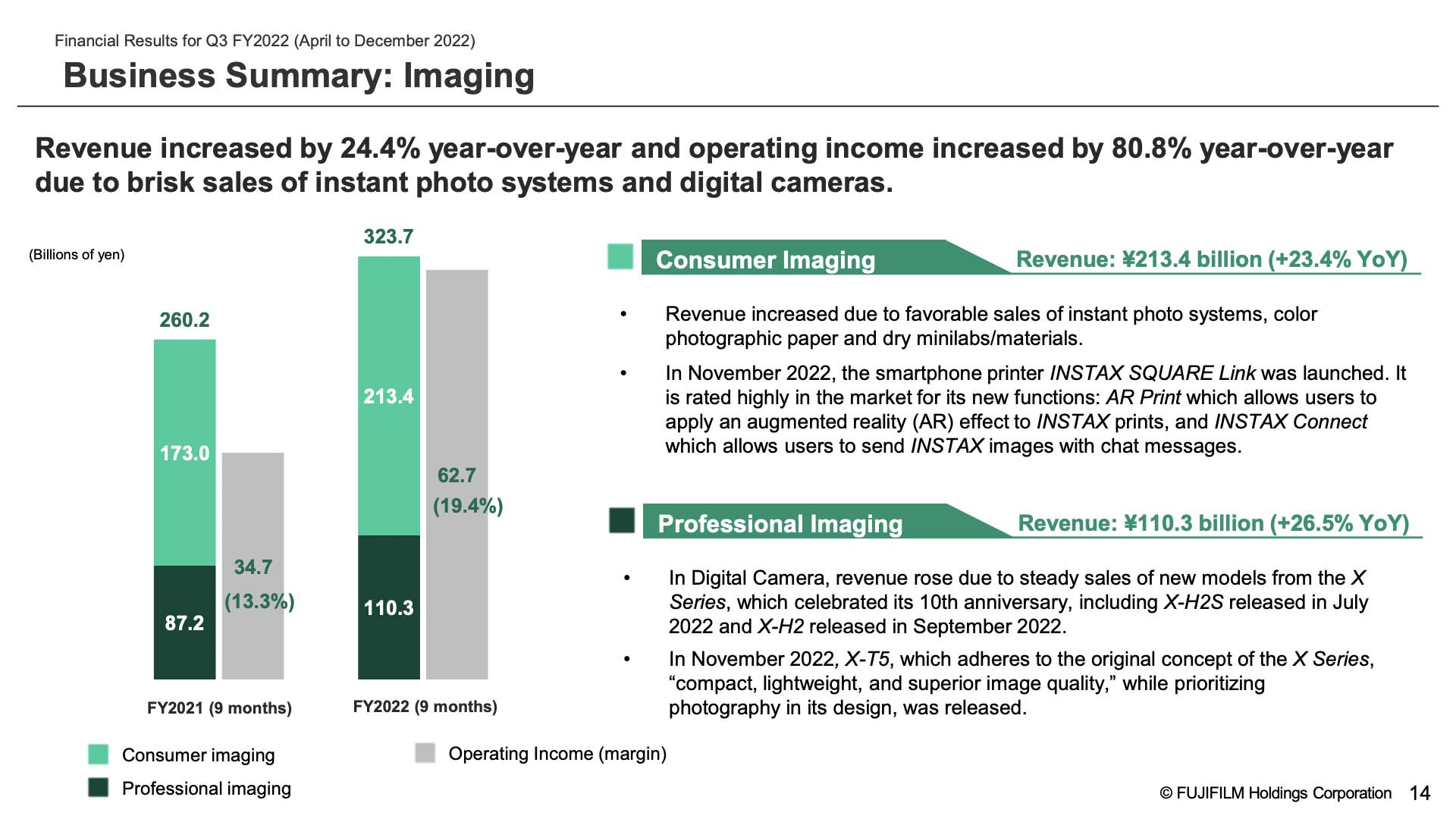 Fujifilm just released its financial results, and of course, Instax is continuing to do quite well while Fujifilm's new cameras are selling well. You can find the full report here or read the photography-centric bullet points below.
Brisk sales of instant photo systems and digital cameras boosted overall revenue by 24.4% year-over-year to ¥323.7 billion, and operating income by 80.8% year-over-year to ¥62.7 billion.
In the Consumer Imaging, revenues increased due to strong sales of instant photo systems, color photographic paper and dry minilabs / materials. In November 2022, we launched the smartphone printer INSTAX SQUARE Link. It is rated highly in the market for its new functions: AR Print which allows users to apply an augmented reality (AR) effect to INSTAX prints, and INSTAX Connect which allows users to send INSTAX images with chat messages.
In the Professional Imaging, revenue increased due to steady sales of new models from the X Series, which celebrated its 10th anniversary. These are X-H2S released in July 2022, X-H2 released in September 2022, and X-T5 released in November 2022 that adheres to the X Series' original concept of "compact, lightweight, and superior image quality," while prioritizing photography in its design.
Follow Fujiaddict on Facebook, Twitter, Instagram, and YouTube
Plus, our owners' groups
Fujifilm GFX Owners Group
Fujifilm X-H Owners Group
Fujifilm X-T Owners Group
Fujifilm X-S Owners Group
Fujifilm X-Pro Owners Group
Fujifilm X-E Owners Group
Fujifilm X-A Owners Group
Fujifilm X100 Owners Group