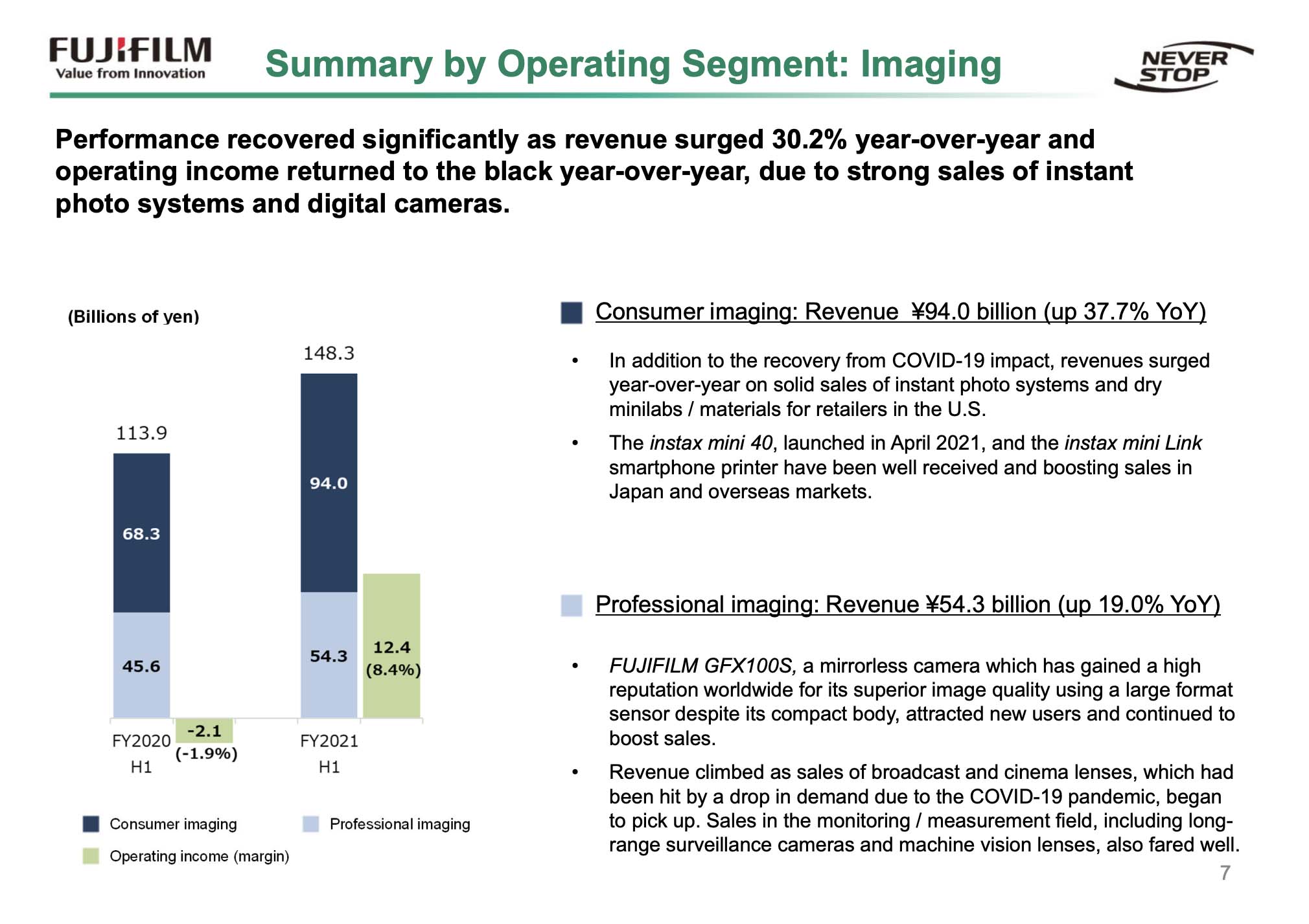 COVID-19 has certainly turned the world upside down, but it looks like Fujifilm is having a strong recovery from the pandemic according to its latest financial results. This isn't really a surprise as others have seen a similar recovery, but it would be nice if we could get past the chip shortage so that cameras and lenses could be delivered in higher volumes.
Strong sales of instant photo systems and digital cameras boosted revenue by 30.2% year-over-year to ¥148.3 billion and operating income returned to the black year-over- year to ¥12.4 billion.

In the consumer imaging field, steady sales of instant photo systems and dry minilabs/ materials for retailers in the U.S. drove revenue higher. Sales of both instant photo systemfadevices and films fared well. The instax mini 40, launched in April 2021, and the instax mini Link smartphone printer have been well received in Japan and overseas markets.

In the professional imaging field, sales of digital cameras remained steady, including the FUJIFILM GFX100S, a mirrorless camera which has gained a high reputation worldwide for its superior image quality using a large format sensor despite its compact body. Sales of broadcast and cinema lenses, which had been hit by a decline in demand due to the COVID-19 pandemic, turned upward, contributing to higher revenue. The monitoring / measurement field, including long-range surveillance cameras and machine vision lenses, also achieved significantly higher revenue than last year.
Follow Fujiaddict on Facebook, Twitter, Instagram, and YouTube
Plus our owners' groups
Fujifilm GFX Owners Group
Fujifilm X-H Owners Group
Fujifilm X-T Owners Group
Fujifilm X-S Owners Group
Fujifilm X-Pro Owners Group
Fujifilm X-E Owners Group
Fujifilm X-A Owners Group
Fujifilm X100 Owners Group