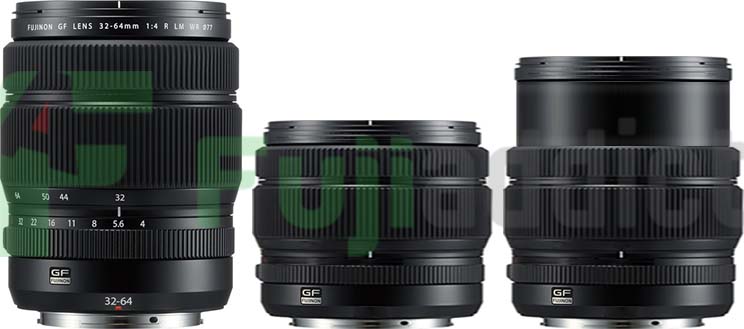 Based on the dimensions Nokishita leaked I made an accurate mock-up of the Fujinon GF 35-70mm F4.5-5.6 WR compared to the Fujinon GF 32-64mm f/4 R LM WR and it looks like a quite compact lens that might be worth picking up for under a grand. It is accurate in the closed and fully extended position above and even fully extended it looks quite small compared to the Fujinon 32-64mm.
Fujinon "GF35-70mm F4.5-5.6 WR" has 11 elements in 9 groups (1 aspherical lens, 2 ED lenses)
minimum 35cm, maximum 0.28x
filter 62mm
size φ84.9mm x 73.9mm (Collapsed) / 96.4 It seems to be mm (Wide) /95.7mm (Telephoto)
weigh 390g.
Follow Fujiaddict on Facebook, Twitter, Instagram, and YouTube
Fujinon GF 35-70mm f/4.5-5.6 WR:
B&H Photo / Amazon / Moment / Adorama
Fujinon GF 32-64mm f/4 R LM WR:
B&H Photo / Amazon / Moment / Adorama
Fujifilm GFX50SII:B&H Photo / Amazon  / Adorama
Fujifilm GFX100S: B&H Photo / Amazon / Moment / Adorama
Fujifilm GFX100: B&H Photo / Amazon / Adorama
Fujifilm GFX50R: B&H Photo / Amazon / Adorama
Fujifilm GFX 50S: B&H Photo / Amazon / Adorama
Follow Fujiaddict on Facebook, Twitter, Instagram, and YouTube
Plus our owners' groups
Fujifilm GFX Owners Group
Fujifilm X-H Owners Group
Fujifilm X-T Owners Group
Fujifilm X-S Owners Group
Fujifilm X-Pro Owners Group
Fujifilm X-E Owners Group
Fujifilm X-A Owners Group
Fujifilm X100 Owners Group