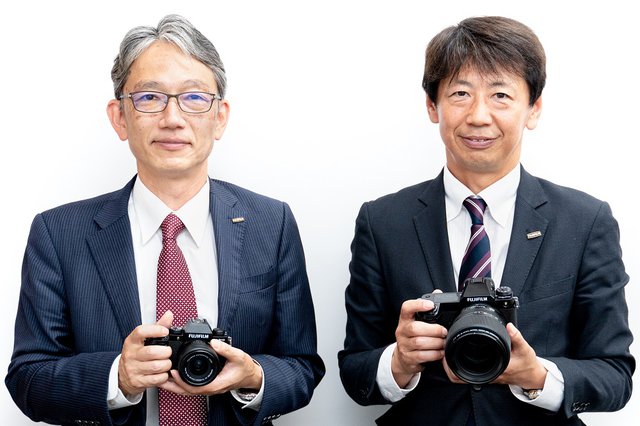 Phileweb posted a lengthy interview with Fujibayashi SadaHiroshi and Takumi Yagyu from Fujifilm. Below is a summary of the interview translated by google translate:
Corona severely affected the camera market decreasing sales by 40% compared to the previous year.
High-end products weren't as impacted and sales only decreased by 10%
The camera market is expected to rebound
"The idea we entrusted to the "GFX 100S" is how much we can provide customers with value that is not a function."
"Cameras are a mature business, so if you fall into functional competition, you will not be able to expand your customer base."
"I thought that we should be able to deliver the excitement even with digital, as in the analog era more than 20 years ago when the outstanding image quality of medium format cameras was widely recognized."
Studios are getting more interested in medium format especially at the price point of the GFX100S and sales are increasing
It's hard to provide photographers with places to touch their equipment during Corona so Fujifilm is using the web and more for the time being
The Fujifilm X-S10 has received high praise for having a good price point and a good feel
X Series was introduced over 10 years ago now
Some users were complaining about not having PSAM which X-S10 and GFX100S solve
"Instead of functional competition, we need to provide a wide range of values ​​that our customers can sympathize with."
Many more photos are taken today than in the past and it is a pity that most are taken and stored on smartphones
"We must responsibly propose to break the situation. This way, you can easily select images and print them, which is a functional evolution, and not only is it good because the photos are beautiful, but it is also an emotional place that should resonate with your heart."
Photo books are making a come back but in some age groups recognition rates do not even reach 50%
Wall decor is very popular and photos should be a bigger part of wall decor
Fujifilm introduced half-size prints as a response to the demands of a younger generation that like trading card-size prints
Fujifilm Instax is a unique experience because there is no post-processing and interest is growing among young men
Fujifilm has a new partnership with Nintendo allowing the switch to print Instax with the Instax mini Link
"Fujifilm has unified the two divisions, which were divided into imaging and cameras and lenses."
5G will likely change how we use cameras
Phones store their photos in the cloud but that's not actually convenient or easy to use
Fujifilm thinks if they can solve the difficulty of using the cloud for photos that it will provide opportunity
Fujifilm has a storage service called ""Photo Bank," but the reality is that it is difficult to show differentiation from other services, and there are many cases in which customers only save money. We recognize that the future direction and challenge is to create an easy-to-use form that is close to our customers."
" In the "X series" and "GFX series", not only the body but also the lens is important."
"APS-C has pioneered the market with Sony, but if you can't get the customer's sympathy for why, purpose, and aim, you shouldn't just put out the numbers. It will not be. Together with the dealers, we will appeal the proposal that Fujifilm cameras and lenses can take such fun things."
The English to Japanese translation was particularly confusing so if I felt something could be interpreted a few ways I just quoted it outright. In short, it looks like Fujifilm GFX continues to be strong and APS-C depend is expected to return.
Please don't forget to follow us on Facebook, Twitter, Instagram, YouTube
Plus our owners' groups
Fujifilm GFX Owners Group
Fujifilm X-H Owners Group
Fujifilm X-T Owners Group
Fujifilm X-S Owners Group
Fujifilm X-Pro Owners Group
Fujifilm X-E Owners Group
Fujifilm X-A Owners Group
Fujifilm X100 Owners Group
via phileweb