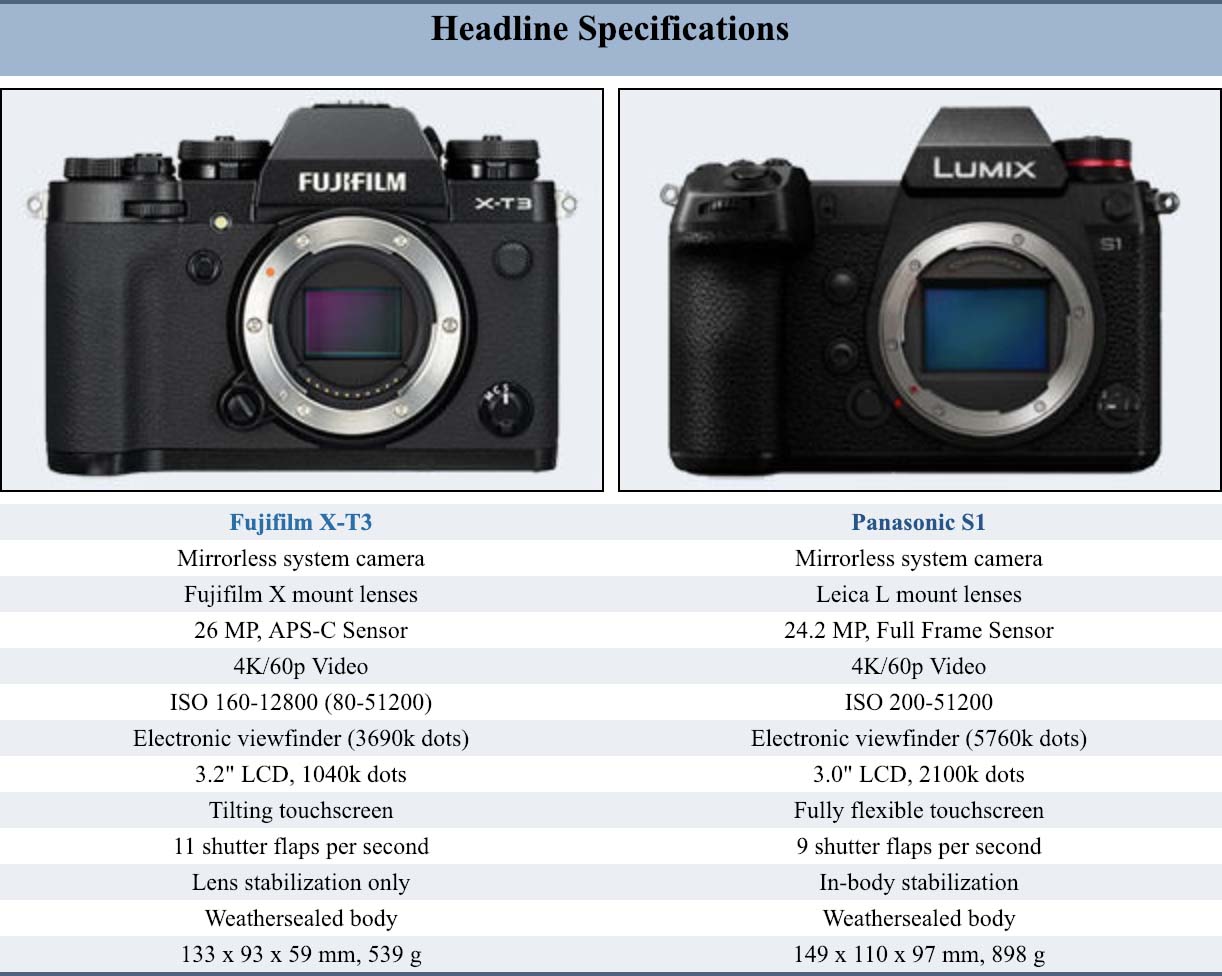 The Fujifilm X-T3 compares very well to the Panasonic S1 and it is significantly lighter. Apotelyt hasn't added their size comparison photos yet, but they should be up soon. I hope we get to see the new 5760k dot viewfinder in the upcoming Fujifilm GFX100 and Fujifilm X-H2. You can follow it's launch at 43addict if you're interested. The official announcement is expected within the next 24 hours.
Arguments in favor of the Fujifilm X-T3:
Better video autofocus: Features on-sensor phase-detection for more confident movie autofocus.
Larger screen: Has a bigger rear LCD (3.2″ vs 3.0″) for image review and settings control.
Faster burst: Shoots at higher frequency (11 vs 9 flaps/sec) to capture the decisive moment.
More compact: Is smaller (133x93mm vs 149x110mm) and thus needs less room in the bag.
Less heavy: Is lighter (by 359g or 40 percent) and hence easier to carry around.
Easier travel charging: Can be conveniently charged via its USB port.
Faster data transfer: Supports a more advanced USB protocol (3.1 vs 3.0).
Better studio light control: Has a PC Sync socket to connect to professional strobe lights.
More affordable: Was introduced into a lower priced category (50 percent cheaper at launch).
More heavily discounted: Has been on the market for longer (launched in September 2018).
Advantages of the Panasonic Lumix DC-S1:
High quality composites: Can combine several shots after pixel-shifting its sensor.
Better image quality: Features bigger pixels on a larger sensor for higher quality imaging.
Richer colors: Larger pixels generate images with better, more accurate colors.
More dynamic range: Capable of capturing a wider spectrum of light and dark details.
Better low-light sensitivity: Can be used in poorly lit environments and still produce good images.
More detailed viewfinder: Has higher resolution electronic viewfinder (5760k vs 3690k dots).
Easier setting verification: Features a control panel on top to check shooting parameters.
More detailed LCD: Has a higher resolution rear screen (2100k vs 1040k dots).
More flexible LCD: Has full-flex screen for odd-angle shots in portrait or landscape orientation.
Sharper images: Has stabilization technology built-in to reduce the impact of hand-shake.
More solid recording: Has a full-sized HDMI port for a sturdy connection to an external recorder.
More modern: Was introduced somewhat (4 months) more recently.
Fujifilm X-T3 News, Rumors, and Collaboration
Fujifilm X-T Owners Group
Fujifilm X-T Page
Follow Fujiaddict on Facebook, Twitter, Instagram, and YouTube
Fujifilm X-T3: B&H Photo / Amazon / Adorama
Fujifilm X-T3 + 18-55mm: B&H Photo / Amazon / Adorama
Panasonic S1: B&H Photo / Amazon / Adorama
Panasonic S1R: B&H Photo / Amazon / Adorama