Testing Medium format cameras isn't something new for DXO Mark and when they called the D850 the first DSLR to cross the 100 mark they should have been clear by adding the first full fame DSLR since the 645Z has a DSLR design. It is surprising to see how the 645Z and D850 landscape and portrait measurements compare. The Pentax 645Z seems to only have an extreme advantage in high ISO performance, which doesn't match Photon on Photos' results.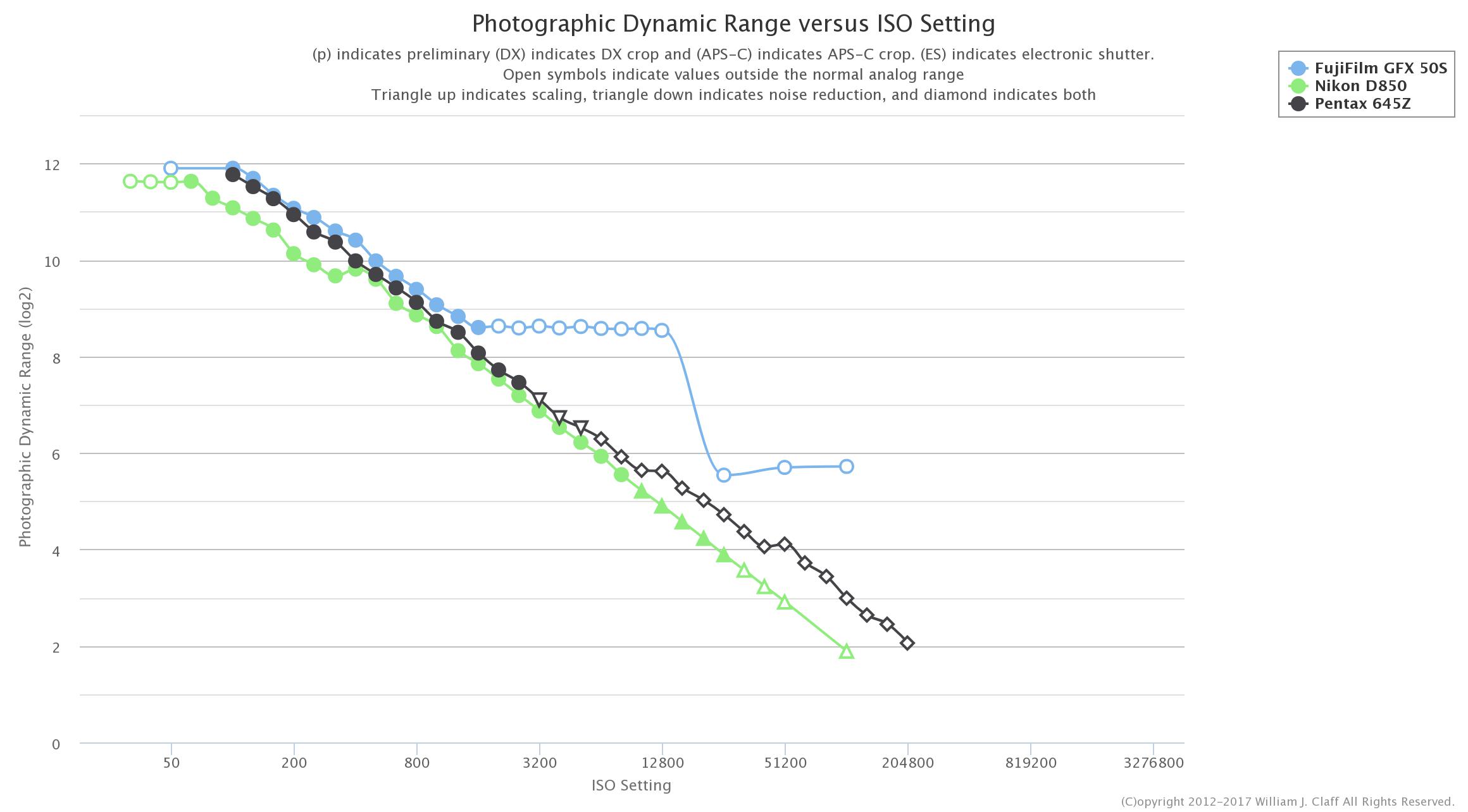 If we look at the more reliable and consistent Photons on Photos they have a very different take on how these cameras compare. The D850 gets close to the dynamic range of the 645Z and GFX, but never catches the GFX. While the D850 catches the 645Z at some ISO levels it does not perform equally around base ISO, which is where most photographers try to shoot landscape/portraiture. Maybe DXO based their 101 score on limited data, but if we extrapolate, based on the good data we have today cameras like the GFX and X1D should score 102 or 103, maybe even 104, but I am not sure DXO's results for the 645Z are correct. I highly doubt the D850 is better than the 645Z at Landscape/Portrait work and Photons on Photos data seems to back my perspective up.
The mass availability of affordable medium format is shaking up the industry as I hoped it would and as a side effect, it is exposing a lot of flaws in how photographers try to compare cameras with objective numbers. Something Fujifilm has managed to avoid with their X-Trans sensor since companies like DXO won't test their cameras, but photons on photos does. Unfortunately, objective standards are difficult to come by due to a variety of influences, but if you simply must have charts and graphs photons on photos is a good place to go or if you want a standardized independent review method reidreview has always been a good site to read even if his review volume is low. Of course, subjective reviews are also very important to take into consideration when comparing cameras, but some have been unduly influenced by money. Special thanks to Pentax/Photorumors for having a clear copy of the Pentax DXO results.
Join our Fujifilm GFX Owners Group which is growing rapidly, also follow the Fujifilm GFX Page to get more tailored news on Facebook and follow Fujiaddict on Facebook and Twitter.
Fujifilm GFX 50S: B&H Photo / Amazon / Adorama
Nikon D850: B&H Photo / Amazon / Adorama
Pentax 645Z B&H Photo / Amazon / Adorama
Hasselblad X1D-50c: B&H Photo / Amazon / Adorama
Fujinon GF 110mm F 2 R LM WR: B&H Photo / Amazon / Adorama
Fujinon GF 23mm F 4 R LM WR: B&H Photo  / Amazon / Adorama
Fujinon GF 63mm F2.8 R WR: B&H Photo / Amazon / Adorama
Fujinon GF 120 f4 R LM OIS WR Macro: B&H Photo / Amazon / Adorama
Fujinon GF 32-64mm f4 R LM WR: B&H Photo / Amazon / Adorama
Sekonic L-858D-U Speedmaster: B&H Photo / Amazon / Adorama