I consider myself primarily an available light photographer that dabbles in flash for creative purposes, but the release of the Fujifilm GFX 50S and E-FX500 caused me to seriously reconsider my preference for getting the best results from my equipment. Quality lighting makes a huge difference in image quality, and the GFX benefits from studio strobes more than any camera I have ever owned. If you're going to invest Fujifilm GFX 50S money on a camera, you owe it to yourself to own at least one strobe capable of providing adequate illumination under any circumstances.
Initially, I was going to wait for a manufacturer to fully support Fujifilm's Flash protocol before buying into a system, but after purchasing a RoboSHOOT, I quickly found that their Nikon interpreter was more robust than originally advertised. After exchanging a few E-mails about the device's capabilities, RoboSHOOT gave me access to their beta program for testing, which further expanded support for a variety of Nikon trigger studio strobe setups on Fujifilm cameras.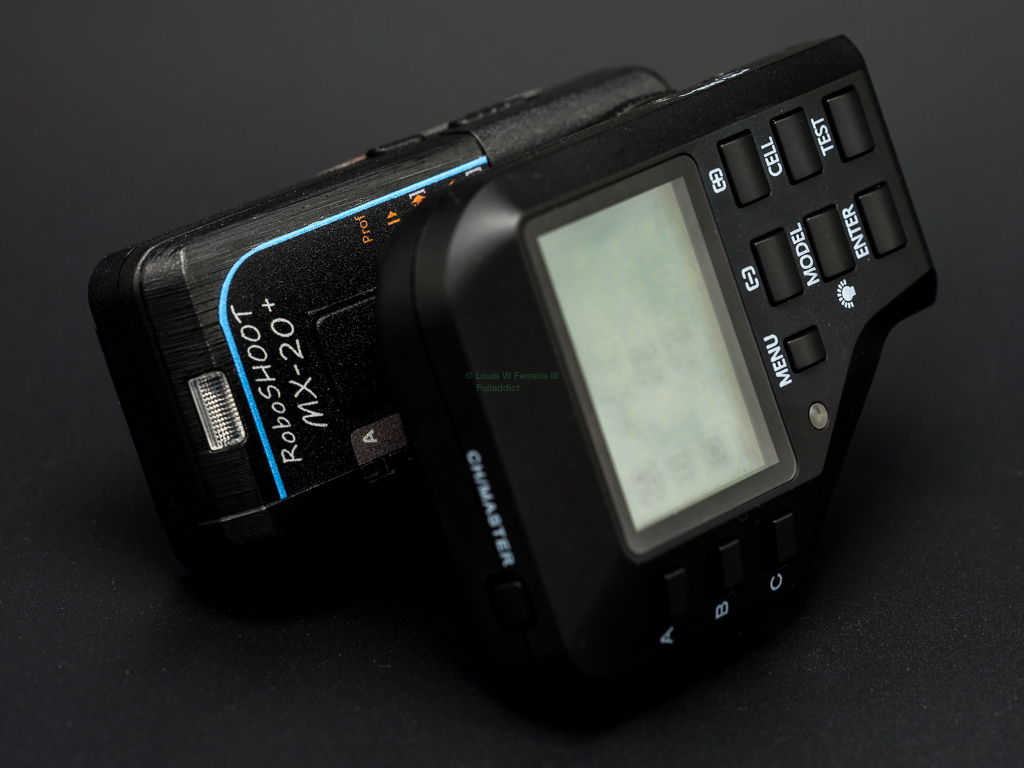 I contacted B&H Photo to see what their most portable and powerful lighting setup was with a Nikon wireless trigger and they recommended the Impact Venture TTL-600 over the Profoto B1, which is twice the price. Both the Impact Venture and Profoto have similar specifications, but the Impact Venture TTL-600 is lighter and smaller (Venture 4.25 lb 8.9'' Length 4.1" Diameter) (Profoto 6.61 lb 12.2 x 5.12). The Venture also has more power 600 Watts vs. 500 Watts, which helped me to overpower the sun in Florida.

The old adage the best camera is the camera you have with you also applies to lighting, and the Impact Venture TTL-600 is small enough and light enough to take along and easily use almost anywhere. When going out to shoot, I found myself regularly packing one or two Impact Venture lights in my trunk just in case I wanted to experiment. The included pistol grip made using the Impact Venture even easier for run and gun studio strobe flash photography because I could have a friend hold a light or I could carry one myself. We even did a full studio strobe setup in the middle of the Everglades while shooting astrophotography to shoot Milkyway portraits using rear curtain sync… Did I mention they are very portable?

The Impact Venture TTL-600 comes with a very solid metal case for transportation, but it adds bulk. You could very easily throw a light or two with a pistol grip in a large camera bag for taking photos in places that will not allow light stands. Various photographer-friendly places are only friendly up to a point, but once you bring in more than one tripod/stand, there tends to be a fee in my experience. In these instances, you could have an assistant hold a light with the pistol grip while placing a light on a tripod for a two light setup. You can also have two assistants hold and carry lights for you if stands/tripods are a problem at these locations. You should always do your best to remain within the rules when shooting at a location, especially when using expensive equipment that could be seized by law enforcement.

The Impact Venture TTL-600s were easy to use and powerful enough for HSS up to 1/4000 on the GFX and 1/8000 on the X-T2. I was able to reliably use two Ventures on my GFX and X-T2 with the RoboSHOOT MX-20 for hundreds of photos and, while you can go a little crazy with settings between the RoboSHOOT and wireless trigger, it is mostly unnecessary. The Impact Venture Wireless Controller allows 3 groups with 9 frequencies per channel and sync speeds up to 1/8000. The RoboSHOOT MX-20 also continues to function beyond just being an interpreter, allowing the addition of more flashes via RX-20 receivers. The added functionality gave me the option of adding my Fujifilm E-FX500 to the mix for a third light, but this spoils the consistency of the light the Impact Venture produces. When using just the Impact Venture to replace the available light, you end up with very consistent results that makes editing a breeze.

The only time I experienced technical issues setting up the strobes was on the GFX because the hot shoe on my camera is very tight. The tightness caused some initial misalignment of the pins between the units, which forced me to take everything apart and start over again, but now, after a few weeks of shooting, they work reliably. I'm not sure if this is specific to my GFX or my RoboSHOOT, but even my Fujifilm E-FX500 was a tight fit until the hot shoe broke in some.

Working with just the Impact Venture TTL-600 to light a shot is straightforward, and the weight savings makes it easier to work with on light stands than other lights. My two Impact Pro light stands were a little overkill for such lightweight strobes, but the stands are very stable on less than flat grassy surfaces. They are also useful when using the Impact Ventures in modeling light mode for video, which is a nice bonus feature, especially since they are dead silent. I didn't spend much time using the modeling lights beyond when I was manually focusing the astrophotography portrait photos in the Everglades because they were extremely bright in this mode and I did not want to cause premature wear to the bulb from using the modeling light for an extended period.

The Impact Venture TTL-600 is relatively new compared to Profoto, but there is already a variety of quality accessories available for the system. The 32" Impact Venture Hex Softbox folds up nicely and works well, but if you are in a hurry to attach it to the strobe, you can easily damage the strobe's black finish, which reveals aluminum beneath. The Impact Venture 14″ Deep Dish Reflector provides an additional hard light option beyond the included 7" dish and it secures to the front very easily along with the grid. There are already quite a few modifiers available for such a new system and I hope to try more in the future.

Overall, I would say I am extremely impressed with the Impact Venture TTL-600 and, if you don't currently own studio lights, it is a solid option that will save a lot of money. The lights are well built and provide very consistent performance for up to 500 full power flashes. My only complaints at this point are that the paint could be more durable, and it would be helpful to have HSS and full TTL support without needing a RoboSHOOT since at this time RoboSHOOT only provides unofficial HSS support. Impact should dedicate the resources necessary to fully supporting Fujifilm cameras on their Impact Venture lights because the portable nature of the Fujifilm GFX is begging for a 2 or 3 light portable strobe kit and the Impact Venture TTL-600 is the best light I am aware of for this kind of setup at this time. They could even sell it as a 3 strobe kit with a backpack for less than a 2 strobe Profoto kit.

Competition is always good for consumers, and right now there is a lot in the world of lighting, but the Impact Venture TTL-600, paired with the RoboSHOOT MX-20 should be on the top of any Fujifilm photographer's list. I have to thank B&H Photo, Serene Automation (RoboSHOOT), DepotMSA, yungabuelita and danzafranz for making this test possible. You can find me on instagram at LouisWFerreira and 500px at Louis Ferreira.
If you're a Fujifilm GFX fan than join our Fujifilm GFX Owners Group  follow the and follow the Fujifilm GFX Page in addition to Fujiaddict on Facebook and Twitter.