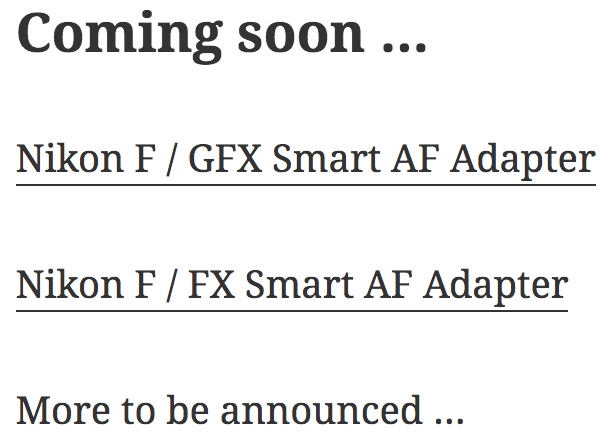 We reported that Steelring was working on a Nikon GFX adapter about one month ago, but now it seems that this adapter will also be coming to X-Series cameras soon. The GFX adapter is further along than the one for X-series from what I understand, but it seems adapters supporting Nikon lenses are on the rise. There was also a slightly alternative post about the adapters which you can read about below.
Main features:

Support Nikon AF-S G and E type lens, and AF-P G type lens contrast based AF in GFX 50s body.
Electromagnetic diaphragm of type E Lens can be controlled by GFX 50s body, allows AF in full open ( decided by camera body ) and step down for exposure.
Diaphragm of G type lens was manually controlled by aperture ring of adapter in real-time,  so AF is conducted in real effective aperture as exposure. AF performance may be bad in low light/contrast, benefits are 1) Real aperture priority,  2) and totally no noise of consistent IRIS moving.
Full EXIF info recording. ( For G type lens, only the current max open aperture was displayed and recorded, no way to adjust it ).
Lens VR was support and effective on demand.

FX mount version adapter is in design phase, maybe with better performance of PDAF and auto aperture control version for your choice.

Note:

Support to AF-D type lens will be very limited, EXIF may works, but no AF absolutely.
Join our Fujifilm GFX Owners Group, also follow the Fujifilm GFX Page to get more tailored news on Facebook and follow Fujiaddict on Facebook and Twitter.
Fujifilm GFX 50S: B&H Photo / Amazon / Adorama
via Steelring