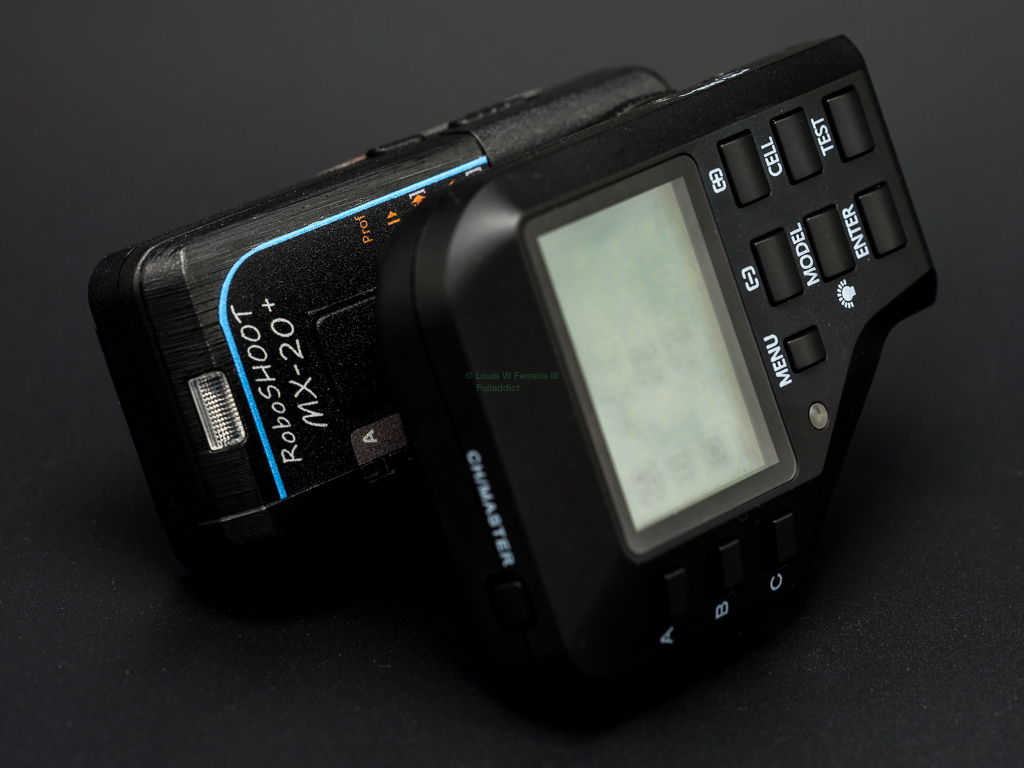 RoboSHOOTplus version 2.1 Released!
We are pleased announce version 2.1 of RoboSHOOTplus. It is available NOW for MX-20 and MX-15 upgrades! This version adds Studio Strobe and additional flash support, High performance with CH/CL manual mode, In-Camera Control improvements, and more. Also, by virtue of expanded Nikon speedlight compatibility, this release enables Nikon support even on the lower cost 'X-15 units. As a result, the MX-20 and MX-15 make great companions, since, with that combination you can upgrade both over-the-air!
The most important new features include:
Studio Strobe Support with AutoFP/HSS

Profoto AirTTL-N – AutoFP/HSS with both TTL and Manual control depending on head unit.
Godox X1N – AutoFP/HSS with both TTL and Manual control.
Flashpoint R2N – AutoFP/HSS with both TTL and Manual control
Phottix Odin II – AutoFP/HSS with Manual control
Quantum CoPilot – TTL and Manual
Studio Strobes controllers are supported on the MX unit (On-Camera) only.

The Strobe Controller defaults to group D (configurable). Power can be adjusted on the controller or to adjust power in-camera it can be set to Group A, B, or C.
When using Manual Control setting power in the Strobe Controller is recommended for best results and highest FPS performance.
Strobe Controller Groups can be used to adjust multiple strobes at the camera, independently.
Supports In-Camera Flash Exposure Compensation and other functions.
RX units may be used for speedlights in combination with Studio Strobes.
Please be sure to use the latest firmware for your strobes and controllers.

Expanded Speedlight Support

Nikon SB-800, SB-5000
Godox V860ii-N, AD360ii-N
See compatibility tables for more – many additional speedlights will function beyond what is listed in these tables.

Nikon Support on all unit types.

'X-15 units manufactured after March 2016 supported (and some earlier).

High Performance CH/CL in excess of 8FPS

Higher performance requires Manual Exposure to suppress preflashes
Results depend on flash power / recycle times, flash may weaken or not fire if insufficient charge to keep up.

In-Camera Control Improvements

Improved Manual Power Control
Improved Shutter Mash support

Enhancements

Improved EF-X500 detection
On-Camera flash manual power setting issue fixed
RX Group indication even with flash not present
Like all updates version 2.1 is available at no cost for self-installation. We also offer an upgrade service for an upgrade service fee of $20 plus shipping.
To get the upgrade follow the usual Upgrade Procedure. If upgrading from 1.x (RoboSHOOT, not RoboSHOOTplus) first obtain the new App.
B&H Photo
RoboSHOOT MX-20/RX-20 bundle
RoboSHOOT MX-15/RX-20 bundle
RoboSHOOT MX-15/RX-15 bundle
RoboShoot RX-20
RoboShoot RX-15
Amazon
RoboSHOOT MX-20/RX-20 bundle
RoboSHOOT MX-15/RX-20 bundle
RoboSHOOT MX-15/RX-15 bundle
RoboShoot RX-20
RoboShoot RX-15
Adorama
RoboSHOOT MX-20/RX-20 bundle
RoboSHOOT MX-15/RX-20 bundle
RoboSHOOT MX-15/RX-15 bundle
RoboShoot RX-20
RoboShoot RX-15