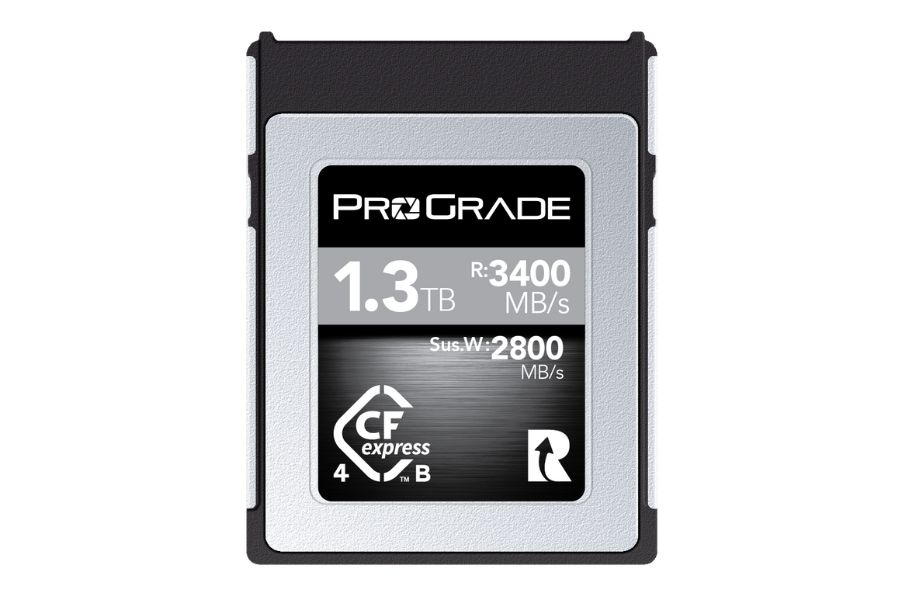 ProGrade Digital 1.3TB CFexpress 4.0 Type B
ProGrade Digital 1.3TB CFexpress 4.0 Type B x2 Substantial Savings
ProGrade Digital CFexpress Type B USB 4.0 Single-Slot Card Reader
Prograde announced a stupidly fast CF Express 4.0 Type B card that hopefully will be fully supported by the new Fujifilm GFX100II. These cards will also work with the Fujifilm X-H2 and Fujifilm X-H2S, but the write speeds probably will not help performance much, while the read speeds will let you copy files to your computer faster if you have a CFexpress Type B hub that supports CFexpress 4.0 speeds.
The CFexpress 4.0 1.3TB Cobalt Memory Card Provides the Optimal Capacity for RAW Cinema-Level Video Shooting Applications with New Higher Performance Read/Write Speed Capability

ProGrade Digital, Inc., founded with a mission to provide the highest quality professional grade digital memory cards and workflow solutions, announces the 3rd generation of its CFexpress™ Type B Cobalt-class memory card in a new 1.3TB capacity. This new generation features the same industry-leading quality of ProGrade current 2nd generation 325GB and 650GB capacity cards, but now leverages PCIe Gen 4 interconnect with NVMe 1.4c host controller interface. ProGrade Digital's 3rd generation CFexpress Cobalt cards are fully compliant with the just released CFexpress 4.0 specification, and provide read speeds of up to 3,400MB/s, burst write speeds of up to 3,000MB/s, and sustained write speeds of up to 2,800MB/s – ideally suited for the highest-resolution cinema-grade video capture applications. As in past Cobalt-class memory card generations, the highest endurance and reliability memory technology is utilized – ensuring years of trouble-free, high-performance capture.
"The introduction of our 3rd generation CFexpress Cobalt card at the 1.3TB capacity point provides the extra space and unparalleled performance needed for the very highest resolution video capture needs," said Wes Brewer, Founder and CEO of ProGrade Digital. "Our inclusion of PCIe Gen 4 controller technology, coupled with upcoming USB 4.0 high-speed readers will allow offloading speeds 3x greater than previously possible, providing a dramatic reduction in workflow processing time."
ProGrade Digital CFexpress Type B 1.3TB Cobalt Memory Card: 
Maximum read speed up to 3,400MB/s
Burst write speed up to 3,000MB/s
Minimum sustained write speed up to 2,800MB/s
CFexpress 4.0
Capacity: 1.3TB
MSRP: $1,459.99
CFexpress Type B 1.3TB Cobalt Delivers: 
Fully compliant with CompactFlash™ Association 4.0 specification and backward compatible with 2.0 specification
NVMe host interface with PCIe Gen4 X2 interconnect
Low standby power through NVMe PS0 – PS4 support enabling extended battery life
Metal enclosure for improved durability and heat dissipation
Thermal throttling protects the card from overheating
Laser etched unique serial numbering for the tracking of key components and manufacturing data for the highest quality control
Temperature ranges: operating 14°F to 158°F/ -10°C to 70°C; storage -4°F to 185°F/ -20°C to 85°C
Packaging: Biodegradable fiber tray

 

Refresh Pro ready*
SLC (Single Level Cell) memory technology for the highest endurance and reliability
RED V-Raptor and Komodo X approved
X-ray proof and shock-proof
3-year warranty
Please don't forget to follow us on Facebook, Twitter, Instagram, YouTube
Plus our owners' groups
Fujifilm GFX Owners Group
Fujifilm X-H Owners Group
Fujifilm X-T Owners Group
Fujifilm X-S Owners Group
Fujifilm X-Pro Owners Group
Fujifilm X-E Owners Group
Fujifilm X-A Owners Group
Fujifilm X100 Owners Group