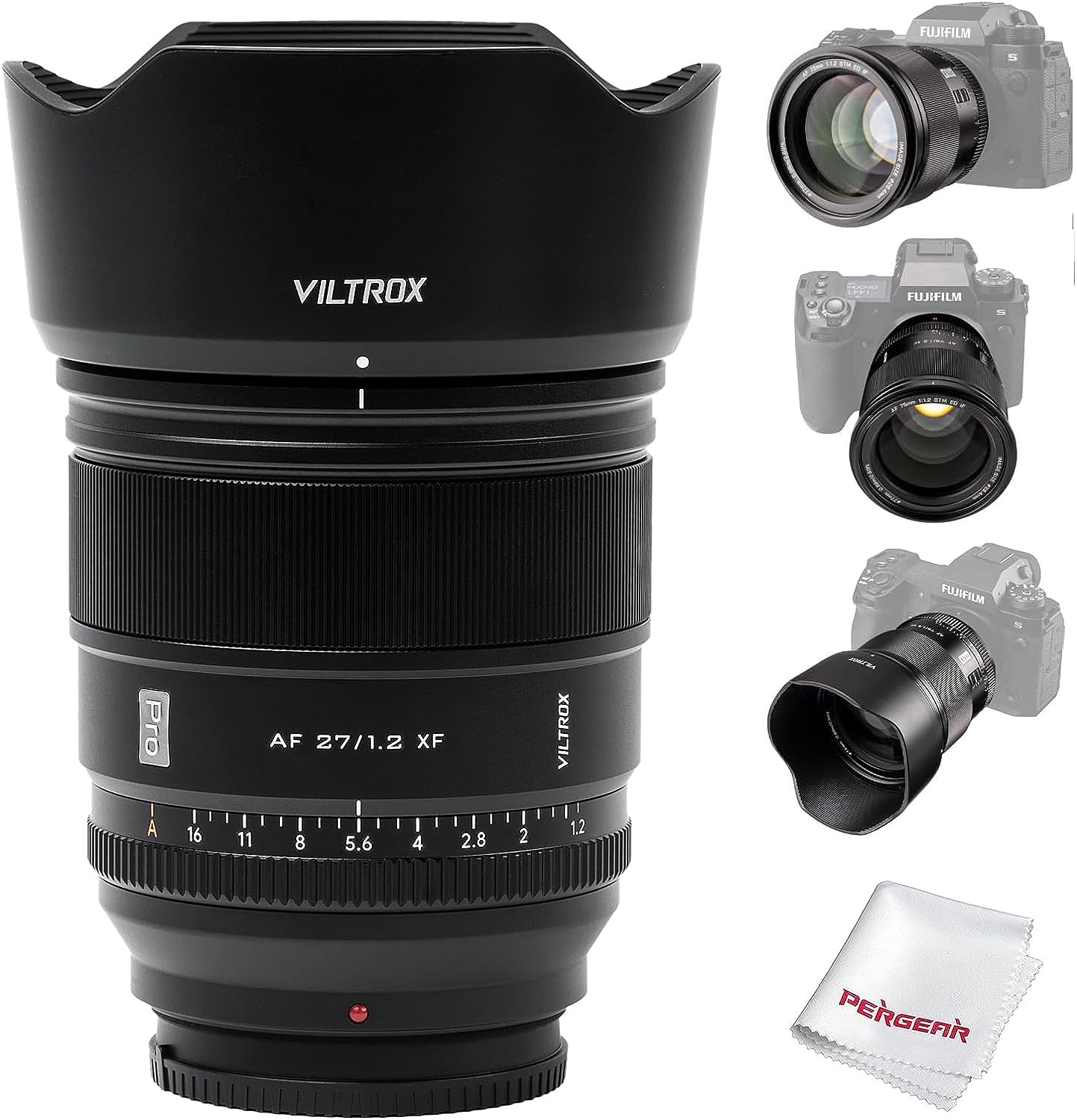 The Viltrox 27mm f/1.2 Pro XF can now be ordered from Amazon and it will be available from B&H Photo soon.
Continuing the Pro Legacy: Embark on a journey of astonishing resolution and superlative detail. The AF 27mm F1.2 Pro maintains the Pro series' tradition of remarkable resolution and presents scenes with crystal-clear authenticity. Its unparalleled resolution caters to the demands of higher image quality, ensuring a visual experience like no other.

Unprecedented F1.2 Aperture: Immerse yourself in the world of ethereal bokeh and enhanced low-light shooting. The F1.2 aperture creates breathtakingly sharp images from center to edge, even when wide open. Crafted with HOYA's special glass, this lens controls chromatic aberrations flawlessly, allowing for unrestricted creativity.

Optical Mastery: Delve into a world of optical excellence with an 11-group, 15-element optical structure and integrated HOYA aspherical elements. Two Extra-low Dispersion (ED) lenses and five high-refractive lenses, combined with high-definition nano-multilayer coatings, produce stunningly vivid and artifact-free images.

Efficient Autofocus Precision: The lens features a quiet and highly responsive STM stepping motor for rapid and accurate autofocus. Leveraging Viltrox's outstanding autofocus performance, every decisive moment is captured with precision and reliability, ensuring you never miss a beat.

Versatile Focal Length, Equivalent to 40mm: Embrace the versatile perspective of the 27mm, equivalent to approximately 40mm on full-frame, mirroring the human eye's natural viewpoint. With a minimum focusing distance of just 0.28m, this lens excels in close-up photography, capturing intricate details with the synergy of F1.2 aperture and extraordinary resolution. From candid snapshots to evocative portraits, this lens lets you express your vision in its truest form.
Viltrox 27mm f/1.2 Pro XF: Amazon / B&H Photo / Adorama
Viltrox AF 75mm f/1.2 PRO XF: B&H Photo / Amazon / Adorama
Follow Fujiaddict on Facebook, Twitter, Instagram, and YouTube
Plus, our owners' groups
Fujifilm GFX Owners Group
Fujifilm X-H Owners Group
Fujifilm X-T Owners Group
Fujifilm X-S Owners Group
Fujifilm X-Pro Owners Group
Fujifilm X-E Owners Group
Fujifilm X-A Owners Group
Fujifilm X100 Owners Group