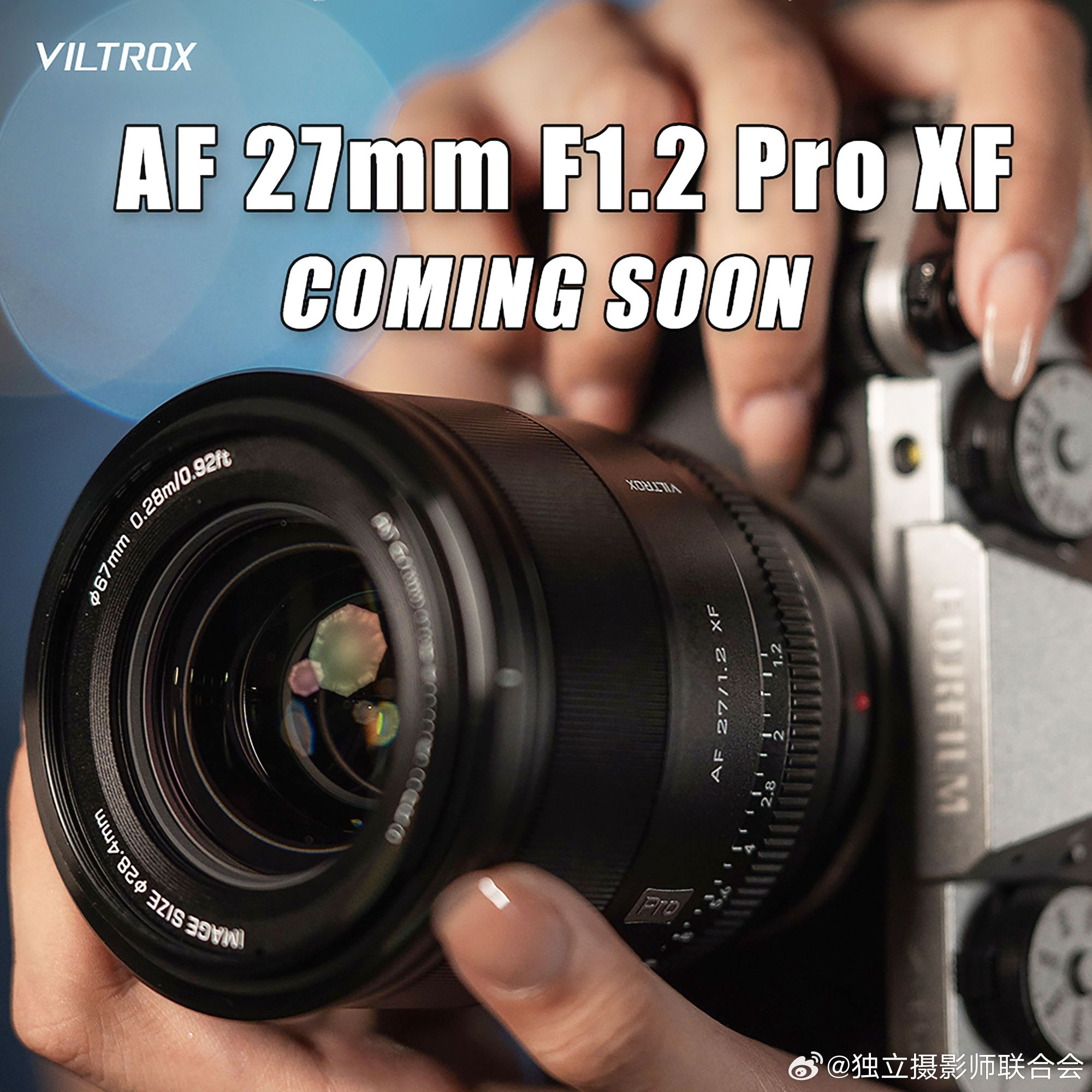 The Federation of Independent Photographers leaked the release date of the Viltrox 27mm f/1.2 Pro XF  on weibo along with a new image that you can see above. Somewhat surprisingly Viltrox China commented on the post but the translation isn't very useful.
It is reported that the closest focusing distance of the lens is 0.28m, and it has a certain close-up capability, which is equivalent to a full-frame angle of view of about 40.5mm, and a 67mm filter interface.
This should be a very interesting lens and I absolutely love the Viltrox 75mm f/1.2 so I think ill be picking up a Viltrox 27mm f/1.2 Pro XF for my birthday in August. We have been following this lens for a long time so hopefully, it is worth the wait.
Viltrox AF 75mm f/1.2 PRO XF: B&H Photo / Amazon / Adorama
Black
VILTROX 13mm f/1.4:B&H Photo / Amazon / Adorama
VILTROX 23mm f/1.4: B&H Photo / Amazon / Adorama
VILTROX 33mm f/1.4: B&H Photo / Amazon / Adorama
VILTROX 56mm f/1.4: B&H Photo / Amazon / Adorama
VILTROX 85mm f/1.8II: B&H Photo / Amazon / Adorama
Silver
VILTROX 23mm f/1.4: B&H Photo / Amazon
VILTROX 33mm f/1.4: B&H Photo / Amazon
VILTROX 56mm f/1.4: B&H Photo / Amazon
Fujifilm X-T5 Black:
B&H Photo / Amazon / Moment / Adorama
Fujifilm X-T5 Silver:
B&H Photo / Amazon / Moment / Adorama
Follow Fujiaddict on Facebook, Twitter, Instagram, and YouTube
Plus, our owners' groups
Fujifilm GFX Owners Group
Fujifilm X-H Owners Group
Fujifilm X-T Owners Group
Fujifilm X-S Owners Group
Fujifilm X-Pro Owners Group
Fujifilm X-E Owners Group
Fujifilm X-A Owners Group
Fujifilm X100 Owners Group