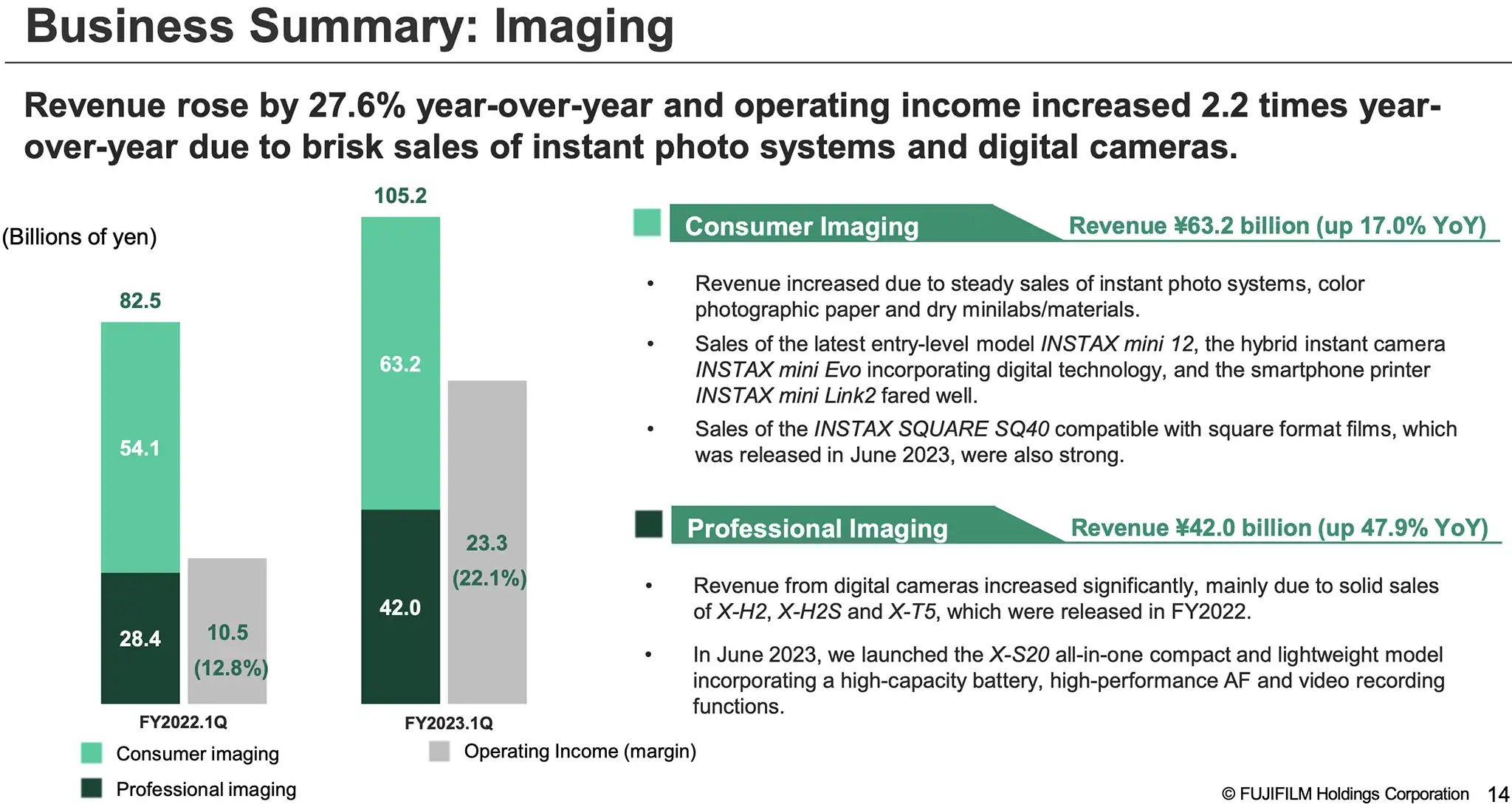 Fujifilm released its financial results, and of course, Instax is continuing to do quite well while Fujifilm's new cameras are selling well. You can find the full report here or read the talking points below:
In the Imaging segment, consolidated revenue amounted to ¥105.2 billion (up 27.6% year-over-year).

Consolidated operating income amounted to ¥23.3 billion (up 121.1% year-over-year).

In the consumer imaging field, steady sales of instant photo systems, color paper and dry minilabs/materials drove revenue higher. In June 2023, we launched the INSTAX SQUARE SQ40 which is compatible with square format films. We will continue to provide new values to people around the world by combining analog and digital technologies through the INSTAX Series of instant cameras.

In the professional imaging field, revenue increased significantly as sales of the X Series digital cameras launched in the previous fiscal year, in particular X-H2, X-H2S and X-T5, fared well. In June 2023, we launched the X-S20 all-in-one compact and lightweight model incorporating a high-capacity battery, high-performance AF and video recording functions. We will continue to offer attractive products by achieving overwhelmingly high image quality with the large format in the GFX series and the best balance between image quality and size in the X series. Meanwhile, in April 2023, we released the FUJIFILM SX1600, which is a lens-integrated long-range camera featuring the world's longest 1600mm telephoto and 40x optical zoom for broad applications including surveillance and inspections. We will continue to develop innovative products that meet the needs of customers and markets by using proprietary optical technology nurtured through the development of various lenses as well as cutting-edge image process technology.
*Among lens-integrated long-range cameras, as of April 6, 2023 according to Fujifilm.
Follow Fujiaddict on Facebook, Twitter, Instagram, and YouTube
Plus, our owners' groups
Fujifilm GFX Owners Group
Fujifilm X-H Owners Group
Fujifilm X-T Owners Group
Fujifilm X-S Owners Group
Fujifilm X-Pro Owners Group
Fujifilm X-E Owners Group
Fujifilm X-A Owners Group
Fujifilm X100 Owners Group