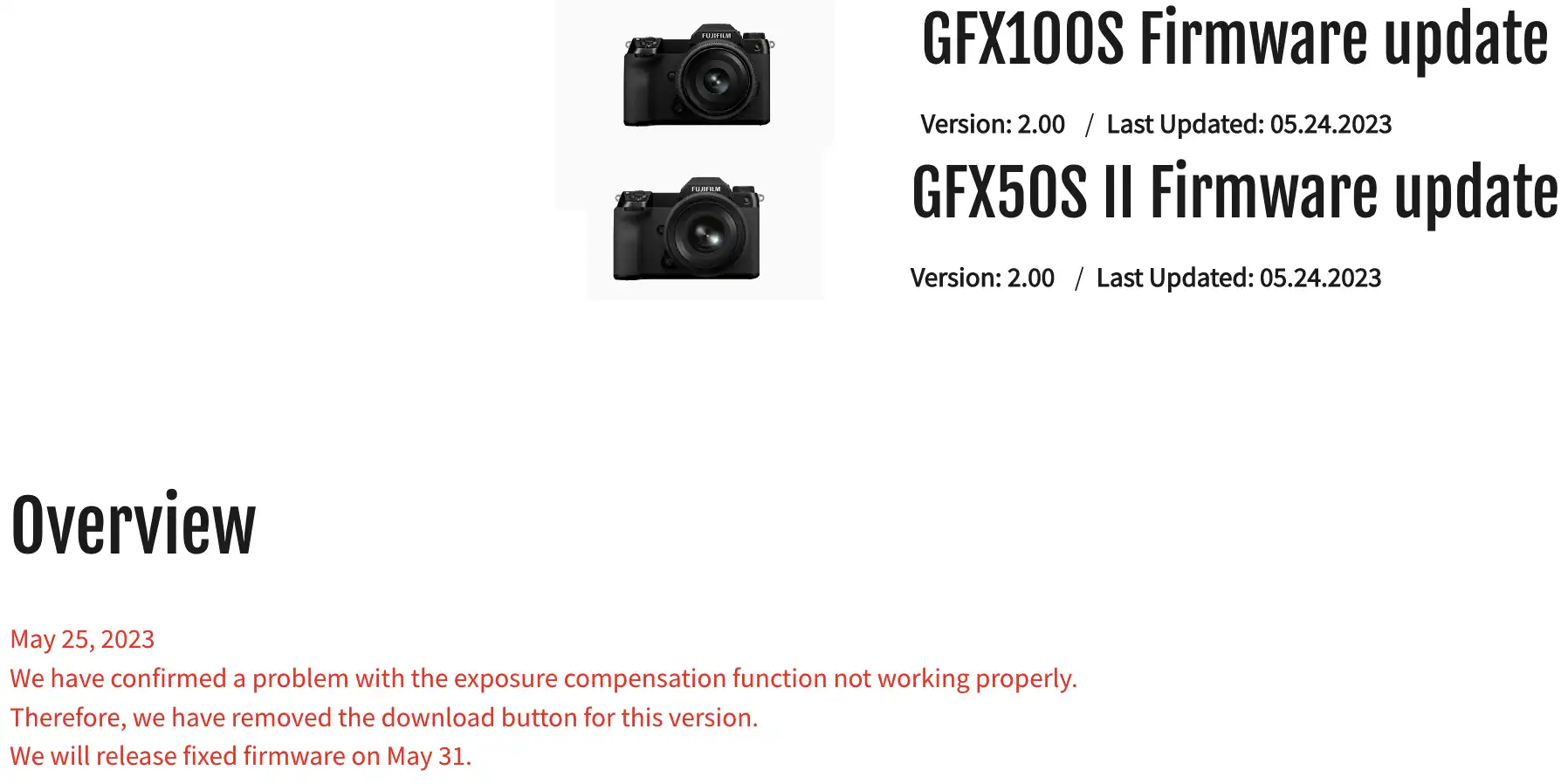 Fujifilm pulled its most recent firmware updates for the Fujifilm GFX100S and GFX 50SII due to an issue with exposure compensation after the update.
May 25, 2023
We have confirmed a problem with the exposure compensation function not working properly.
Therefore, we have removed the download button for this version.
We will release fixed firmware on May 31.
A reader in our Fujifilm GFX Owners group has come up with a workaround for the bug if you already updated and need to use exposure compensation
I found a solution or "work-around" to Firmware (Fe) 2.0 disabling the Exposure Compensation button on my GFX100s. The solution "is in the menu", as some repeatedly say.
Go to the menu, and instead of choosing "+/- when pressing" (which was the default setting from the factory set-up), now choose " +/- on/off switch".

With this option, you will press on your camera the +/- Exp Comp button, then turn the back wheel to make a change, and then press the +/- Exp Comp button to deactivate the back wheel from altering the ExpComp. If you don't deactivate it, turning the back wheel will not alter your shutter speed.
Here are 2 images that help.
GFX Series Camera Body
Fujifilm X-S20: B&H Photo / Amazon / Adorama
Fujinon XF8mm f/3.5: B&H Photo / Amazon / Adorama
Please don't forget to follow us on Facebook, Twitter, Instagram, YouTube
Plus our owners' groups
Fujifilm GFX Owners Group
Fujifilm X-H Owners Group
Fujifilm X-T Owners Group
Fujifilm X-S Owners Group
Fujifilm X-Pro Owners Group
Fujifilm X-E Owners Group
Fujifilm X-A Owners Group
Fujifilm X100 Owners Group