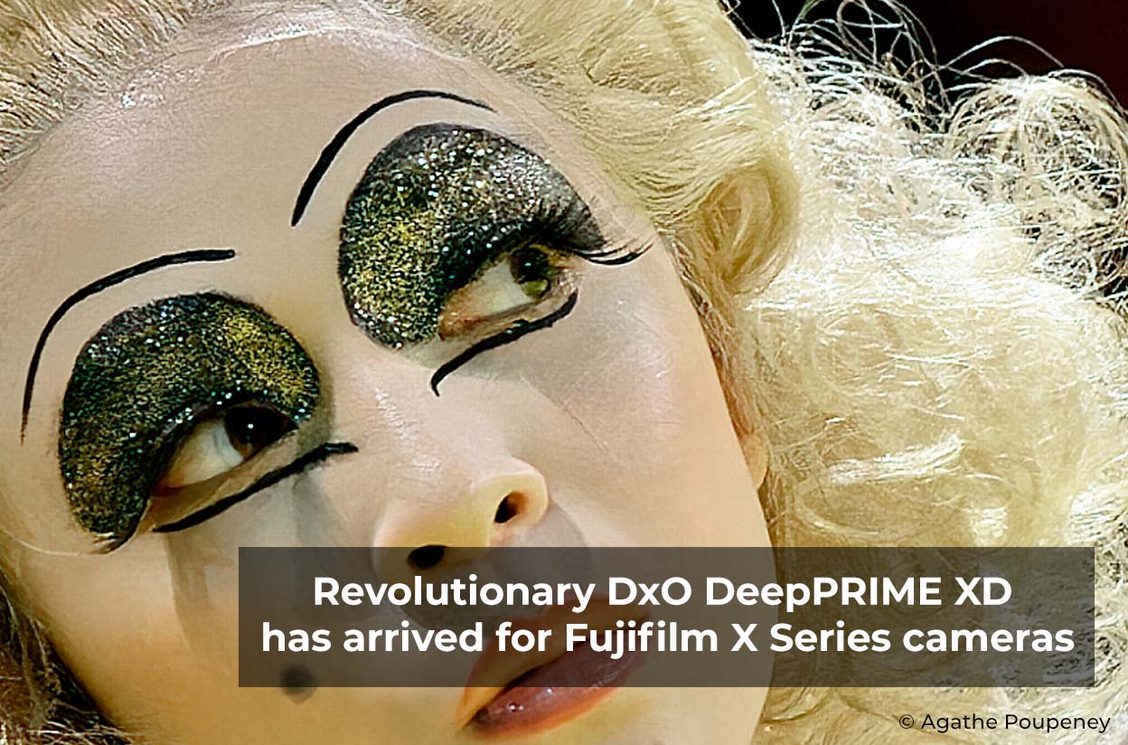 Revolutionary DxO DeepPRIME XD has arrived for Fujifilm X Series cameras, offering new levels of image quality
DxO's DeepPRIME RAW processing technology was a revolution for photographers; DeepPRIME XD pushes results even further. Now, fully compatible with Fujifilm's unique X-Trans sensor design, DxO's DeepPRIME XD brings noticeable improvements to image quality, sharpness, detail, noise reduction, color purity, and dynamic range — all without affecting workflow.
Paris (France): DxO Labs, the undisputed market leader in RAW demosaicing and denoising technologies, announces that its most powerful DeepPRIME XD (eXtra Detail) processing technology is now fully compatible with Fujifilm X-Trans sensors. Users of X Series cameras can enjoy all the same benefits that other photographers already experience with DeepPRIME XD, which reduces noise and enhances details to a greater degree than the original PRIME and DeepPRIME processing modes.
DeepPRIME XD is available in DxO PhotoLab ELITE 6.4 and the new DxO PureRAW 3, both of which also benefit from the highly respected DxO Optics Modules which automatically correct optical imperfections, such as lens softness, geometric distortion, and chromatic aberration. DeepPRIME XD was a factor in DxO PhotoLab's recent recognition by TIPA who just awarded it Best Imaging Software Professional at the TIPA World Awards 2023.
DxO DeepPRIME XD, a new level of quality
DxO's pioneering DeepPRIME technology is a unique, AI-powered RAW processing engine that, when compared with competing RAW converters such as Adobe Camera Raw and Lightroom Classic, delivers far superior image quality. Created using a powerful neural network to simultaneously process complex demosaicing and denoising algorithms, the release of the original DeepPRIME offered a leap forward in image quality.
The new DeepPRIME XD mode, available in DxO PhotoLab 6 ELITE and DxO PureRAW 3, is offered alongside existing DeepPRIME processing, but uses a neural network three times the size of its predecessor, making it far more effective.
Previously unavailable to users of Fujifilm X-Trans sensors, X Series photographers can now experience smoother results, noise-free bokeh, finer details, and more realistic color with DeepPRIME XD. Furthermore, processing new and old RAF files alike, it can breathe new life into older images and rejuvenate them in surprising ways.
A unique sensor, a unique solution
First released in 2012, Fujifilm's unique X-Trans sensor design has proven hugely successful and the company's X Series line of mirrorless cameras has been popular with professional and enthusiast photographers.
The complexity of the X-Trans color filter array pattern means they require a more elaborate demosaicing process compared to Bayer sensors. However, DxO's engineers have applied the same AI-powered learning model used to run DeepPRIME and DeepPRIME XD processing on Bayer sensors. It has been trained using thousands of images to get the very best RAW demosaicing and denoising results for X Series cameras.
Fujifilm photographers seeking the best software to process their images can now enjoy the very pinnacle of low-noise, high-detail results now that DxO PhotoLab 6 and DxO PureRAW 3 support X-Trans files in both DeepPRIME and DeepPRIME XD modes.
DeepPRIME XD equals extra detail
Demosaicing is the process of converting a sensor's red, green, and blue pixel values into something that resembles human vision. This process is vital in generating lifelike colors and accurate details. With DeepPRIME XD, X Series photographers can now expect flawless images, rendering fine textures like eyelashes, feathers, foliage, or architectural details with uncompromising accuracy.
Unrivaled noise reduction
Denoising is the process of removing inaccurate pixels caused by heat within the sensor during exposure. These become increasingly obvious at higher ISO settings, such as when shooting at night, indoors, or at high shutter speeds. When applied, DeepPRIME XD can reduce the appearance of ISO noise by over two stops, effectively making an image shot at ISO 1600 look like it was shot at ISO 400.
More dynamic range means more detail
Another benefit of processing Fujifilm RAW files with DeepPRIME XD is the expanded dynamic range. Processed images can reveal significantly more details in the highlight and shadow areas, meaning greater control is possible when adjusting brightness and exposure in software packages such as DxO PhotoLab, Adobe Photoshop, or Lightroom Classic.
Built-in optical corrections
Photographers using DxO PureRAW 3 or DxO PhotoLab 6.4 for RAW conversion also get full access to DxO's legendary Optics Modules. These laboratory-grade measurements of thousands of camera/lens combinations offer accurately calibrated, automatic correction capabilities. This means unrivaled control over lens softness, removal of distortions, and the correction of aberrations like fringing and vignetting.
Huge benefits, minus the effort
DeepPRIME and DeepPRIME XD are quick and easy to use. Within DxO PhotoLab 6, files are processed as part of the regular image-editing workflow, and for photographers who prefer to use Photoshop or Lightroom Classic things are equally simple.
Using PureRAW 3 as a plug-in, RAW files can be DeepPRIME processed from within Lightroom Classic and returned to the catalog to continue editing — complete with any pre-existing edits. Alternatively, with DxO PureRAW 3 used as a standalone application, files can simply be processed prior to editing in Photoshop or Lightroom Classic as normal.
via Photorumors