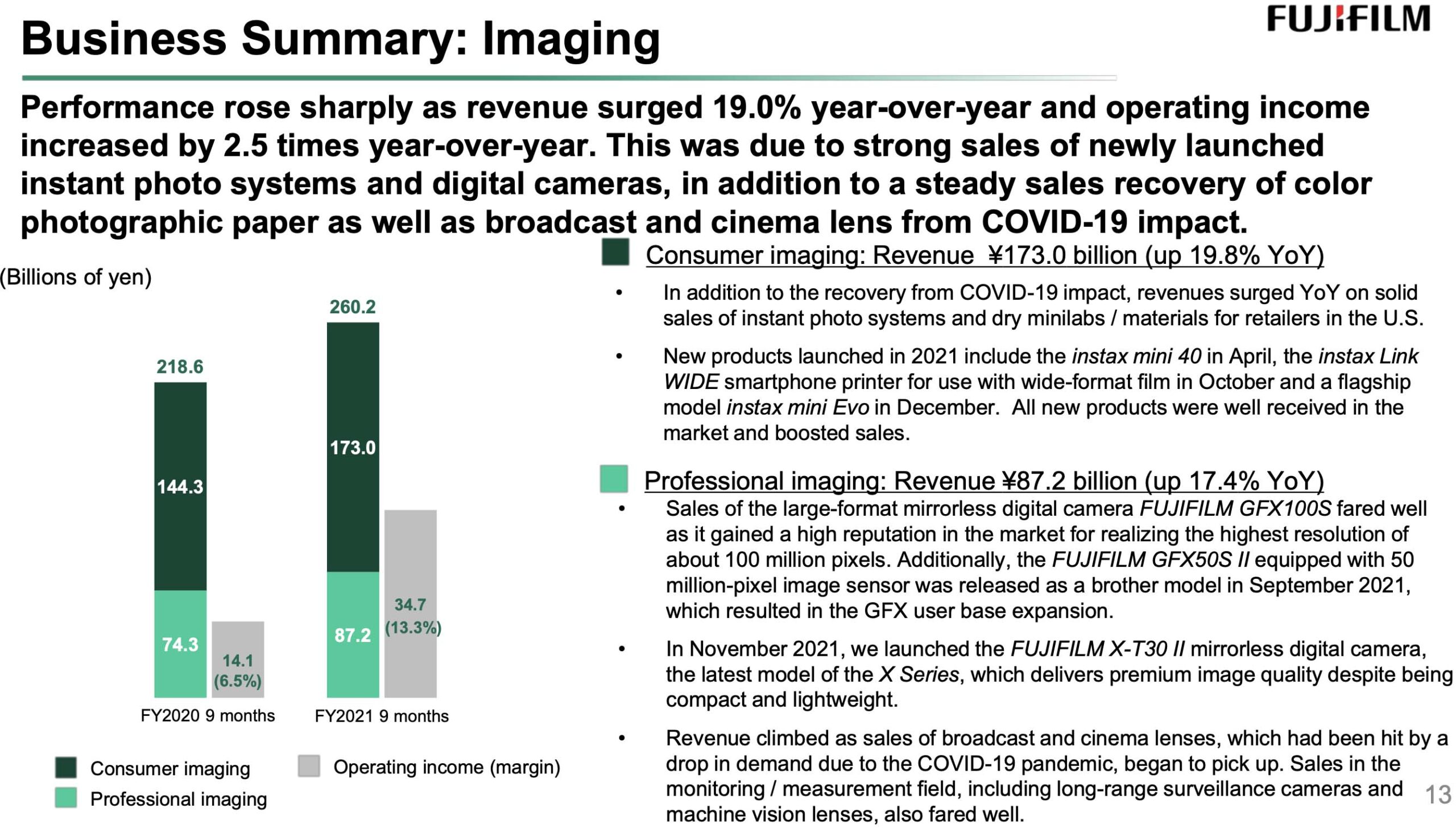 As a result of strong sales of new instant photo systems and digital cameras, which were launched in succession, and also the steady sales recovery of color photographic paper and broadcast and cinema lens from the impact of the COVID-19 pandemic, revenues increased by 19.0% year-over-year to ¥260.2 billion, and operating income increased 2.5 times year-over- year to ¥34.7 billion.
In the consumer imaging field, steady sales of instant photo systems and dry minilabs/ materials for retailers in the U.S. drove revenue higher. New products launched in 2021 include the instax mini 40, the instax series' new entry-model, which supports the mini-format film in April, the instax Link WIDE smartphone printer, which supports wide-format film, in October and a flagship model instax mini Evo in December. All new products were well received in the market and boosted sales.
In the professional imaging field, new digital cameras all gained a high reputation and sales remained strong, including the large-format mirrorless digital camera FUJIFILM GFX100S, which realized the highest resolution of 100 million pixels, the FUJIFILM GFX50S II, equipped with 50 million-pixel image sensor, released in September 2021 as a brother model, and the FUJIFILM X-T30 II mirrorless camera, which is the latest model from the X Series released in November 2021. Revenue was significantly higher than the previous year as sales of broadcast and cinema lenses, which had been hit by a decline in demand due to the COVID-19 pandemic, turned upward, and sales of lenses in the monitoring / measurement field, including long-range surveillance cameras and machine vision lenses, fared fell.