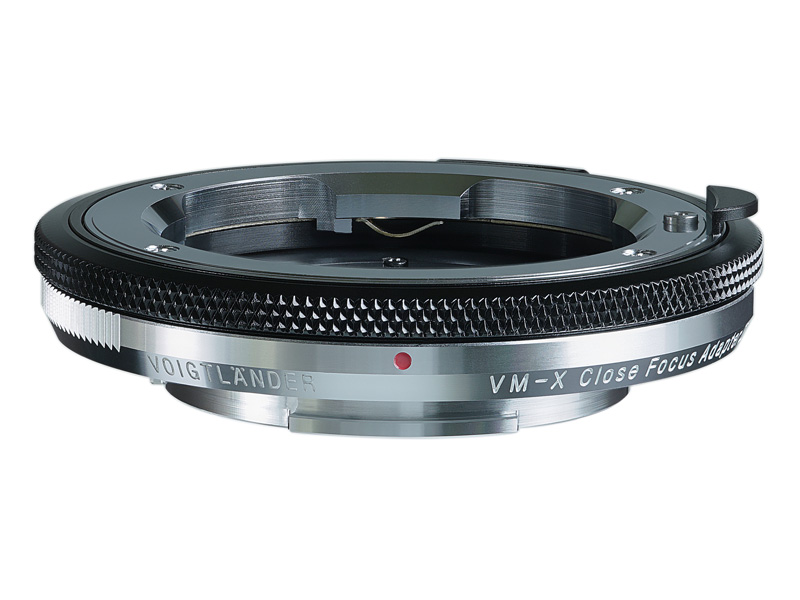 Voigtlander will intruduce a new Voigtlander VM-X Close Focus II adapter in February for 40,480 yen ($354.42 USD). The M to X mount adapter will allow infinity and close focus shooting. The adapter has grown from 4mm to 4.5mm which allows for a shortened focus distance and aluminum is being used instead of brass for its construction.
An adapter that allows you to shoot from infinity by attaching a Voigtländer VM and ZEISS ZM lens to a Fujifilm X-mount mirrorless camera. By operating the helicoid with a feeding stroke of 4.5 mm, it is possible to shoot "closer" from the shortest shooting distance of the lens body. Voigtländer L mount interchangeable lens can be attached in combination with the M bayonet adapter ring sold by us in the past.

Main features:
■ Voigtländer / VM, ZEISS / ZM lens exclusive design
■ Helicoid with a feeding stroke of 4.5 mm extends the shortest shooting distance
■ Metal ring full circumference knurling ensures excellent operability
■ High precision helicoid and high quality Silky operation feeling by knurling
■ Infinite lock mechanism prevents inadvertent out-of-focus

This adapter expands the range of the shortest shooting distance of each lens from infinity when the following lenses are attached, and focuses with manual focus Is possible. Since it is not equipped with an electrical interface, the metering method on the camera side is the actual aperture type.


This product is for VM and ZM lenses only. Please note that the warranty does not cover accidents or malfunctions of the camera / adapter / lens when a lens that is not listed in the interchangeable lens list that has been confirmed to be installed is installed, and we are not responsible for it. In addition, the list of interchangeable lenses that have been confirmed to be installed is a list that confirms that the listed lenses do not have physical interference with the adapter or camera, and does not guarantee image quality. Some of the interchangeable lenses on the list may have color fog around the screen depending on the camera used and shooting conditions.
Voigtlander VM-X Close Focus II: B&H Photo / Amazon
via cosina