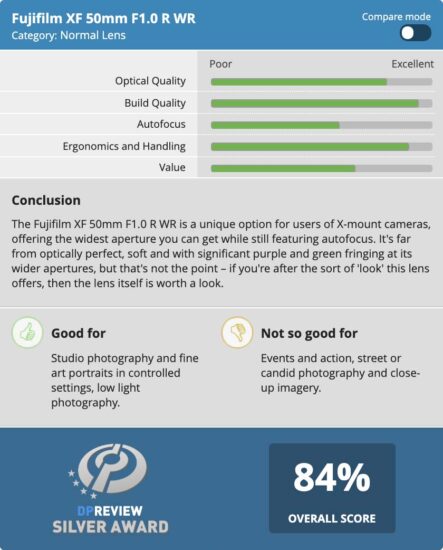 Fujinon XF50mm f/1 R LM WR:
B&H Photo / Amazon / Moment / Adorama
DPR posted its Fujinon XF 50mm f/1 R WR review the other day and surprisingly they gave it a silver award, but unsurprisingly they ragged on the lens which we have seen them do before. You can read the full written review here, but most other reviewers liked the lens quite a bit. I think it comes down to if you truly enjoy fast glass or if you prefer clinical glass.
What we like
What we don't

Balances well with larger X-mount bodies
Truly luscious bokeh
Very flat plane of focus
Excellent flare and ghosting resistance
No focus breathing
Comprehensive weather-sealing
Solid build and good controls
Very effective lens hood in the product bundle

Not very sharp until F2.8 or narrower
LoCA color casts at F2.0 or wider
Cat's eye can be an issue at apertures wider than F2.0
Slow autofocus and occasional AF hunting
Low maximum magnification
No in-lens stabilization
Fairly big and bulky
Quite expensive
Please don't forget to follow us on Facebook, Twitter, Instagram, YouTube
Plus our owners' groups
Fujifilm GFX Owners Group
Fujifilm X-H Owners Group
Fujifilm X-T Owners Group
Fujifilm X-S Owners Group
Fujifilm X-Pro Owners Group
Fujifilm X-E Owners Group
Fujifilm X-A Owners Group
Fujifilm X100 Owners Group