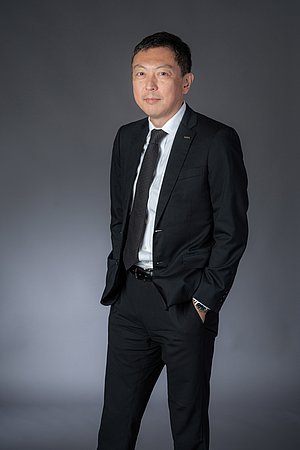 New President and Managing Director for Fujifilm in Europe
Toshihisa "Toshi" Iida appointed new President and Managing Director of Fujifilm in Europe as Masato "Mark" Yamamoto departs to take up a Board Director position at FUJIFILM Holdings Corporation, Tokyo, Japan.
Effective 1st September, Toshihisa "Toshi" Iida has taken up the position of President and Managing Director for FUJIFILM Europe GmbH, Düsseldorf, Germany, and FUJIFILM Europe B.V., Tilburg, Netherlands.
Toshi will be responsible for a wealth of businesses across the region, where Fujifilm operate 55 group companies in 43 countries, employing 4,500 people engaged in research and development, manufacturing, sales, marketing and service. Based in Düsseldorf, Germany, he will be responsible for all business divisions including Medical Systems, Photo Imaging and instax, Electronic Imaging, Optical Devices, Graphic Systems, Recording Media and Industrial Products, as well as new ventures that utilise a number of highly versatile core technologies originally developed from within Fujifilm's photo film business. These include regenerative medicine, cell culture media and membrane technologies.
Born in 1967, Toshi joined Fujifilm in 1991 after graduating from Keio University and started his career with the International Marketing Division in the consumer film business. After progressing through various positions, his first overseas assignment was in Europe for Fujifilm UK between 1997 and 2005.
After returning to Japan in 2005, Toshi has had a long and prosperous career within the Electronic Imaging division and was appointed head of the division as well as the Optical Device division in 2016. He has been responsible for the growth and establishment of the renowned X Series brand, as well as the successful launch of GFX 100, Fujifilm's mirrorless digital camera system launched in 2019, that has achieved the highest level of image quality in the world of professional photography.
Commenting on his appointment as President and Managing Director for FUJIFILM Europe GmbH and FUJIFILM Europe B.V, Toshi said:
"I'm very happy to join the European Fujifilm family. In these challenging times the role of the company is changing rapidly. Through this coronavirus pandemic, we have swiftly responded to new and dramatic needs from our customers and society, such as providing to healthcare organizations, medical devices and software solutions, powered by artificial intelligence, that support the workflow of those working on the front line and aim to save lives. In addition, at our Fujifilm Diosynth Biotechnologies sites in Denmark and the United Kingdom, we are putting in major efforts by working with our partners to accelerate the manufacture of potential future therapies and vaccines.

In our legacy businesses such as consumer photography, photo printing, optical devices and commercial printing, we have also exploited the unlimited potential of digital technologies to be anytime connected with our consumers, and we have started new ways of interacting with our European brand enthusiasts from X Series, GFX and FUJINON to instax – successfully launching new products.

Knowing how to quickly grasp the needs of society and respond promptly with creativity and passion is the mission I want to undertake in Fujifilm Europe with the collaboration of the entire organization. As I look to the future, I am confident that we are in a very good position to grow, particularly in Healthcare and Life Sciences. I am very proud to take on this task now at an important moment for Fujifilm – and the people of Europe – it is a fantastic opportunity."
Toshi succeeds Mark Yamamoto who was appointed Managing Director of Fujifilm in Europe in May 2018, who will now take up a new assignment as a Board Director for FUJIFILM Holdings Corporation in Tokyo, Japan. He will also become the General Manager of Optical Device & Electronic Imaging Products Division.