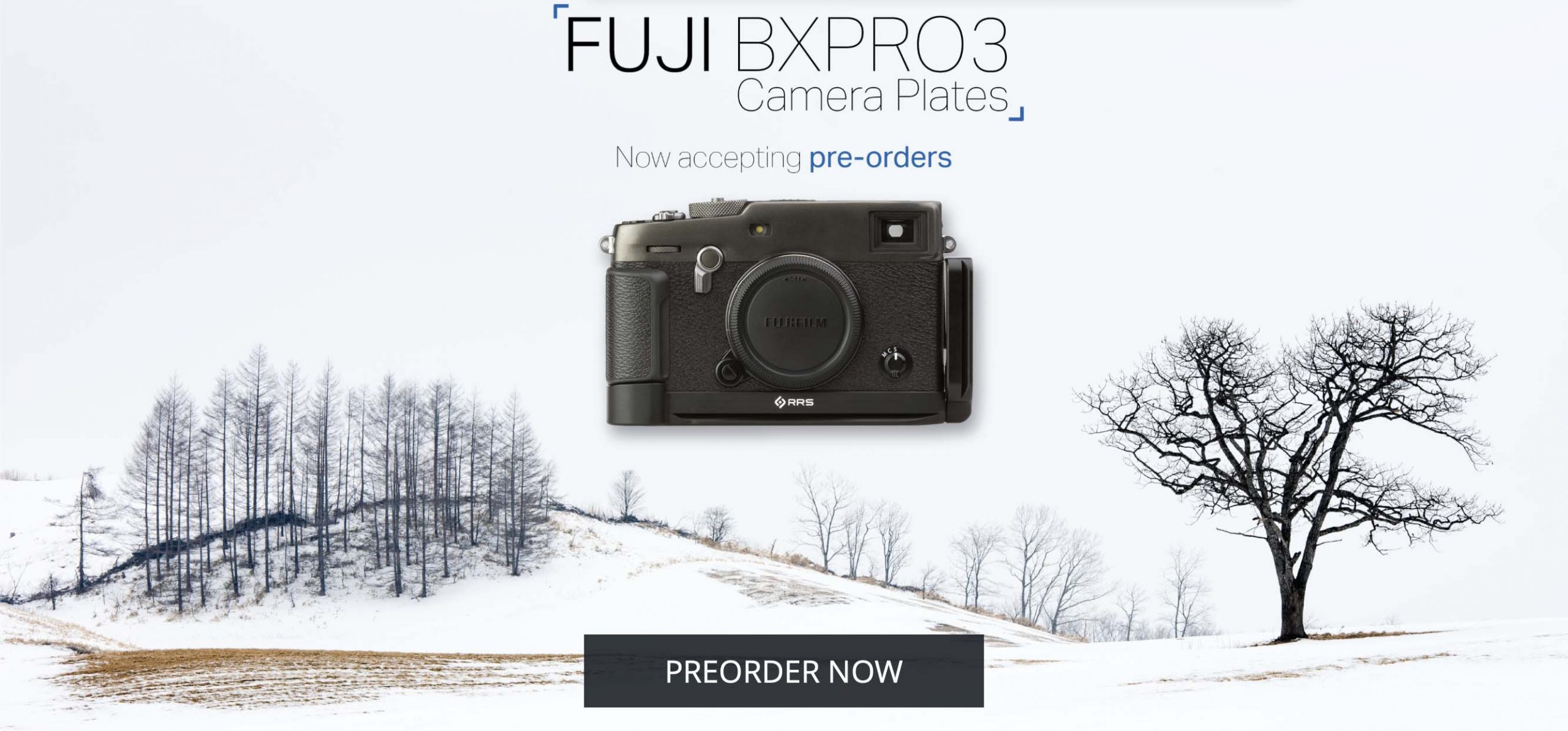 Really Right Stuff has an L-Plate available for preorder for the Fujifilm X-Pro3, which you can currently order at B&H Photo.
Fujifilm X-Pro News, Rumors, and Collaboration
Fujifilm X-Pro Owners Group
Follow Fujiaddict on Facebook, Twitter, Instagram, and YouTube
Fujifilm X-Pro3 (Pick Your Trim): B&H Photo / Amazon / Adorama
Fujifilm X-T3: B&H Photo / Amazon / Adorama
L-Plate Overview Really Right Stuff camera body plates are all custom designed for each camera body and precision machined from solid blocks of 6061-T6 aluminum. Fully compatible with any 1.5″ standard dovetail (RRS standard) quick-release system, our plates feature precisely contoured anti-twist flanges for a perfect fit that prevents twisting between the camera and our plate.
Really Right Stuff camera L-plates feature two dovetail mounting surfaces in the shape of an L; one on the bottom of your camera, and one on the left-hand side. This additional mounting option allows you to quickly change between landscape and portrait orientations while minimizing the need to recompose your shot, saving you time and hassle. Also, an L-plate keeps your gear centered directly above the tripod's apex which helps maintain the best stability possible.
All of our quick-release plates utilize a custom machined ¼"-20 threaded, captive-style mounting screw that threads into the tripod mounting socket of your camera body.
As part of a modular system, this conventional base plate still functions as a traditional camera mounting plate, but also has the added flexibility of accepting a separate dedicated vertical L-component to create a fully modular L-plate with two dovetail mounting surfaces. You can purchase the dedicated vertical L-component as a separate add-on, or as a set package with the base plate.
Product Guarantee: All Really Right Stuff brand products are guaranteed to the original purchaser to be free of defects in materials or workmanship for five (5) years from the date of purchase. Product will be repaired or replaced at our option.
Features
– CNC machined 6061-T6 Aluminum
– Anodized; Type II Black
– Custom machined flanges for secure fit with camera
– Bolt-on L-section allows access to camera side ports
– Integrated grip section seamlessly matches camera grip
– Unobstructed access to battery
– Camera LCD screen articulation unobstructed up to 135 degrees
– Laser engraved center marks
– Integrated QD sockets
– (1) 1/4″-20 threaded accessory mounting socket