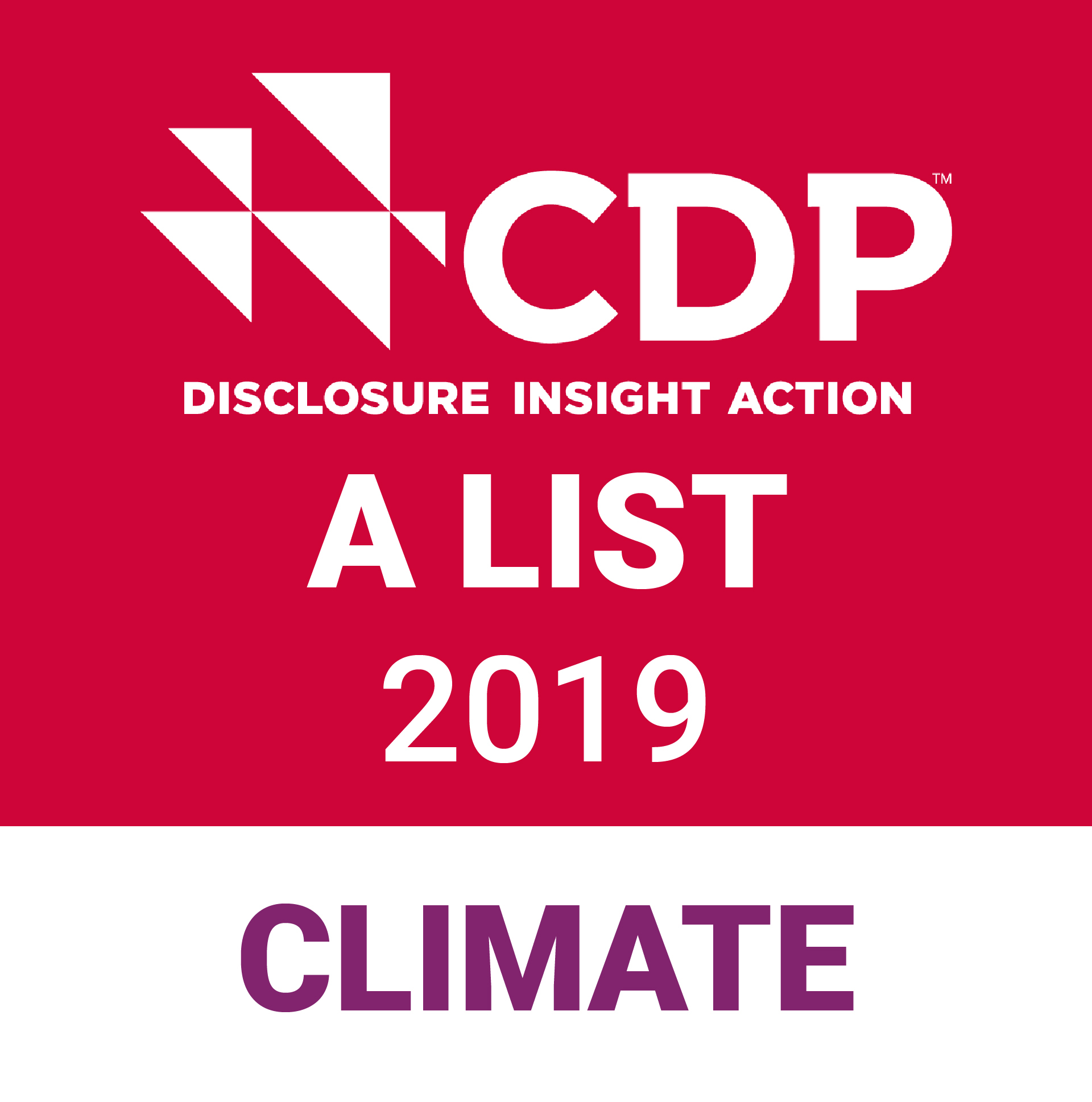 Fujifilm Holdings "CDP Climate Change A List" Certified
Top ranking in internationally influential company research
Fujifilm Holdings Co., Ltd. (President: Kenji Sukeno) was first certified in the CDP * 1  Climate Change A List , the highest-rated company survey on climate change measures with international influence . Of the more than 8,000 companies surveyed, 179 companies worldwide were certified on the CDP Climate Change A List, and 38 companies in Japan.
CDP is investigating corporate climate change on behalf of major institutional investors with global assets of US $ 96 trillion, and the results of this survey are indicators of ESG (environmental, social, governance) investment and It is also used for environmental assessment of the world's leading socially responsible investment index (SRI Index). In 2017, we were certified as a "CDP Water A List" in a survey on water resources management conducted by CDP.
Fujifilm Holdings has been actively promoting climate change countermeasures based on the concept that "environmental consideration and environmental preservation are the foundation of the company" from the beginning. In CSR plan that targets the 2030 fiscal year "Sustainable Value Plan (Sustainable Value Plan) 2030" ( "SVP2030"), "Fuji CO of the entire life cycle of the product by the film group 2 emission reduction" and "CO 2 reduction effect Contribution to reducing CO 2 emissions throughout society by having customers use our high-quality products and services . "
<Climate change initiatives>
Reduce CO 2 emissions throughout the product life cycle from raw material procurement to manufacturing, transportation, use and disposal
"CO of the entire lifecycle of their products 2030 fiscal numerical targets SVP2030 2 sets the 2013 fiscal 30% reduce emissions." This goal is certified as an international initiative "Science Based Targets (SBT) Initiative" * 2 .
2018 fiscal year, such as promoting efficient energy use in the "production" stage of the product life cycle, CO 2 significantly reduce emissions. 22% reduction compared to FY2013.
In January 2019, the goal of introducing renewable energy was to " convert 50% of purchased power to renewable energy in FY2030 and convert all purchased power to renewable energy in FY2050, and use hydrogen fuel as the fuel for the private power generation system. We aim to achieve zero CO 2 emissions with all the energy we use by adopting new technologies such as conversion . " Promote the introduction of renewable energies such as solar power and wind power globally.
In April 2019, the international initiative "RE100" which aims to be a 100% renewable energy power to be used in business activities * 3 affiliated to. Through RE100 membership, we will present our approach to decarbonization to society and lead the realization of a decarbonized society.
Contribute to society-wide reduction of CO 2 emissions by having customers use our products and services that are highly effective in reducing CO 2
"CO of society as a whole in the 2030 fiscal year as numerical targets for SVP2030 2 set the emissions contribute to reducing 50 million tons." CO discharged the entire lifecycle of their products from 2017 set the present target 2030 fiscal 2 CO in cumulative amount equal or higher level of social discharging 2 aims to reduce emissions.
In order to accelerate this initiative, the Fujifilm Group "Green Value Products" certification system was introduced in FY2018 to certify products and services that meet certain standards regarding environmental considerations for society as a whole. Promote the creation of environmentally conscious products by clarifying the environmental value from the life cycle perspective of products through evaluations based on their uses and characteristics.
The Fujifilm Group will continue to proactively work on solving climate change issues and promote information disclosure through CDP and other means to contribute to the realization of a sustainable society.
* 1 An international non-profit that works with more than 525 institutional investors with assets of $ 96 trillion to help companies disclose and manage environmental impacts in the areas of climate change, water and forests. Organization (Headquarters: London).
* 2 In September 2014, CDP and the World Goal were promoted to promote greenhouse gas emission reduction targets based on scientific evidence to keep global temperature rise below 2 ° C compared to before the Industrial Revolution. Established by the Resource Research Institute (WRI), the World Wildlife Fund (WWF), and the United Nations Global Compact.
* 3 An initiative operated by the international NPO The Climate Group, which promotes measures against climate change, in partnership with CDP. It is made up of companies that aim to use 100% renewable energy for their business activities.