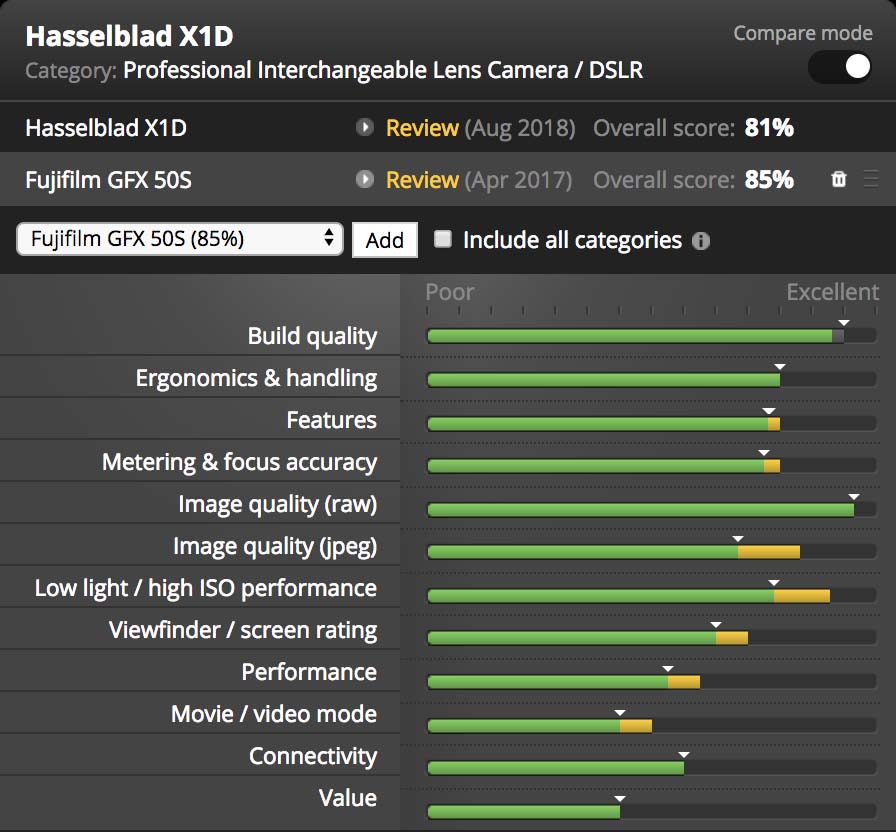 DPReview published their Fujifilm GFX50S review around 1 year ago, but they gave Hasselblad some time to improve their camera before completing their Hasselblad X1D review. Over the past year, Hasselblad has improved the X1D in a variety of ways that have made it a competitive camera, but it is still far from perfect and not quite up to competing with the Fujifilm GFX50S. Below is a summary of DPR's Reviews and if you want to read their X1D review you can do so here or the GFX50S review here.
Fujifilm GFX 50S
Hasselblad X1D
Pros

51.4MP, 44 x 33mm sensor yields high image resolution
Excellent image quality in both Raw and JPEG
ISO invariant behavior used above ISO 1600 to give increasing amounts of highlight recoverability
Contrast Detect AF is accurate and precise
Fujifilm color science, and color chrome effect, in larger than APS-C size
Direct controls provide for engaging shooting experience
AF joystick + touchscreen makes selecting an AF point simple, effective
Touchscreen flips vertically and horizontally
Weather-sealing and solid build quality
Comfortable ergonomics
Plenty of custom buttons
Dual card slots give flexibility and capacity
Electronic first curtain shutter mode minimizes risk of shutter shock
Lack of mirror avoids mirror-induced shock other MF systems bring
In-camera Raw processing lets you make full use of excellent JPEG engine
Easy-to-use Wi-Fi

Cons

Slow native lenses do not take full advantage of camera's sensor size
Contrast Detect AF speeds can be sluggish in moderate light, often fails in dim or backlit situations
Relatively low flash sync speed
AF-C is virtually unusable due to constant hunting
Moiré is visible in fine detail and patterns
'Shimmering' and moiré in the EVF when focus is initiated
Significant rolling shutter in complete (silent) E-shutter mode
No way to link minimum shutter speed to focal length with Auto ISO
Significant color shift at highest ISOs
No ISO 100 during video capture
No dedicated exp. comp. dial
Rear dial can be difficult to turn due to its position
Limited lens selection at launch

Pros

Excellent resolution
Extensive dynamic range
Intelligently implemented high ISO modes
Precise, accurate autofocus
Simple, to-the-point control system
Touchpad AF works well
Impressive solidity of build
Leaf shutter minimizes size and almost eliminates risk of shutter shock
USB 3.0 tethering option
Novel, customizable user interface
Nikon-compatible TTL flash system

Cons

Slow autofocus
Limited battery life
Somewhat laggy experience
No wide-aperture lenses available
Leaf shutters add to lens cost
Occasional but significant risk of moiré
Camera's low-res JPEGs don't give 100% coverage
Significant rolling shutter in complete (silent) E-shutter mode
Simplistic Auto ISO implementation
Join our Fujifilm GFX Owners Group, also follow the Fujifilm GFX Page to get more tailored news on Facebook and follow Fujiaddict on Facebook and Twitter.
Fujifilm GFX 50S: B&H Photo / Amazon / Adorama
Hasselblad X1D-50c: B&H Photo / Amazon / Adorama