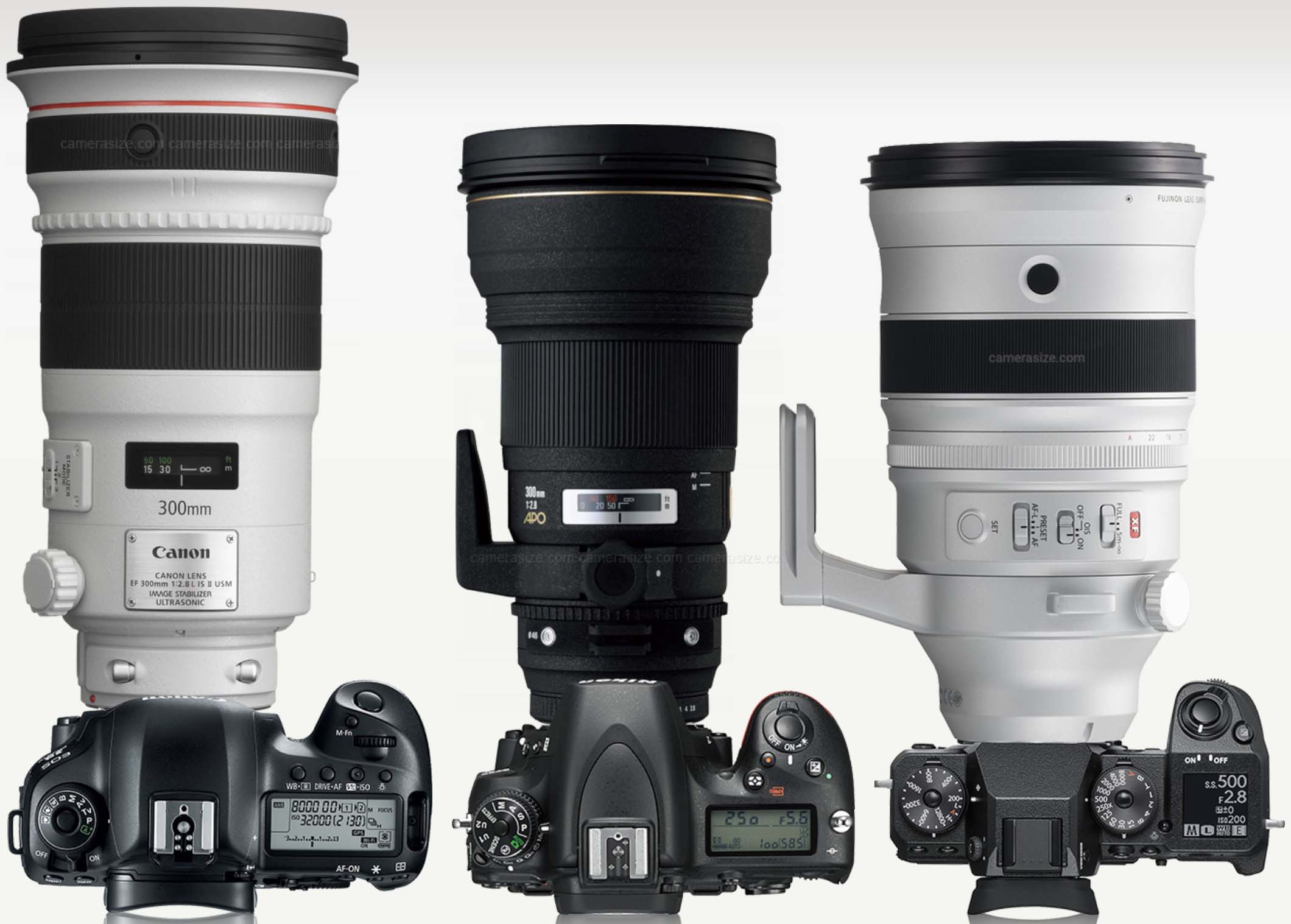 Fujifilm is rounding out their system now with some very interesting specialty lenses, but how does their latest Fujifilm XF200 compare? Camerasize.com gives us a look at how their sizes match up, but how about their weight? I decided to compare the Canon 5D Mark IV and Nikon D750 with 300mm f/2.8 glass to the Fujifilm X-H1 with XF200 attached and the breakdown is below.
Fujifilm X-H1
Dimensions: 5.5 x 3.8 x 3.4″ / 139.8 x 97.3 x 85.5 mm
Weight: 1.48 lb / 673 g with battery and memory card
Fujinon XF200
Filter Thread: 105mm
Dimensions: Approx. 4.80 x 8.07″ / 12.2 x 20.5 cm
Weight: 4.98 lb / 2.26 kg
Total Weight:6.46lbs / 2.93 kg
Canon 5D Mark IV
Dimensions: 5.9 x 4.6 x 3.0″ / 150.7 x 116.4 x 75.9 mm
Weight: 1.76 lb / 800 g body only
Canon EF 300mm f/2.8L IS USM
Filter Thread: 52mm drop in
Dimensions: Approx. 5.04 x 9.76″ / 128 x 248 mm
Weight: 5.29 lb / 2.4 kg
Total Weight: 7.05 lb / 3.2 kg
Nikon D750
Dimensions: 5.5 x 4.4 x 3.1″ / 140.5 x 113.0 x 78.0 mm
Weight: 1.65 lb / 750 g body only
Canon EF 300mm f/2.8L IS USM
Filter Thread: Rear 46mm
Dimensions: Approx. 4.7 x 8.4″ / 11.94 x 21.34 cm
Weight: 5.28 lb / 2.39 kg
Total Weight: 6.93 lb / 3.14 kg
The Fujifilm pair wins all around and if you use higher end Nikon or Canon cameras the size and weight only goes up. Where as with Fujifilm you can always use the smaller X-T2 to get similar performance or even a camera like the X-T20 if you want to maximise your size/weight. The Fujinon XF 200mm f/2 R LM OIS WR, should also be great on the upcoming Fujifilm X-T3.
Follow Fujiaddict on Facebook, Twitter, Instagram, YouTube, and Twitter.
Fujifilm X-H1 News, Rumors, and Collaboration
Fujifilm X-H Owners Group
Fujifilm X-H Page
XF 8-16mm f/2.8 R LM WR: B&H Photo / Amazon / Adorama
XF 200mm f/2 OIS WR w XF 1.4x TC F2 WR: B&H Photo / Amazon / Adorama
X-H1 Camera: B&H Photo / Amazon / Adorama
X-H1 Body with Battery Grip Kit: B&H Photo / Amazon / Adorama