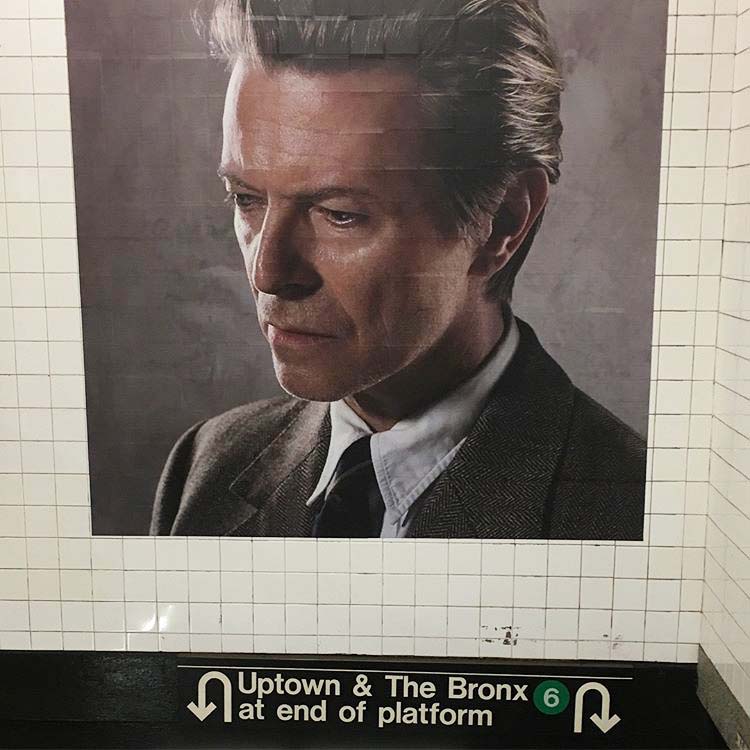 If you visit the Broadway-Lafayette station in NYC right now you will get a peek at some of Markus Klinko's work, which is being featured as part of the DAVID BOWIE IS exhibit at the Brooklyn Museum.
Organized with unprecedented access to David Bowie's personal archive, this exhibition explores the creative process of an artist whose sustained reinventions, innovative collaborations, and bold characterizations revolutionized the way we see music, inspiring people to shape their own identities while challenging social traditions. David Bowie is has been touring globally for the past five years and is taking its final bow at the Brooklyn Museum, providing an opportunity to view this one-of-a-kind material.

David Bowie is presents approximately 400 objects drawn primarily from the David Bowie Archive, including the artist's original costumes, handwritten lyric sheets from famous songs, original album art, photographs, and videos, all tracing Bowie's creative process from his teenage years in England through his last twenty years, when he resided in New York City. The archive is presented within an immersive, multimedia installation that includes continuous audio along with projected animation and video.

Highlights of the exhibition include more than 60 custom-made performance costumes, including six designed by Freddie Burretti for Ziggy Stardust / 1980 Floor Show and seven designed by Kansai Yamamoto for Aladdin Sane. There are 85 handwritten lyric sheets, including those from "Fame" and "Fashion"; drawings, including a sketch for the Young Americans album cover; and oil paintings, including two of musician Iggy Pop, all by Bowie. There are also more than 40 pioneering music videos, television clips, and filmed roles as well as a multimedia presentation of international tour footage with rare scenes from the legendary Diamond Dogs tour, filmed in Philadelphia. A custom audio mix made up of snippets of Bowie's songs—produced by longtime collaborator Tony Visconti—is also featured.

David Bowie is is organized by the Victoria and Albert Museum, London.
Markus' work at the exhibit was shot using FUJIFILM PROVIA Film and his work with Bowie is some of his best. Markus also contributes to FujiAddict and to the larger world of photography.  We would like to congratulate him for being included in this eclectic collection.