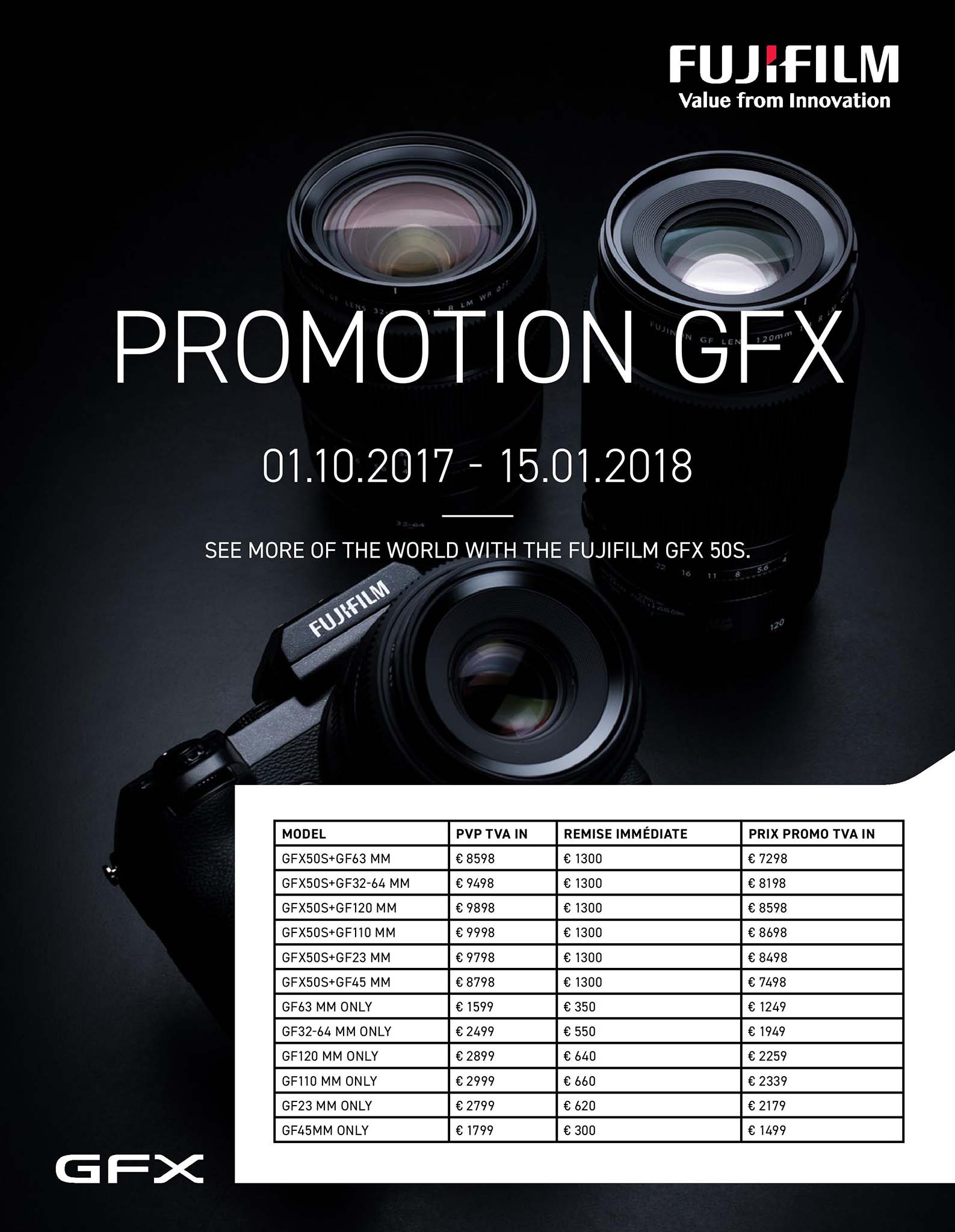 Announced first on PCH Pro Shop's Blog Here Fujifilm GFX savings similar to the classic X system savings have arrived.
"Fujifilm is launching a promotional campaign for its medium format GFX range, and the least we can say is that it is very tempting! This promotional campaign is valid from 01/10/2017 to 15/01/2018 and will enable you to offer you the Photographic Grail and thus come back on the same level in the magical universe of the Middle Format.

Several case / lens combinations are offered and in all cases are very advantageous (see table below). As you can see, you will benefit from discounts ranging from 300 € for a single lens, to 1300 € with a combination case / lens!

So do not hesitate to come and see the Fujifilm GFX and ask one of our specialists who will be happy to help you"
Savings can currently be found at Calumet with your favorite European retailers following soon…
Join our Fujifilm GFX Owners Group which is growing rapidly, also follow the Fujifilm GFX Page to get more tailored news on Facebook and follow Fujiaddict on Facebook and Twitter.
Fujifilm GFX 50S: B&H Photo / Amazon / Adorama
Fujinon GF 45mm f/2.8 R WR: B&H Photo / Amazon / Adorama
Fujinon GF 110mm F 2 R LM WR: B&H Photo / Amazon / Adorama
Fujinon GF 23mm F 4 R LM WR: B&H Photo  / Amazon / Adorama
Fujinon GF 63mm F2.8 R WR: B&H Photo / Amazon / Adorama
Fujinon GF 120 f4 R LM OIS WR Macro: B&H Photo / Amazon / Adorama
Fujinon GF 32-64mm f4 R LM WR: B&H Photo / Amazon / Adorama