Fujifilm announced a new promotion for the holidays following the end of their old one. Sadly recent promotions seem tailored more towards new Fujifilm users than existing ones. I know a lot of readers are waiting for a lens sale, but we might have to accept one might not come.
Fujifilm X-T20 + XC16-50mm + XC50-230mm + Metal Hand Grip
Silver
B&H Photo
Adorama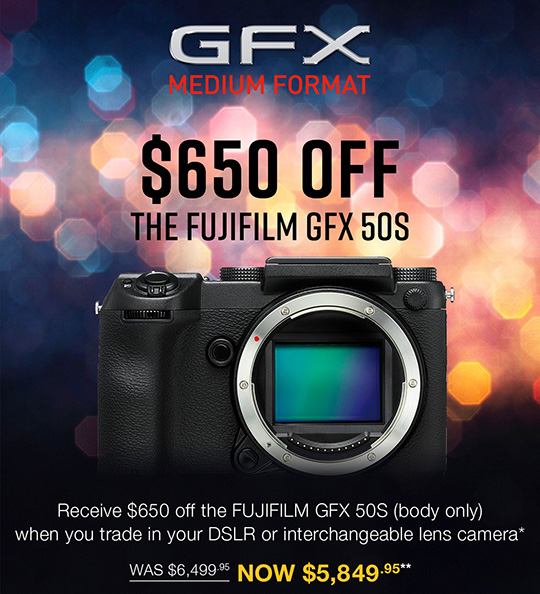 There is still a week left to save $650 on the Fujifilm GFX when you trade a qualified camera at B&H Photo or Adorama thanks to Fujifilm's new trade-in program. Please remember this is in addition to the trade-in value of your camera.
USED:
B&H Photo has some used GF lenses here.
Fujifilm GFX 50S: B&H Photo / Amazon / Adorama
Fujinon GF 45mm f/2.8 R WR: B&H Photo / Amazon / Adorama
Fujinon GF 110mm f/2 R LM WR: B&H Photo / Amazon / Adorama
Fujinon GF 23mm f/4 R LM WR: B&H Photo  / Amazon / Adorama
Fujifilm X-E3: B&H Photo / Amazon / Adorama
Fujinon XF 80mm F2.8 R LM OIS WR: B&H Photo / Amazon / Adorama