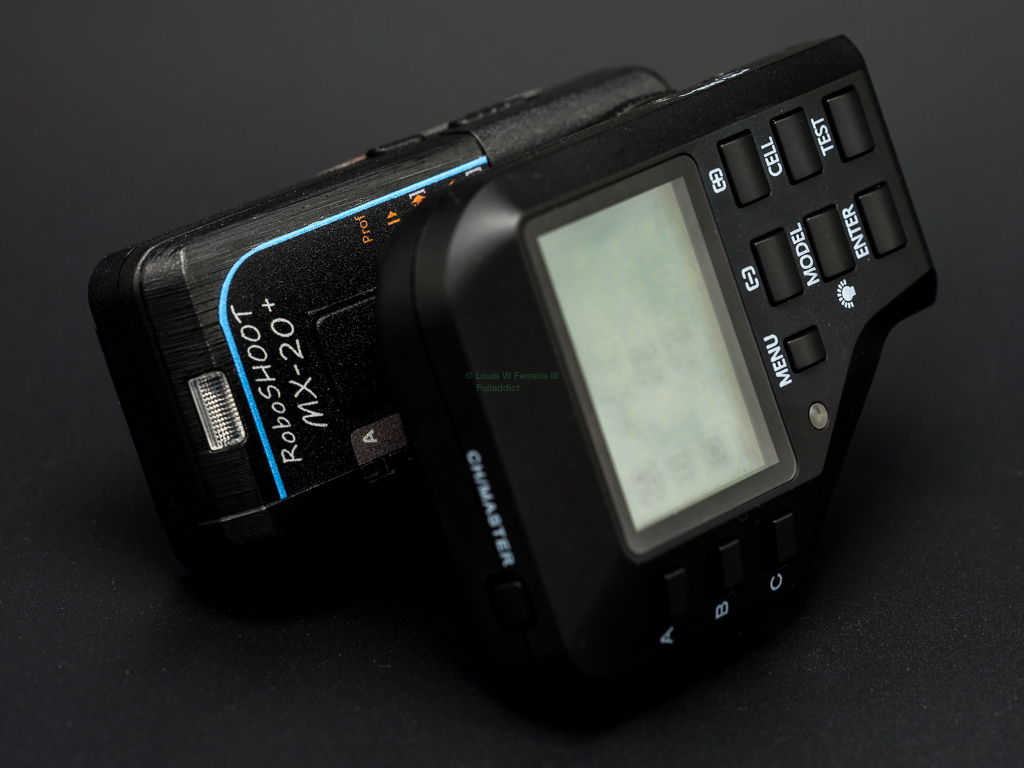 RoboSHOOT is ready to announce the release of test firmware 2.0.6 today. I don't have a lot of details yet because the developer is polishing the firmware for release, but he gave me permission to inform my readers. I am currently using an Impact Venture TTL-600 Battery-Powered Monolight Kit with Nikon Controller  along with my RoboShoot MX-20 to successfully sync up to 1/4000 of a second with my Fujifilm GFX 50S and 1/8000 of a second with my X-T2. TTL isn't functional for me, but it should be in the future. Profoto lights currently supports TTL and HSS in manual, I'm sure other systems with Nikon controllers will work, since the developer didn't design the firmware for my lighting setup.
If you currently own a MX-20, all you will need is the app to update the firmware. You can find a guide here. If not, you can buy a RoboSHOOT from B&H Photo along with my lighting setup (RoboShoot MX-20 and Impact Venture TTL-600).
I will have more details about the update soon. Hopefully, TTL will be working and there will be reports of more lighting kits compatible with the RoboSHOOT MX-20. The product has been solid for me since receiving it, and I would recommend it to anyone looking to use HSS outside of the Fujifilm EF-X500.
Join our Fujifilm GFX Owners Group and join in the discussion, also follow the Fujifilm GFX Page to get more tailored news on Facebook and join Fujiaddict on Facebook and Twitter.
WHAT'S NEW IN THIS VERSION
Added flash support – the added flash support includes:
– Nikon SB-800 and SB-5000
– Godox AD-360ii-N and X1N (Radio Remote)
– Profoto AirTTL-N and supported Profoto monolights
– Impact Venture Monolights with their Nikon Remote (reported support)
Note, the Monolight support generally does not allow TTL+HSS at the same time. In that case, use manual power control In-Camera or on the controller for the Monolight. AutoFP will be selected according to shutter speed even if the light is in manual mode.
Manual Mode improvements (Selecting Manual Mode In-Camera for all groups with TTL flash):
– Manual Power is settable In-Camera for each group independently.
– Frame Rate of 8fps is possible.
This enables full In-Camera control of manual power and HSS while retaining high frame rates.
The In-Camera Flash Exposure Lock may now be used. The RoboSHOOT FEL function is still available but cannot be used at the same time as In-Camera lock (it is prevented).