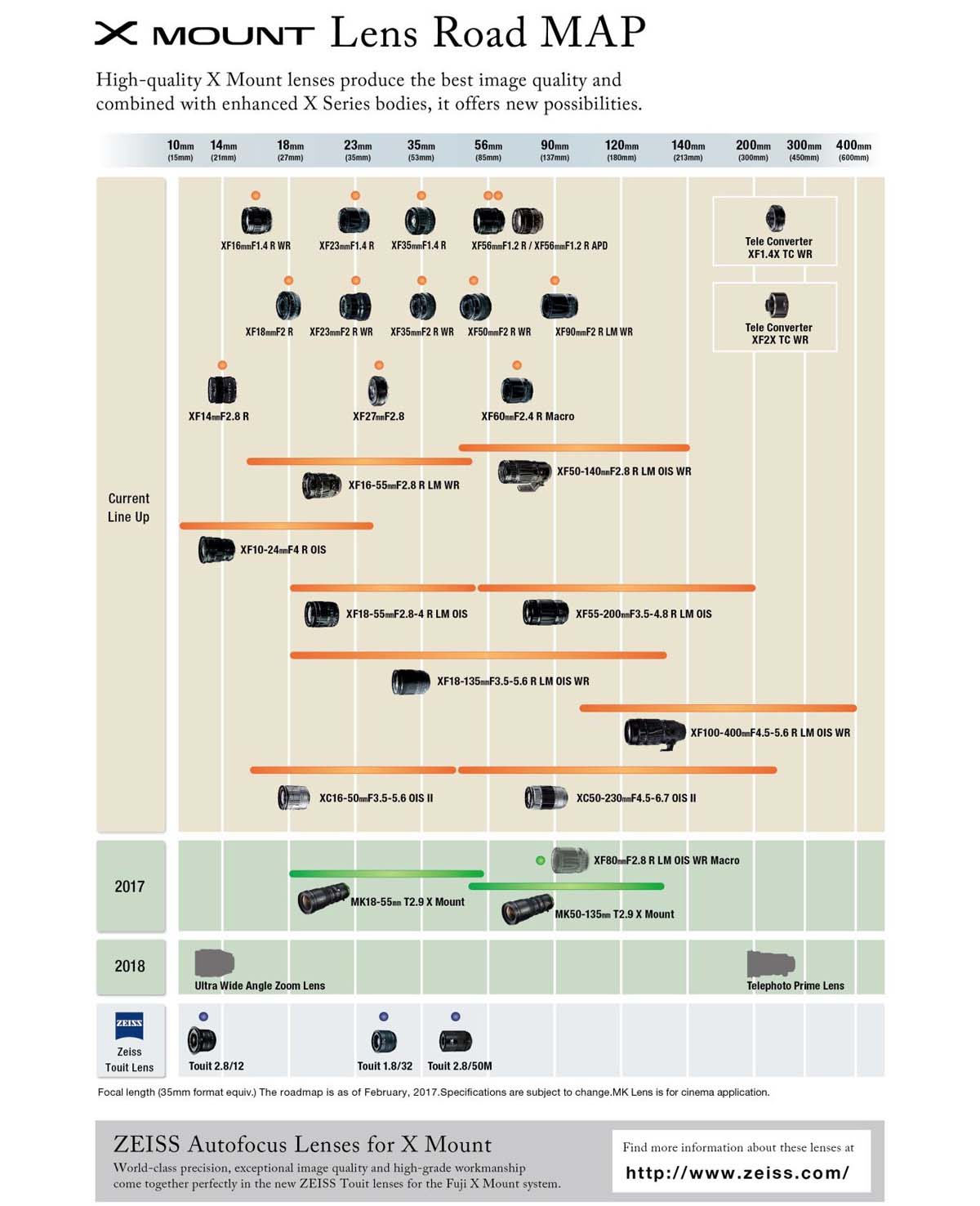 Valhalla, N.Y., February 22, 2017 –FUJIFILM North America Corporation today unveiled the latest development roadmap of interchangeable lenses for the X Series digital cameras. Since the introduction of the award-winning X Series line, Fujifilm has continued to develop the series by actively introducing new products and working to expand the lineup of FUJINON X Mount lenses to include a total of 24 lenses to date. The FUJIFILM X Series lineup has been praised by photographers for its advanced image quality and mobility.
New MK Series Cinema Lenses 
In response to increased demand from photographers, the 'emerging' cinematographer and the professional video production field for high-definition video, including 4K video, Fujifilm is developing X Mount versions of the all-new MK Series of cinema camera lenses. This development will enable users to record video with X Series cameras, taking advantage of the excellent mobility and operability, as well as unique color-reproduction technology to capture premium-quality video in an amazing array of colors. The lenses will be available by the end of 2017.
Telephoto Prime Lens and Ultra-Wide Angle Zoom Lens for Still Images
Fujifilm has continued to expand its lineup of X Mount lenses to include a wide range of focal lengths, from wide angle to ultra-telephoto. To further expand, there are now plans to develop a telephoto prime lens and an ultra-wide angle zoom lens in response to the growing needs of professional photographers and photography enthusiasts.
TheCameraStoreTV did a video on the Fujinon MK 18-55 T2.9 that they released today, but it was for E-mount. Now we know this lens will be coming to X-mount also in 2017. These look like excellent cinema lenses.
Fujinon MK 18-55 T2.9 B&H Photo/Adorama
via Fujifilm, Fujifilm 2