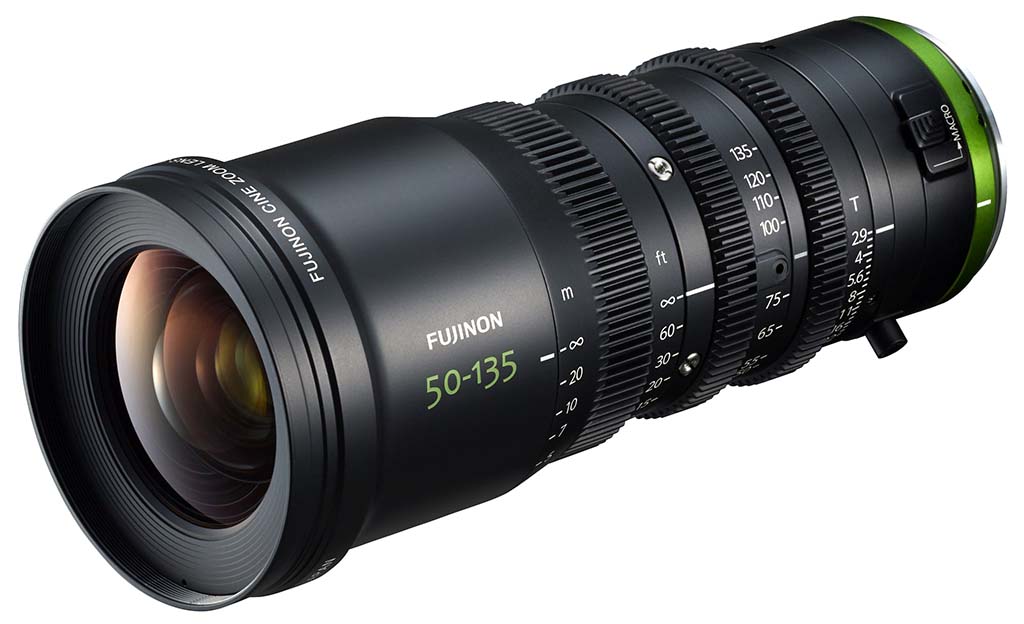 EARLY FUJIINON MK ADOPTER, STATURE FILMS, TAKES DELIVERY OF FIRST MK50-135mm IN NORTH AMERICA
Combined Focal Range and Performance of Earlier Model MK Zooms PromptSplit Decision from Independent Production House
Wayne, N.J., July 24, 2017 – The Optical Devices Division of FUJIFILM has announced the first North American customer of its recently released FUJINON MK50-135mm T2.9 zoom. Toronto-based Stature Films, best known for its commercial and documentary production, was an early adopter of the first in the MK Series – the MK18-55mm – purchasing two shortly after the lens' introduction last February. Stature Films now boasts having the first MK50-135mm in North America.
"We bought two MK18-55's as soon as we heard about them," said Andrew Sorlie, Creative Director, Stature Films. "Immediately our previous DSLR lenses started collecting dust. We couldn't be happier with the 18-55's performance. We love the richness they bring to our images, and a huge plus is the fact that they don't breathe. So, when we heard the MK50's were available, we didn't hesitate for a second. Given the combined range of 18-135mm and their performance, we knew we'd be able to cover everything we need – wide angles, tight close ups, two-shots – with ease and style. And with just two lenses. We can't wait to get out in the field and use this new glass on our next project."
First on the docket for the new MK50-135 is a shoot in the province of New Brunswick for a national ad campaign for the New Brunswick Department of Tourism. Stature Films is also in pre-production on its third feature-length documentary.
Stature Films purchased the MK50-135mm through its local dealer, HDSource As part of its series of upcoming "Lunch & Learn Lenses" events, FUJIFILM will conduct a hands-on demo of the MK-50-135mm at HDSource on August 17:
A full schedule of upcoming FUJINON "Lunch and Learn" events will be published shortly.
The entire "MK" series is designed with the 'emerging' cinematographer in mind, whether shooting a live event, online programming, documentary, corporate video, wedding, independent or short film production. "MK" lenses are currently designed for E-mount cameras and boast advanced optical performance, ultra-compact and lightweight design, as well as superb cost performance.
With a combined focal length range of 18mm-135mm, together the MK18-55mm and 50-135mm lenses cover the most frequently used range utilized by emerging cinematographers. The series offers fast lenses with T2.9 speed across the entire zoom range, enabling a shallow depth-of-field.
Like the MK18-55, the MK50-135 weighs in at a light 980 grams/2.16 lbs with front diameters of 85mm and lengths of 206mm. The MK50-135mm's minimum object distance (MOD) is 1.2m/3.93 feet. In addition to their lightweight and compact build, the "MK" lenses are purpose-built for the operator. Only one matte box and one filter size are needed between the lenses. Time-saving features include a macro function that allows for a broader range of close-up shooting, and gears for the three rings are positioned in the exact same place, which eliminates the need to re-position accessories when switching lenses.
The "MK" lenses are compatible with E-mount cameras with the Super 35mm/ APS-C sensor.
X Mount versions of the MK lenses (with focal lengths of 18-55mm and 50-135mm) used in the FUJIFILM X Series line of digital cameras (with APS-C sensors) are being developed for launch by the end of this year.
Footage shot by London-based DP Philip Bloom, using the Fujinon MK50-135mm T2.9 lens is posted here. Additionally, Philip posted some behind-the-scenes commentary discussing both the MK18-55mm T2.9 and MK50-135mm T2.9 lenses, which can be seen here.The MK50-135mm lens is available for $3,999, with deliveries starting this month.
The MK50-135mm lens is available for $3,999, with deliveries starting this month.
Via Fujifilm