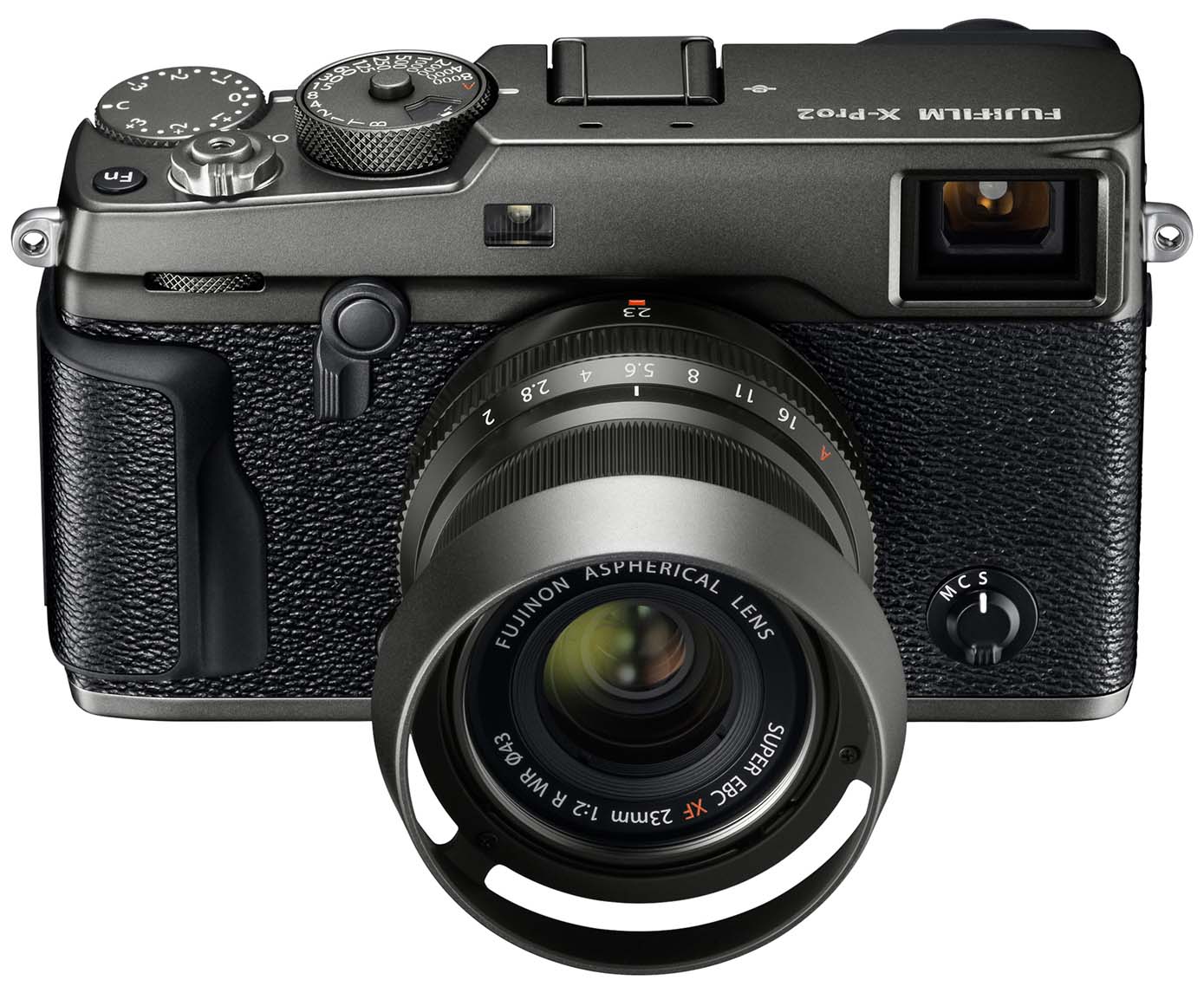 FUJIFILM X-Pro2 Graphite Edition B&H Photo/Adorama/Amazon
FUJIFILM Corporation (President: Kenji Sukeno) has announced that it will be adding a graphite color model to the mirrorless digital camera FUJIFILM X-Pro 2 (hereinafter X-Pro2) lineup, achieving a rich metallic texture due to a multilayer coating. This model will include the compact and lightweight interchangeable lens of the same color, FUJIINON lens XF23mm F2 R WR, achieving high resolution performance and a fast and silent AF system. The package will be released as the FUJIFILM X-Pro2 Graphite Edition on End of January, 2017.
The X-Pro2 is released in March, 2016 as the flagship model of an X Series, the lineup achieving outstanding image quality with Fujifilm's proprietary color reproduction technology. With the world's one and only Advanced Hybrid Multi Viewfinder enabling to instantly switch between the optical viewfinder and electronic viewfinder, the X-Pro2 also features the 24.3MP X-Trans™ CMOS III sensor*, achieves super high image quality that exceeds what is normally expected from an APS-C sized sensor. Thanks to its long list of features, such as its classical camera design and quiet shutter sound, the X-Pro2 rates highly among professional photographers specifically in the documentary and reportage fields, as well as snapshot photography enthusiasts.

This release of the FUJIFILM X-Pro2 Graphite Edition maintains the features of the X-Pro2 as is, adopting an extremely high-grade graphite color created through a multilayer coating process for the exterior of the camera body. By increasing the amount of black pigment component of the top coating compared to the graphite silver of the current model**, the camera achieves a more rich metallic texture to match the X-Pro2, a camera optimal for snapshots. Also, the camera is sold together with the FUJINON XF23mm F2 R WR lens and LH-XF35-2 lens hood in the same graphite color as the body. Combining these together further increases the unity of the appearance and luxurious feeling of the camera, bringing users a mirrorless digital camera they will be proud to own.
*X-Trans is a trademark or registered trademark of FUJIFILM Corporation. The sensor uses a unique random color filter array to reduce moiré and false colors without an optical low-pass filter (OLPF).
**FUJIFILM X-T1 Graphite Silver Edition
Via Fujifilm