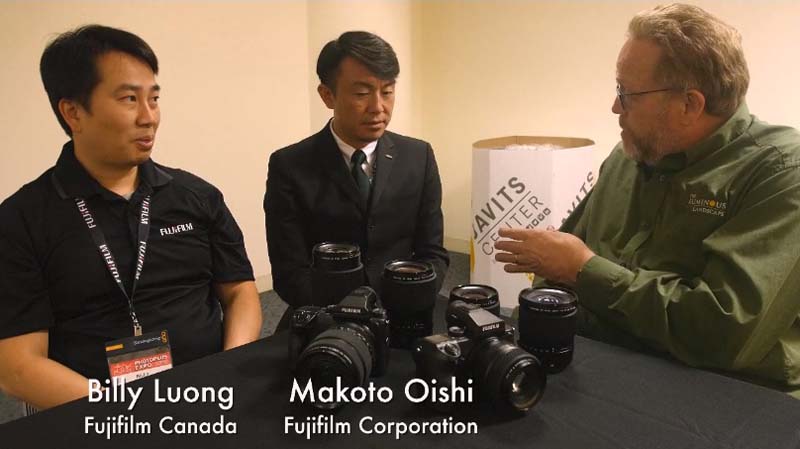 Luminous Landscape had the opportunity to interview Billy Luong and Makoto Oishi from Fujifilm about the new GFX 50S at Photo Plus and some new details have emerged about the GFX 50S and where the system might be headed. To start with the lenses look big, but they aren't heavy and it's not easy to buttons by accident. The menu and system is very much like the Fujifilm X-T2 so current X-T2 shooters should feel at home, also the LCD on the top can be illuminated if you want. One of the more interesting things in the video that is confirmed by Makoto Oishi, there are are plans to do more with the removable EVF, I am curious to see what other viewfinders/accessories Fujifilm will develop in the future for this system.
When it comes to the future the system will obviously go higher megapixel as it becomes available and the focal plane shutter is ideal for future proofing the system. Eventually we will get global shutter, but that has been a pipe dream for years so who knows when we will see that technology materialize. Not to mention global shutter will be more difficult to do on a large chip than a small one so it's highly likely we will see it on a micro43 or APS-C camera first, but it will make focal plane shutters pointless. Global shutter is broached by Luminous Landscape, but Fujifilm is open to talk about it with him as a future sensor technology. I don't think I would call it a hot word like Luminous Landscape did, but it's definitely something that's been floating around for a while now. Luminous Landscape also thinks we should stop calling the GFX size sensor medium format and should call it G-format instead, but what about Pentax and Hasselblad? It's kind of strange that they are singling out Fujifilm.
You can watch the video here.