If you're following Fuji Addict on Twitter or Facebook, then you know I received my Fujifilm X-T2 and VPB-XT2 Vertical Power Booster Grip the other day from B&H Photo. I just finished doing some product shots which you can see on this page, and there is a much larger library on 500px if you're interested. I have to tell you that the combination had a few surprises for me, even though I have read every review published on the web up until this point.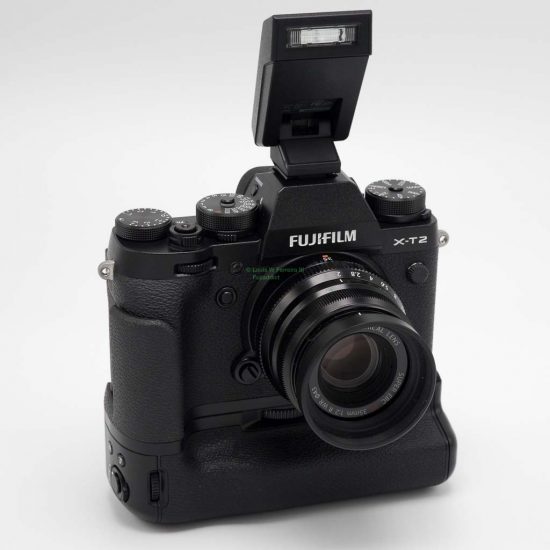 For one, the included EF-X8 flash wasn't really mentioned by anyone; which is surprising because it will be great as an optical trigger. The handgrip doesn't feel as well built as the camera body. I seriously wonder if the handgrip can handle weather conditions as severe as the body can, because I can easily imagine water getting to the contacts in a rainstorm. The buttons on the hand grip also feel a step below the quality of the buttons on the X-T2 body, which I found disappointing.

I haven't had a lot of time to play with AF-C, but being able to use it reliably at high frame rates is an improvement over my Fujifilm X-T2. I hope to do some testing with AF-C in the future, but I blew through a few thousand frames between 3-14fps with my son and most were in focus. I have seen a few reports of cameras locking up while doing this, and some Fuji fans concluded that you need to use 3 of the new Fujifilm NP-W126S batteries, but this was not the case in my experience. I was able to use my Fujifilm X-Pro 2 No NP-W126 battery and two Generic Wasabi Power batteries without issues, all day and without a lockup. So, if it is a voltage issue, maybe it has something to do with a battery being toward the end of its life.

The one major surprise for me was that my Lexar Professional 1000x cards weren't fast enough to keep up with shooting an irresponsible amount of photos, but my Lexar Professional 2000x cards were. So anyone looking to machine gun with the best of them needs to invest in at least one Lexar Professional 2000x card, but two works better.

I'll probably do some Video work with the Fujifilm X-T2 on Monday night, and I really hope to get an external recorder soon to test vlog. So far, I would say that most of the reviews on the web are correct in that the X-T2 is an excellent camera, but it's not a huge improvement over the Fujifilm X-Pro 2. I'm definitely not seeing the X-T2 use phase detect 2/3 of the time compared to the X-Pro 2 at 1/3 of the time like Fujifilm stated, but it's definitely better at following a little kid that really doesn't want to have his picture taken running sporadically around a dark house.