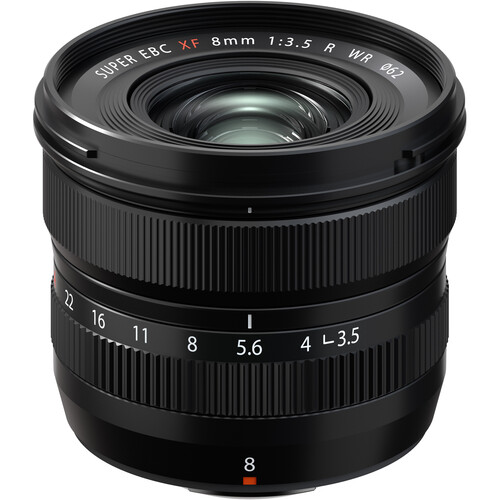 Fujinon XF8mm f/3.5: B&H Photo / Amazon / Adorama
Lenstips published its full Fujinon XF8mm f/3.5 review here which you can read in full or you can check out the excerpt below:
Pros:
solid barrel mostly made of metal and weather-sealed,
very good image quality in the frame centre,
sensible image quality on the edge of the frame,
negligible longitudinal chromatic aberration,
good correction of lateral chromatic aberration,
lack of any noticeable problems with spherical aberration,
fast and accurate autofocus.
Cons:
huge distortion level on RAW files,
significant vignetting on RAW files.
The Fujinon XF 8 mm f/3.5 R WR is a small, lightweight lens with angles of view exceeding 120 deg. An ideal? Not really. One thing is missing – a more affordable price. Currently, you have to pay almost $800 for it, a bit too much in my humble opinion. After all it's just a prime with an averagely fast aperture. Still, if you decide to buy this lens I am sure you will enjoy it immensely.
Please don't forget to follow us on Facebook, Twitter, Instagram, YouTube
Plus our owners' groups
Fujifilm GFX Owners Group
Fujifilm X-H Owners Group
Fujifilm X-T Owners Group
Fujifilm X-S Owners Group
Fujifilm X-Pro Owners Group
Fujifilm X-E Owners Group
Fujifilm X-A Owners Group
Fujifilm X100 Owners Group