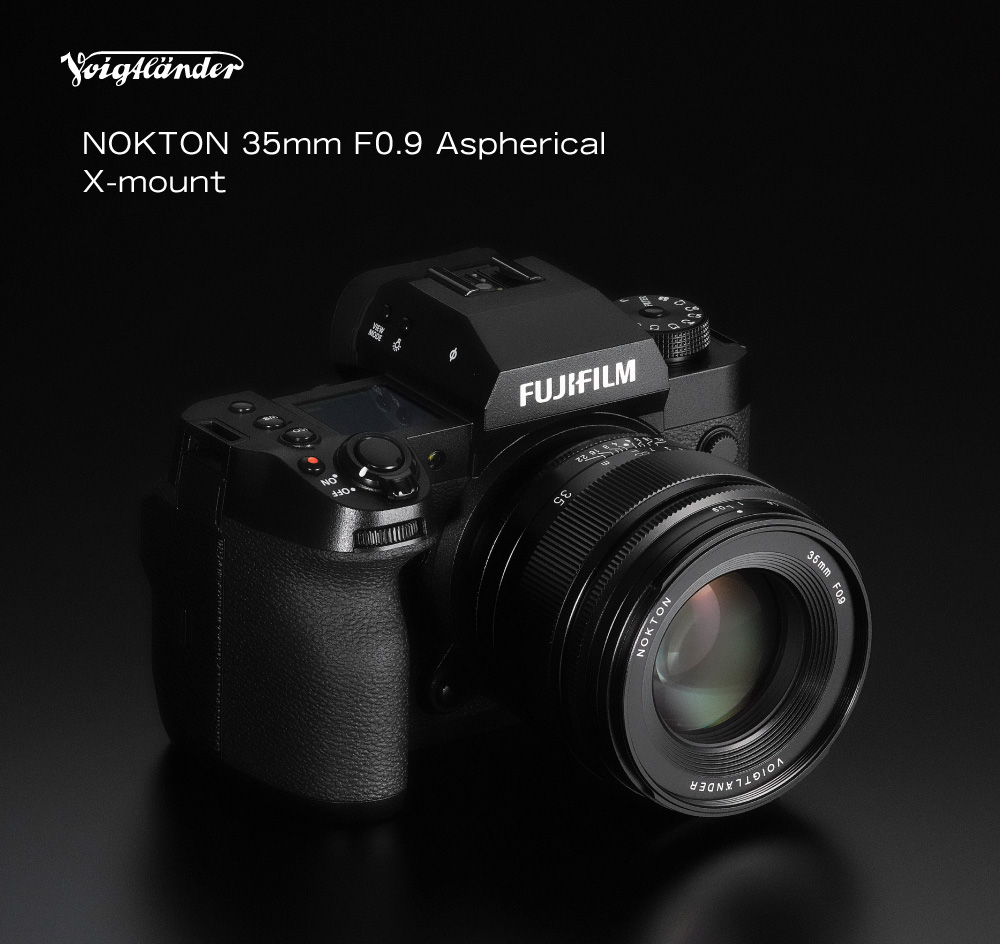 Voigtlander NOKTON 35mm f/0.9 Coming Aug:
B&H Photo / Amazon
New details have come out about the new Voigtlander NOKTON 35mm f/0.9 including its launch in August. You can read the translated details below:
Features
The NOKTON 35mm F0.9 Aspherical X mount is a super large aperture standard lens that achieves the brightest F0.9 among Voigtlander X mount interchangeable lenses. It features a condensed styling with a total length of 64.9mm (from the tip to the mount surface), which takes into consideration the ease of handling, while providing a crisp and sharp in-focus image even at maximum aperture. In order to satisfy the design goals of both lens performance and handling during shooting, the first surface of the lens uses an in-house produced GA (ground aspherical) lens.
Main features
Exclusively designed for Fujifilm X mount
Equipped with an optical system optimized for the image sensor of the Fujifilm X system camera. High resolution is maintained to the image periphery without relying on the camera's optical correction function, and phenomena such as color cast are also suppressed.
Information communication with the body by electronic contact
Equipped with electronic contacts for highly reliable electrical communication between the lens and body. In addition to Exif information, focus check, and shooting distance linked display, certain models also support in-body image stabilization and parallax correction through the combination of a body that supports telecommunications and the latest firmware (*1).
Manual focus for reliable focus operation
The use of an all-metal helicoid unit that has been processed and adjusted with high precision and high-quality grease that produces just the right amount of torque enables focusing with a smooth operating feel. It enables fine focus adjustment.
Beautiful bokeh with 12 aperture blades
A 12-blade diaphragm is used to make the hole formed by the diaphragm blades closer to a circle. Out-of-focus areas are rendered naturally, and point light sources are not polygonal but round and soft.
Aperture ring for direct mechanical operation
The aperture mechanism uses a mechanism in which the aperture ring is directly connected to the opening and closing of the aperture blades, similar to Voigtlander's VM mount and mirrorless mount lenses. With a 1/3 step click, you can enjoy the feeling of direct operation of the mechanism.
GA (ground aspheric) lens and mechanism
In-house manufactured GA (ground aspherical) lens is used for the first lens surface. With a high refractive index that cannot be obtained with a general molded aspherical lens, it achieves both high-level image quality and condensed styling despite its ultra-large aperture. Stable image quality can be obtained up to the motif of
*1 Precautions regarding electronic communication compatible bodies
This product is equipped with electronic contacts, but there are restrictions on the bodies that can be used for electronic communication. Please check the body list below. (Surveyed in June 2023)
specification
focal distance 35mm (Full size equivalent: 53mm)
Aperture ratio 1 : 0.9
minimum aperture F22
lens configuration 8 groups of 10 pieces
angle of view 43.8°
Number of aperture blades 12 sheets
Shortest shooting distance 0.35m
Maximum magnification 1: 7.1
Maximum diameter x total length φ72.7×64.9mm
filter size φ62mm
weight 492g
Lens hood Reversible hood included
Aperture ring Equipped (manual aperture)
Electronic contacts Yes *1
Exif information Supported *1 *2
focus check correspondence
Parallax correction Supported (X-Pro3)
In-body image stabilization Compatible (limited to models that support in-body camera shake)
Shooting distance linked display correspondence
Price/JAN code
Suggested retail price (excluding tax) ¥225,000
JAN code JAN 4530076 234062
release date Scheduled to be released in August 2023
via Cosina, Photorumors