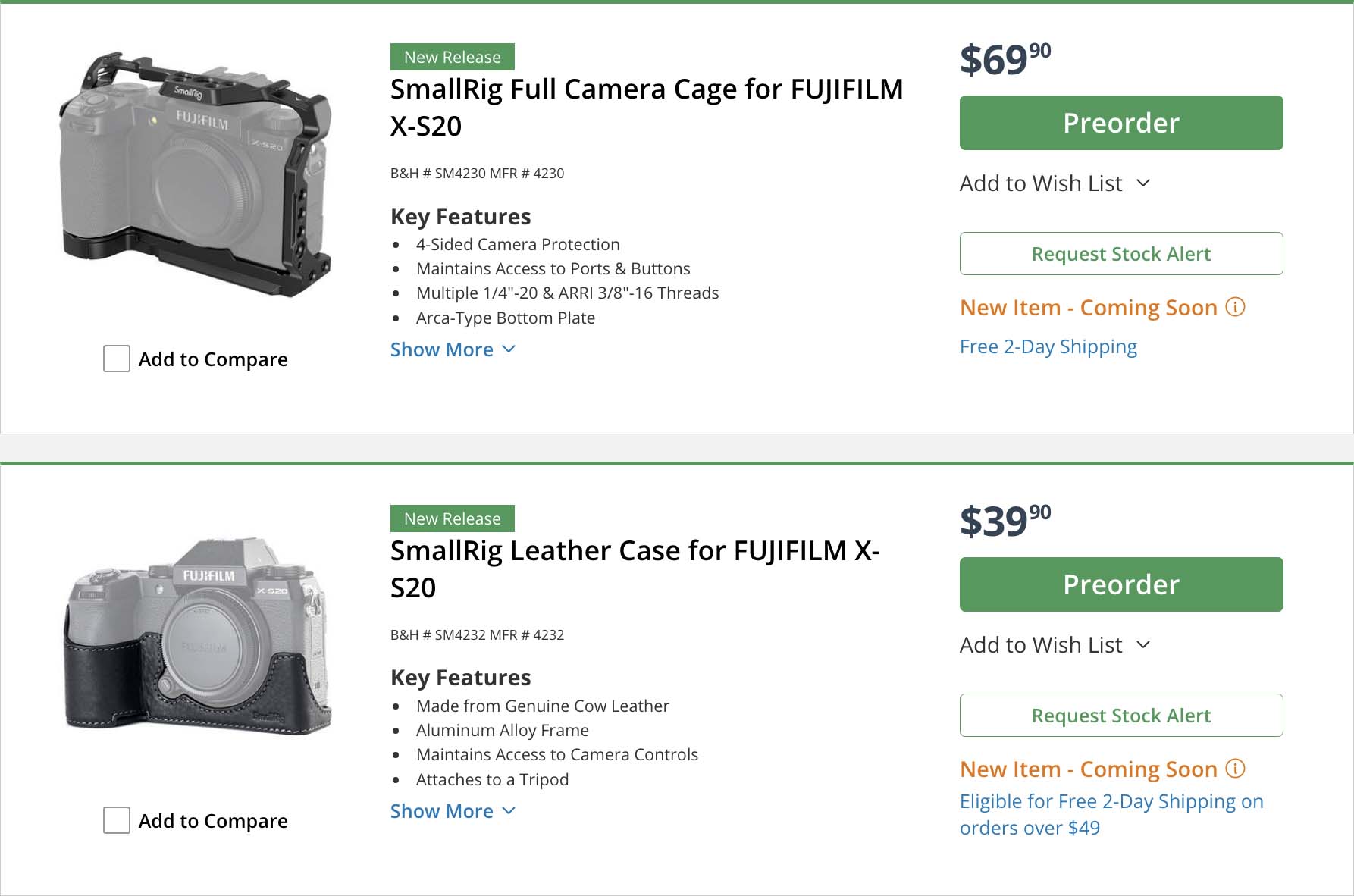 Fujifilm X-S20: B&H Photo / Amazon / Adorama
Fujinon XF8mm f/3.5: B&H Photo / Amazon / Adorama
SmallRig released a leather case and cage for the Fujifilm X-S20 that can be ordered from B&H Photo.
SmallRig Full Camera Cage for FUJIFILM X-S20
SmallRig 4230 Overview
Custom-fit for your FUJIFILM X-S20 camera, this Full Camera Cage from SmallRig provides four-sided protection and additional mounting points for customizing your rig configuration. A NATO rail, two cold shoe mounts, and multiple 1/4″-20, 3/8″-16, and ARRI-style anti-twist 3/8″-16 threads can accommodate articulating arms and other accessories while maintaining access to the camera's ports and buttons. The cage also has a QD socket, strap slots, and a bottom with an Arca-type form for easy mounting on tripods and select gimbals.
SmallRig Leather Case for FUJIFILM X-S20
SmallRig 4232 Overview
The Leather Case for FUJIFILM X-S20 from SmallRig is made from genuine top grain cow leather and has an aircraft-grade aluminum alloy skeleton with bottom plate. This case protects your camera, is wear and water resistant, and breathable. Easily attach your camera to this case with the thumb screw on the bottom. This case snugly fits your camera curves and provides protection while still allowing access to the screen, buttons, battery door, and card slots. There is a bottom 1/4″-20 threaded hole for attaching your camera to a tripod while it is in the case.
Please don't forget to follow us on Facebook, Twitter, Instagram, YouTube
Plus our owners' groups
Fujifilm GFX Owners Group
Fujifilm X-H Owners Group
Fujifilm X-T Owners Group
Fujifilm X-S Owners Group
Fujifilm X-Pro Owners Group
Fujifilm X-E Owners Group
Fujifilm X-A Owners Group
Fujifilm X100 Owners Group