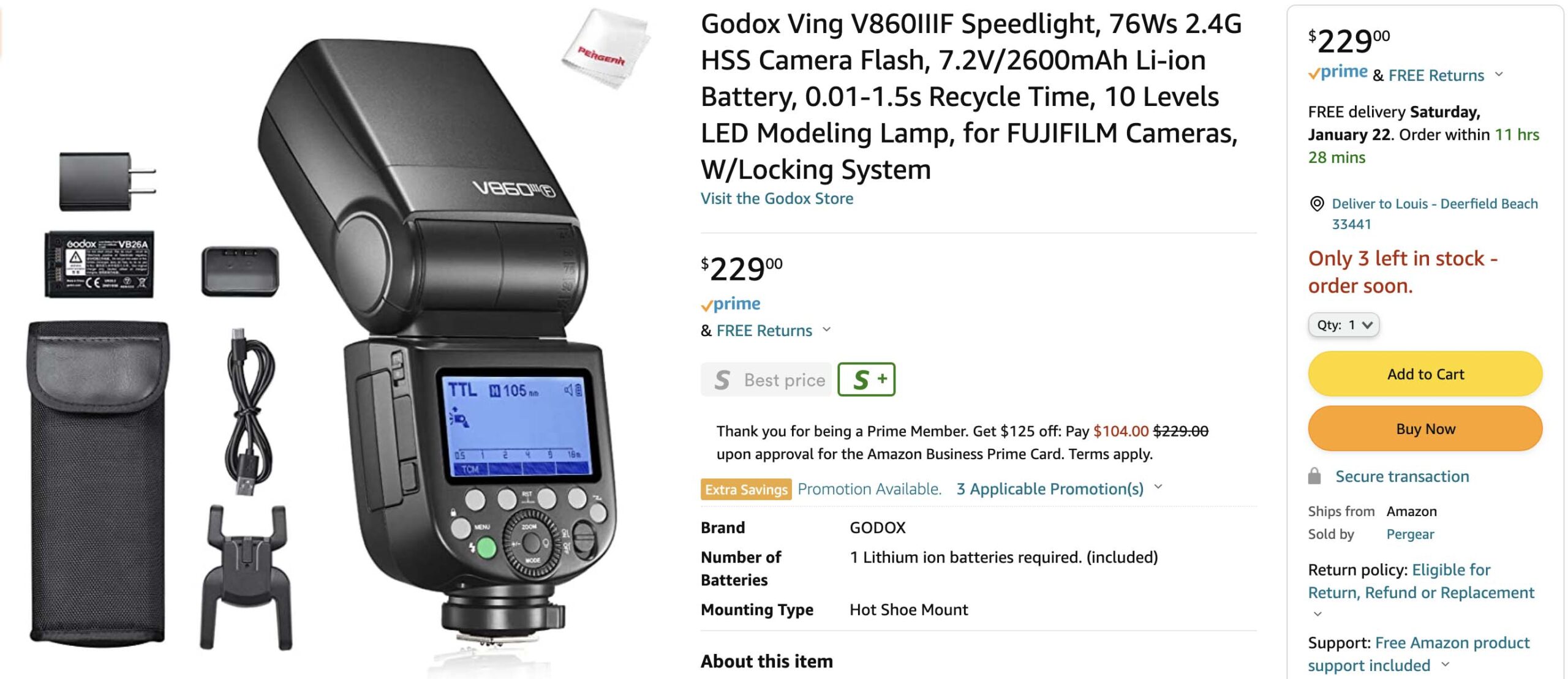 For a limited time, you can save 10% on a Godox V860IIIS by using claim code 637ATYZT at check out on Amazon. There are only a few flashes left so don't delay and the code is only valid until January 23rd.
About this item
Built-in Godox 2.4G Wireless X System: the V860IIIF Built-in Godox 2.4G Wireless X System offers all-in-one functions, GN60 High Guide Number, and 20 to 200 Zoom Flash Coverage, Up to 100 Meters Transmission Distance. Optical transmission with even illumination and stable output.

Better Battery Performance: the Godox V860III-F is the upgraded version of Godox V860IIF, which features a new battery with a higher capacity(7.2V/2600mAh) offering 1.5s recycle time and 480 full power flashes. The battery is also interchangeable with V1, making your potential pack lighter.

Fully Support TTL Functions: The Godox V860III-F is compatible with FUJIFILM cameras, Supporting TTL auto flash, manual flash, 1/8000 high-speed sync, flash exposure compensation, flash exposure lock,first-curtain sync, second curtain sync, modeling flash, etc.

Upgraded Functions: the Godox V860III-F Added a modeling light at the front to aid pre-visualization, and blend with ambient light, with brightness dimmable in 10 levels; Newly Added a quick button on the side to switch from manual mode to TTL mode quickly; Updated a quick release lock to a quick lever to lock the Speedlight into place on your camera's hot-shoe.

Master & Slave Flash: V860III-F as a Mster Flash can work in TTL/M/Multi/OFF flash mode, As a slave unit ,V860IIIF is compatible with Godox X1 X2 Series Flash trigger.
Please don't forget to follow us on Facebook, Twitter, Instagram, YouTube
Plus our owners' groups
Fujifilm GFX Owners Group
Fujifilm X-H Owners Group
Fujifilm X-T Owners Group
Fujifilm X-S Owners Group
Fujifilm X-Pro Owners Group
Fujifilm X-E Owners Group
Fujifilm X-A Owners Group
Fujifilm X100 Owners Group
via SonyAddict