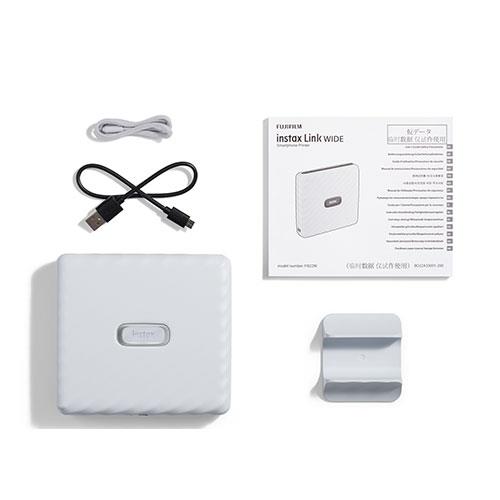 A new addition to the INSTAX product lineup is the Instax Link WIDE smartphone printer!! This exciting wide-format smartphone printer has an abundance of new features that will provide the user with endless creative and fun options.
The Instax Link WIDE printer allows you to get everyone in the photo but combined with the Instax Link Wide downloadable app, you get access to a whole other dimension of options. By connecting your smartphone to the printer with wireless Bluetooth you can add text to photos, apply filters, resize your images, and more. When you are satisfied with your edits, just swipe up on your smartphone photo and the printer will print it out.
When deciding your preferred image to work with, you get to choose between two image color modes for your image, Instax-Natural mode for natural image quality in your picture or Instax-Rich mode which gives more contrast and rich colors to your image. Choose the style that fits the mood your are going for in your image.
You have over 30 editable templates to choose from within the app to create invitations, greeting cards, and more. By applying a QR code to your photo you can link to a URL of your choosing, insert recorded sounds, add secret messages included in the image, and tag the location. A simple scan of the QR will reveal one of these options.
Be creative with the Sketch, Edit & Print feature to import text and sketches as you customize your photos. With the Collage Print feature, add multiple images together to create fun collages. Also, choose from over 1,600 "stickers" in the App to apply to your photo!
・Recording method: 3-color exposure with OLED
・Film used: FUJIFILM instax WIDE Instant Film (sold separately)
・Number of films: 10 films/pack
・Image size: 62 mm × 99 mm
・Supported image size: 800 × 1260 dots
・Printing resolution: 2.5 dots/mm (318 dpi, 80 m dot pitch)
・Printing levels: 256 levels per color (RGB)
・Interface: Standard compliance: Bluetooth Ver. 4.2 (BLE)
・Supported image format: JPEG, PNG, HEIF, DNG
・Printing time: Image recording – photo output (fed out): Approximately 12 sec. ・Approximate printing capacity: Approximately 100 prints (from full charge) ・Power supply: Lithium-ion battery (internal type: not removable)
・Charging time: Approximately 80 to 120 minutes (Charging time depends on the temperature and battery remaining level)
・Power consumption: Approximately 3 W
・Operating environment: Temperature: +5 oC to +40 oC Humidity: 20% to 80% (no condensation) ・Main unit dimensions: 139 mm × 127.5 mm × 33.7 mm (excluding projecting parts)
・Main unit mass: Approximately 340 g (excluding film pack)
Instax Wide 300: B&H Photo / Amazon / Adorama
Wide Color Film: B&H Photo / Amazon / Adorama
Wide Monochrome Film: B&H Photo / Amazon / Adorama
via Nokishita