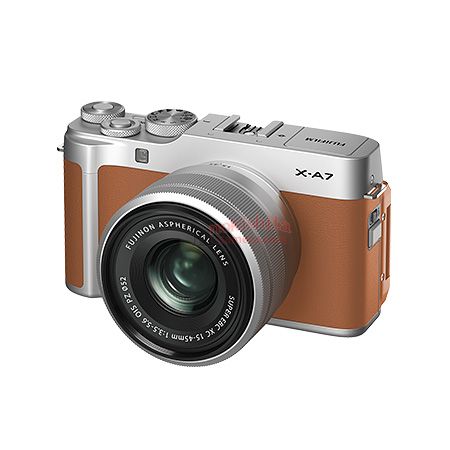 Fujifilm X-A7: B&H Photo / Amazon / Adorama
Nokishita leaked the specs for the upcoming Fujifilm X-A7 after leaking the photos of the Fujifilm X-A7 the other day.
Update: Looks like we will get a graphite and teal/turquoise X-A7.
Update 2: It's Mint Green and the X-A7 will come in Silver, Dark Silver, Camel, and Mint Green. The Fujifilm X-A7 will also come with a few bundle options.
Follow Fujiaddict on Facebook, Twitter, Instagram, and YouTube
Fujifilm X-A7
Newly developed approximately 24.24 million pixel APS-C size sensor

Improved image quality during high-sensitivity shooting compared to X-A5
Uses copper wiring that enables high-speed data reading
Approximately 8.5 times the number of image plane phase difference pixels compared to X-A5

Realized 4K video using abundant amount of information equivalent to 6K by reading all pixels of the sensor
Capable of shooting smooth 4K movies at 30 frames / second
4K video can be recorded continuously for up to 15 minutes, and full HD / HD video for up to 30 minutes.
Equipped with "Countdown Video" function for the first time as "X Series"
Equipped with "HD High Speed Video" function
Equipped with 3.5 inch wide (16: 9) touch panel monitor of about 2.76 million dots

High visibility is achieved with a rear LCD monitor with a maximum brightness of 1000 candela.

For the first time in the "X Series", the "Vari Angle Structure" that allows the monitor to be adjusted to any angle is adopted.

Lineup of "Scene Position" with "Light Trail" as "X Series" for the first time
Wi-Fi / Bluetooth installed
Input / output terminals: USB Type-C (USB 2.0 High-Speed), HDMI micro terminal (Type D), φ2.5mm 3-pole mini jack
Recording media: SD card / SDHC card / SDXC card UHS-I
Battery: NP-W126S
Standard number of shots: approx. 270 standard, approx. 440 economy
Size: 119.0mm x 67.7mm x 41.2mm
Weight: Approximately 320g (including battery and memory card), approximately 271g (main unit only)
Color: Silver, Camel
Kit lens: XC15-45mmF3.5-5.6 OIS PZ
Reservation start date: September 12, 2019
Scheduled release date: Late October 2019
Mass retailer price: 92,950 yen including tax with lens kit (Overseas price: $ 699)

[Models released after October show a 10% consumption tax price]
via Nokishita