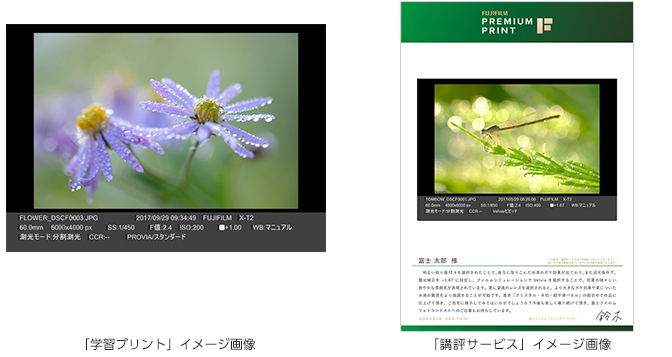 Two new services that are ideal for those who want to improve their skills in the "Premium Print Service" with a high-quality finish that realizes color reproduction unique to silver photography !
Launched "Learning Print" and "Review Service"
August 22, 2019
FUJIFILM Corporation
FUJIFILM Corporation (President: Kenji Sukeno) is the best choice for those who want to improve their photography skills in the "Premium Print Service" that delivers high-quality silver photographic prints of their photographs. We will start providing services. A "learning print" that allows you to print shooting information (* 1) such as shooting sensitivity, aperture, and shutter speed along with photographic images, and a "review service" that provides advice such as recommended photographic paper when finishing the composition and "works" Starting today, we will start accepting orders at our exclusive website ( https://fujifilmmall.jp/premium/) and our authorized photo shop (* 2).
In recent years, with the rapid spread of high-performance mirrorless digital cameras that are small and lightweight and easy to carry, there are an increasing number of people who enjoy full-scale photography. We launched the "Premium Print Service" in October of last year, which has been output very well in high quality silver photo prints and delivered as "works", and has been well received by many customers. . This time, we will start a new "learning print" and "review service" for those who want to improve their knowledge and skills related to photography and seek better "works". It can be used simply by sending image data from a dedicated site or a store PC.
"Learning Print" is a service that provides various photo information (* 1) in 2L size (127 x 178mm) along with photo images. You can check at a glance the "shooting information" and the "result" photo, which can be used as a reference when you want to look back at the settings of the shot photo or when you take the next photo.
The "review service" is a professional advisor certified by our company who has a wealth of knowledge and experience in shooting and printing. Based on the photographic images and shooting information, shooting techniques such as composition and camera settings during shooting, and recommended photographic paper It is a service that gives advice on how to make a better "work" until how to choose.
FUJIFILM will continue to respond to the needs of customers that are diversifying with the times, provide convenient and high-value-added products and services, and provide the original value of "photograph, leave, decorate, and give" I will continue to convey.
<About Premium Print Service>

The "Premium Print Service" is a print service that allows you to select from a total of 200 different combinations of print sizes and photographic papers. There is a three-dimensional feeling unique to silver photo prints born from deep colors and rich gradation expressions. It is highly evaluated by photograph enthusiasts who want to finish their entries in contests and leave their work in high-quality prints.
* 1 File name / date / month / date_hour / minute / second / manufacturer name / model name / lens focal length / resolution (pixels) / shutter speed / aperture / sensitivity / exposure compensation / white Part of Exif information such as balance / metering mode.
* 2 A photo shop with a track record of providing advice on shooting technology and printing to customers at stores for many years, and print samples necessary for the provision of "Premium Print Service" and color-corrected monitors for this service Introducing stores.
Record
1. Order reception start date

August 22, 2019 Orders start via the
dedicated website ( https://fujifilmmall.jp/premium/ ) or photo shop

* A list of stores that can accept orders will be posted on the dedicated website.
2. Specifications

■ "Learning Print" The
shot image is printed on the 2L size print with its shooting information (Exif).
■ "Comment Service"
2L size "Learning Print" is provided on A4 size paper. A professional advisor will give advice on shooting techniques such as the composition of the customer's images and camera settings for shooting, and finishing of "works" such as recommended photographic paper when printing images.

■ Store order image
3. New lineup "Ultra-smooth panel"
By processing into a metal panel, the smoothness of the conventional metal panel has been improved by adopting an aluminum panel for "museum processing" where the photo appears to float on the wall when decorated on the wall. "Ultra smooth panel" is available. In order to make the surface of the photograph beautiful like a mirror and make the presence of the work stand out more, we will contribute to the creation and display of more authentic works.
4. Product size and suggested retail price (excluding tax) 
■ "Learning Print"

size

Photographic paper

price

Delivery date

2L
(127 × 178mm)

Glossy

120 yen

Delivery in 7 days

■ "Comment Service"

Mount size

Photographic paper

price

Delivery date

A4
(print size 2L)

Glossy

1,500 yen

Delivered in 16 days

■ "Super smooth panel"

size

Price (printing paper)

Delivery date

Print + Super smooth panel (Glossy)

Print + super smooth panel (other than glossy)

89SQ / L

–

–

Delivered in 16 days

127SQ / 2L

–

–

152SQ

13,300

13,600

178SQ

13,400

13,700

203SQ / Six Cut / Six Cut Wide / A4

14,800

15,100

254SQ / Squared / Squared Wide

17,200

17,600

Big four

17,300

17,800

297SQ / A3 / A3

20,200

20,700

B3 / A2 / All paper

25,500

26,000

Large whole paper

–

28,600

B2 / 500 × 750mm

–

38,800

All times

–

40,800

A1 / 500 × 1000mm

–

43,600

B1

–

–

A0

–

–

B0

–

–

* "SQ" stands for Square.

* Only 3 types of MAXIMA glossy / MAXIMA mat / crystal can be selected.

Please contact each store for prices and delivery dates when ordering at stores.
5. Payment method

■ Dedicated site
credit card payment (settlement fee 0 yen), courier delivery (300 yen excluding settlement fee tax), Rakuten Pay, Amazon Pay
■ When ordering at a
storefront, please contact each store.
6. Receipt

■ Dedicated site
Delivered by Kuroneko Yamato courier to the desired destination.
You can also choose to receive 7-Eleven nationwide and store receipts at photo shops.
(It may not be possible to select depending on the size and processing combination of the product you order.)
■
If you place an order at an over-the- counter store, you will receive it at the order store.
via Fujifilm.jp