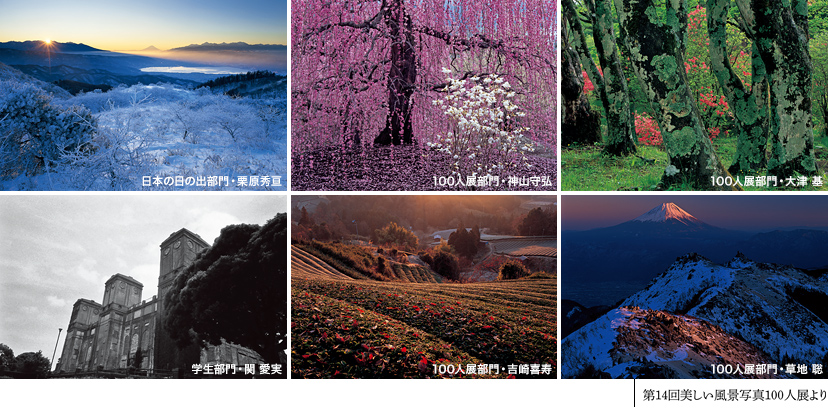 Fujifilm has a landscape photography exhibition for Fujifilm film users in Japan open for submissions right now. The deadline for submissions is August 20, 2019, but students have until September 9, 2019. You can read more about it below or go to Fujifilm's site to start the submission process yourself.
Application overview
The 100 Beautiful Scenery Exhibition will be widely recruited by amateur landscape photographers who film colorful Japanese landscapes on film. There are three categories: ①100 people exhibition department, ②Japan sunrise department, and ③Student department. In both categories, the display prints are spectacular, high-quality, high-quality silver halide prints.
Please apply for your work at the opening photo exhibition in 2020 where works will be exhibited together with invited artists who lead the landscape photography world.
Amateur landscape photographers from all over Japan will gather to invite exhibitors to an event that will allow them to interact with invited artists.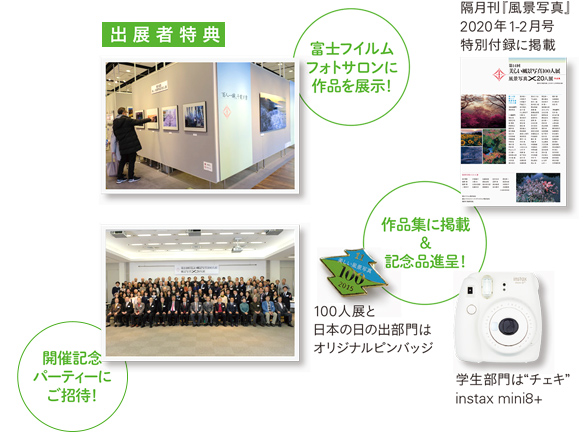 Department

①100 people exhibition section ②Japanese sunrise section ③Student section

Application target

A Japanese landscape and nature photo shoot taken with a silver salt film. A work that conveys the appeal and possibilities of photographic expression with silver-halide film, such as rich and delicate color expression, natural and deep texture, and air description.

Application method

Number of entries: No upper limit
Application form:
[(1) 100 person exhibition section , ( 2) Japanese sunrise section ] Unified into four-cut prints ((2) Theme section is limited to those taken with Brownie film or higher. 35mm film is not eligible).
[( 3) Student section ] From 2L to 4 prints.
Both are silver salt type photographic paper prints (not inkjet prints). For protection, put each work in a transparent OPP bag and attach the original film used for printing (attach the film used for printing only, not the sleeve). We cannot accept postponement of the original film.
Please fill out the following application form on the back of the print application and paste it in the same direction as the photo.

Selection

FUJIFILM Corporation, Editor of "Landscape Photography", Mr. Atsushi Ishikawa

* This photo exhibition is not a contest where the order is determined by the superiority or inferiority of the work. The selection will be made after taking into account the contents of the photo exhibition and the composition of the exhibition (seasonal, regional balance, etc.).

Number of selected works / print size
[( 1 ) 100 person exhibition section ] 100 points (including invited artists by the organizer) / whole paper
[( 2 ) Japanese sunrise section ] 1 point / oversized print (approx. 1 meter x 2 meters)
[( 3 ) Student section ] 20 points / half cut
Selection result notification

The selection results will be notified directly to applicants by the end of October 2019.

Work announcement and exhibitor benefits

Exhibited with high-quality silver-salt prints at the "15th Beautiful Scenery Photo 100 Exhibition" held at Fuji Photo Salon Tokyo in January 2020. After the Tokyo exhibition, a traveling exhibition will be held at the Fujifilm Photo Salon.
After the patrol exhibition, we will give you the exhibited works.
Exhibited works will be published in the bi-monthly "Landscape Photography" January 2020 Special Appendix "15th Beautiful Landscape Photography 100 Person Exhibition + Landscape Photography X tension Exhibition Collection".
We invite you to the anniversary party for the Landscape Photo Festival 2020 (15th Beautiful Landscape Photography 100 Person Exhibition + Landscape Photography X tension Exhibition). Scheduled to be held on Saturday, January 11th.
Exhibitors in the 100-person exhibition section and the Japanese sunrise section will receive a 100-person exhibition original premium pin badge.
Student department exhibitors will receive "Check" instax mini8 + (plus).

Return work

Around the end of October 2019, entries will be returned along with the selection results. However, the exhibited works will be returned along with the exhibited works after the exhibition.

* The organizer will pay the return shipping fee (no return envelope is required).
Deadline for 100-person exhibition section and Japanese sunrise section August 20, 2019 (Tue) Postmarking valid
Student department deadline

September 9, 2019 [Monday] Postmark valid
Send work

Yubinbango125-0063 Katsushika-ku, Tokyo swan 2-19-5 Sanwa intra-industry Co., Ltd.




"15th beautiful landscape photo 100 people" engagement
Contact Us

Landscape photo publishing 

 TEL: 03-3815-3605 

(Weekdays: 10

 : 00-17: 00 

)
Landscape photography Festival: beautiful landscape photo 100 people Exhibition Notes
If you apply for both the 100-person exhibition section of the 100-person beautiful scenery exhibition and the sunrise section of Japan, you cannot apply for duplicate works.

If you apply for both the beautiful landscape photo 100 person exhibition and the landscape photo X tension exhibition, it is not possible to apply duplicate works.

It is not possible to create works that have undergone image composition, subject deletion, or special image processing.

Excludes works that violate the spirit of nature conservation and public order and morals.

Apply for unpublished works (limited to actual scenery). Judgment whether published or not announced is as follows 




① Works exhibited in photo exhibitions (individual exhibitions, group exhibitions) will be considered presentations at any venue. 




② Works that are open to the public on the Internet and SNS are regarded as presentations. 




(3) Photos on print media are considered presentations (flyers, pamphlets, calendars, etc.). 




④ You cannot apply if you are entering or planning to enter other contests, or if you have won a prize in the past and can check the image. 




⑤ Similar works including a series of cuts when shooting previously published works may also be considered presented works.

Please refrain from applying multiple times.

The exhibited works will be used free of charge for print exhibitions, publications, printed materials (work collections, calendars, posters, postcards, etc.), advertising, the Internet, and prints and frames for presentations. The organizer reserves the right to preferentially use the displayed works.

Please be careful when handling entries, but please note that we are not responsible for any damages such as damage or loss during mailing upon receipt or return.

When applying, we recommend that you use simple registered mail with sufficient care to protect your work.
About personal information of application forms
Personal information to be included in the application form is necessary for notification of selection, return of work, sending of benefits, etc., for the management of this photo exhibition, and for information about products and services of Fujifilm Corporation and landscape photo publishing I will use it in a range. For this reason, information may be disclosed to subcontractors.

We may use it after statistically processing and analyzing it so that individuals cannot be identified.

The name and prefectural name of the photographer may be specified in the selection announcement, exhibition in the exhibition, publication in the landscape photo magazine, and works used for advertisement.