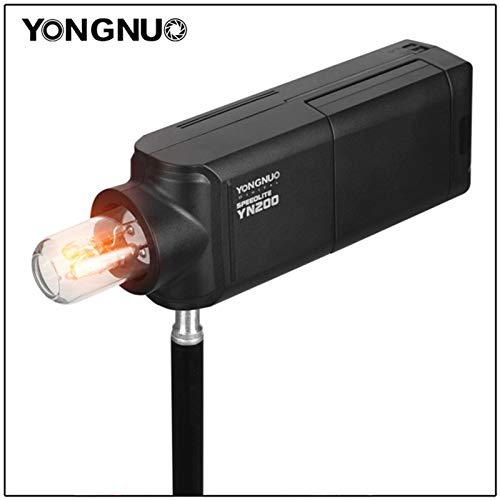 YONGNUO YN200 SPEEDLITE: Amazon
YONGNUO YN560: Amazon
YONGNUO YN200 SPEEDLITE
YN200 is the Yongnuo's first high-power outdoor flash, with flash power up to 200W, adopts 14.4v 2900mAh lithium battery power supply design, with extreme speed recycle system, 2 seconds recycling time , flash firing times at full output up to 500 times.
ØSupports YONGNUO new upgraded RF radio flash system
ØIt can receive the controlling and triggering signal from the TTL master unit such as YN862 series, YN560-TX PRO series , realizing TTL and M/Multi mode off-camera flash; It could receive the controlling and triggering signal from the wireless flash trigger such as YN560-TX (II)/RF603/RF605 wireless flash trigger, realizing M/Multi mode flash.
ØUsing removable bare tube lamp tube, GN60 high index
ØGN60@ ISO100 (using reflector cover). Supports TTL flash, manual flash, multi flash, high speed synchronization, up to 1/8000 seconds.
Ø16 channels, up to 10,000 configurable photographer ID, six flash groups A/B/C/D/E/F.
ØEquipped with attachment bayonet, accessories such as reflective cover can be installed.
ØIt is equipped with large capacity battery with imported cell, using Type-C interface charger, which supports quick charging with PD protocol power adapter (excluded).
ØSupports USB firmware upgrade
ØEquipped with Micro USB interface, supports firmware upgrade, users can log in the Yongnuo official website to download the firmware upgrade package to upgrade the flash.
ØSupports wireless optical slave function.
ØIt can receive the master optical control signals of Yongnuo,C/N, and supports S1 and S2 pre-flash cancel trigger mode.
ØEquipped with 3.5mm synchronization jack, supports synchronization interface flash.
Specifications
Model: YN200
Flash output:200W
Guide No:60@ISO100 (using the reflector)
Color temperature:5600k
Power supply: 14.4V 2900mAh lithium battery
Recycle time: About 0.01-2S
Power Adjustment: 1/1~1/64
Full power flashes: About 500
Trigger mode: Radio slave mode(YN560), optical transmission mode(SC/SN), S1, S2, synchronous interface trigger
Flash mode: TTL、M、Multi
Synchronous interfaces:3.5MM
Upgrade interface: Micro -USB
Dimensions:About 205*78*53mm(without flash tube)
Weight: About 540g(without battery and flash tube)
Contains items: YN200 speedlite (1), 200W Flash tube (1),YN-B2900 Li-ion battery (1),YN-C2900 charger (1),charging cable (1)