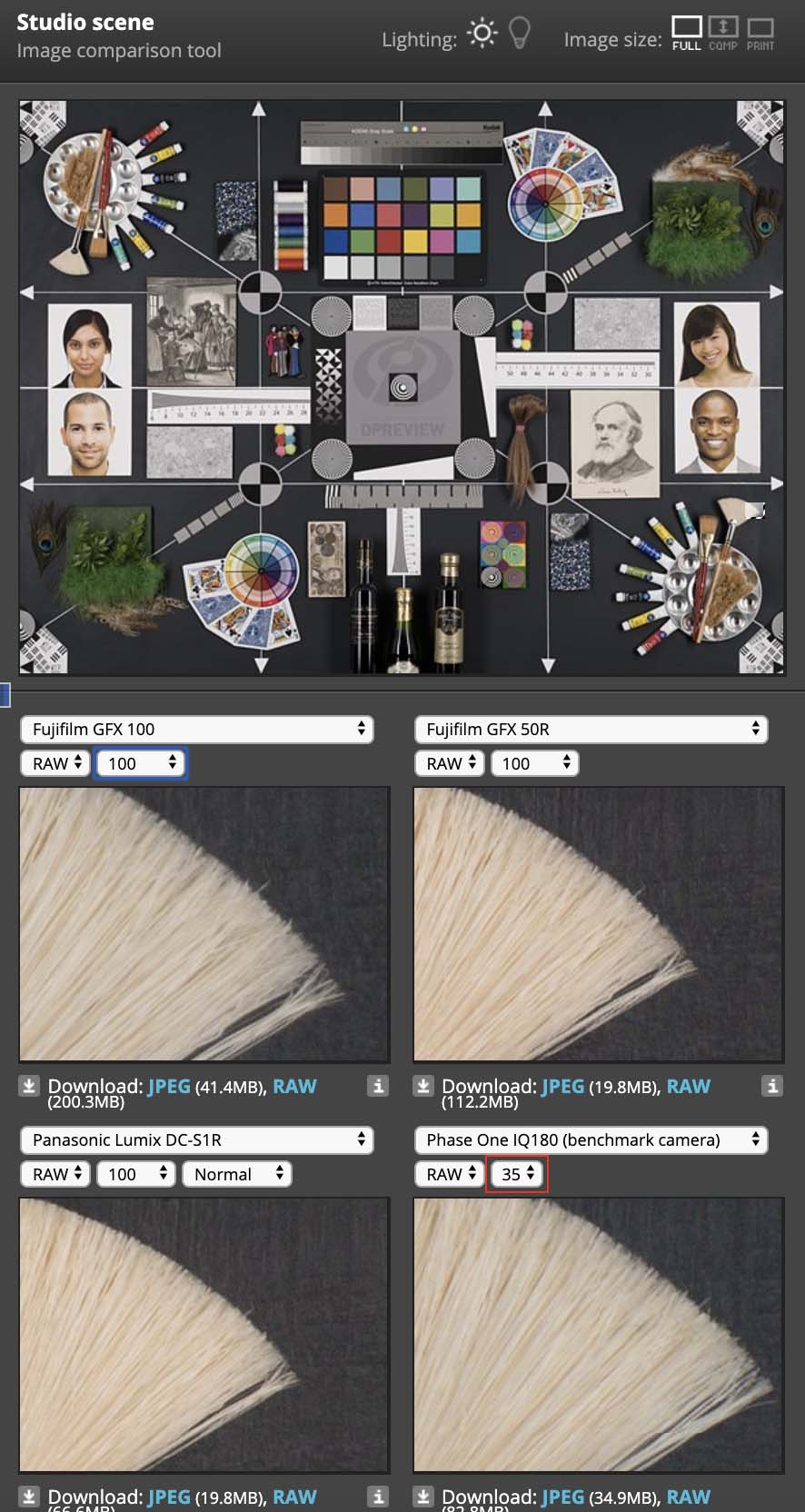 DPReview updated their studio scene after admitting to an error with their original Fujifilm GFX100 testing and the camera now tops their testing even surpassing the Phase One IQ180.
"These shots come from our second period of testing the GFX 100, following an imperfect set shot with a pre-production camera.

This process was a vivid reminder that our test scene is extremely demanding. Comparing images side-by-side at 100% sets a (perhaps artificially) high bar for performance: far beyond the expectations that would be applied to images viewed in isolation. It also demands that every one of the 44 permutations of ISO setting, file type and lighting level we shoot reaches this same level, lest one perfect shot make the rest look inferior. These images are the result of multiple sequences shot to find the optimal shutter type, aperture and focus position.

Please note: optimizing central sharpness meant allowing a little softness at the extreme corners of the scene: the focus with sharper corners was fractionally softer in the center. Stopping the aperture down also reduced peak sharpness, due to diffraction."
It is interesting that they blame the highly demanding aspects of their test scene over medium format being more difficult to nail focus. The Fujifilm GFX100 is far less forgiving than the GFX50S and that is likely why they botched their first test. It is also amusing that they plan to test a Phase One IQ4 in an attempt to raise the bar further. You can see the new test here.
Fujifilm GFX News, Rumors, and Collaboration
Fujifilm GFX Owners Group
Fujifilm GFX Page
Follow Fujiaddict on Facebook, Twitter, Instagram, and YouTube
Fujifilm GFX100: B&H Photo / Amazon / Adorama
Fujifilm GFX50R: B&H Photo / Amazon / Adorama
Fujifilm GFX 50S: B&H Photo / Amazon / Adorama